Open your own mechanic's yard in Roblox Car Repair Simulator! Buy and upgrade lifts, hire mechanics, and collect junk from the yard to fix the vehicles that arrive in your shop for repair. As you repair cars, they're added to your collection, letting you drive them around town. The better your lifts and mechanics, the better the cars. Can you collect them all in Car Repair Simulator?
Car Repair Simulator codes give you free Gems and Cass. You can spend Cash on upgrading your garage, hiring better mechanics, and improving your car lifts. Gems can be spent on getting new cars for yourself, which you can drive around town to collect other bonuses and rewards. If you love car-themed Roblox tycoon games, also check out Car Factory Tycoon.
All Car Repair Simulator Codes List
Car Repair Simulator Codes (Working)
These are all the working Car Repair Simulator codes.
1000Likes—Redeem for 1000 Coins
Car Repair Simulator Codes (Expired)
These are expired codes for Car Repair Simulator.
Collectors!—Redeem for 10 Gems
250kPlays—Redeem for 25 Gems
100kVisits—Redeem for 10 Gems
500Likes—Redeem for 500 Coins
Release—Redeem for free Gems
Related: Car Dealership Tycoon Codes
How to redeem codes in Car Repair Simulator
Follow the instructions below to redeem codes in Car Repair Simulator.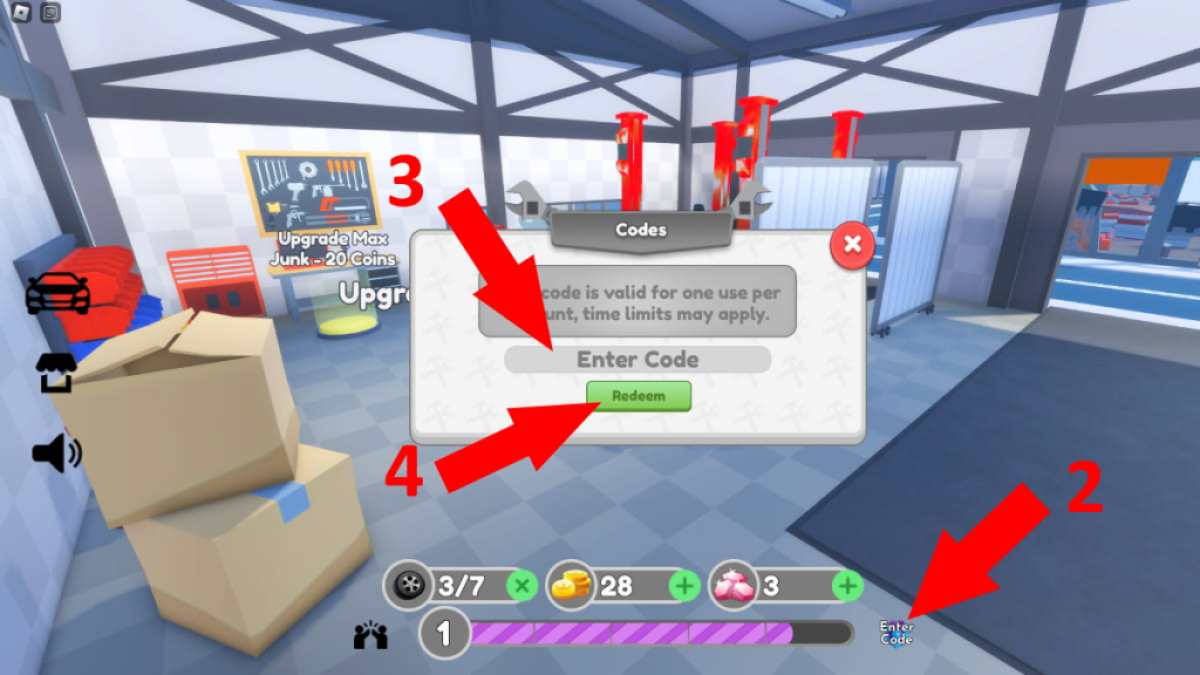 Launch Car Repair Simulator on Roblox.
Press the Enter Code button on the bottom-right of the screen.
In the text box, enter the code where it says Enter Code exactly as it appears above.
Press the green Redeem button to claim your reward!
How can you get more Car Repair Simulator codes?
Looking for more Car Repair Simulator codes or other game help? Check out the Vanity Studio Roblox Group first, as you'll find lots of other players posting there. There aren't any external social links outside Roblox available as yet, but if any turn up, we'll add them here.
Why are my Car Repair Simulator codes not working?
If you have a problem entering one of our Car Repair Simulator codes, first check for typos. We recommend you cut and paste codes directly from us whenever possible, as otherwise, it is easy to miss a capital letter or mistake a number for a letter. If the code was definitely correct, it may have expired. This means the code is no longer recognized by the developer, so we can't help. Let us know in the comments below, and we can update the guide. You can also be sure we'll be combing the internet for new codes, so check back in with us soon!
Other ways to get free rewards in Car Repair Simulator
The best way to get more free rewards in Car Repair Simulator is to jump into your favorite car and cruise the streets of the town looking for Free Crates. They will regularly appear on the map and will either give free Cash, free Gems, or free Experience. However, they are open to collecting (by pressing E) for any player, so you need to get there first to claim your free rewards. They're marked on the map with a circle and look like a grey box, and new crates will be announced by both a text message on the screen and a ping noise, so race there are quickly as you can!
What is Car Repair Simulator?
Car Repair Simulator is a Roblox simulator-style experience where you run a car repair garage. You'll start out with just a single car lift but can soon make more and hire mechanics to help you. Collect junk from the yard to fix the vehicles, then get better cars from the dealership as you level up and expand your business. You can also explore the town on foot or by car, collecting more rewards.
If you're looking for codes for other games, we have a ton of them in our Roblox Game Codes post! You can also get a bunch of free stuff via our Roblox Promo Codes page. And in the meantime, take a look at the latest news to stay up-to-date on all things entertainment.