Think you can Dig to China? Well, now's your chance to try in this explosive Roblox experience! Place your mobs in the town square and blow holes in the ground. Upgrade to more and more powerful bombs to make bigger and bigger holes, working through the earth's crust until you finally pop out in China! You can also complete challenges to win more bombs and even upgrade the house you live in with your profits!
Dig to China codes reward you with a varying number of free bombs, which you can use for explosions as you dig but also to complete missions and make housing upgrades which help you move towards rebirth and climb the leaderboards. If you enjoy blowing stuff up in Roblox, you should also check out Bomb Simulator.
All Dig to China Codes List
Updated February 24, 2023

Added a new code.
Dig to China Codes (Working)
These are all the working Dig to China codes.
J8g43SL—Redeem for 5000 Points (New)
Thisisacode—Redeem for 9999 Bombs
BombsAway64—Redeem for 1k Bombs
thisisacode—Redeem for 10k Bombs
CodesUpdate—Redeem for 1,000 Bombs
Dig to China Codes (Expired)
These are expired codes for Dig to China.
There are no expired codes for Dig to China
Related: Nuke Simulator Codes
How to redeem codes in Dig to China
Follow the instructions below to redeem codes in Dig to China.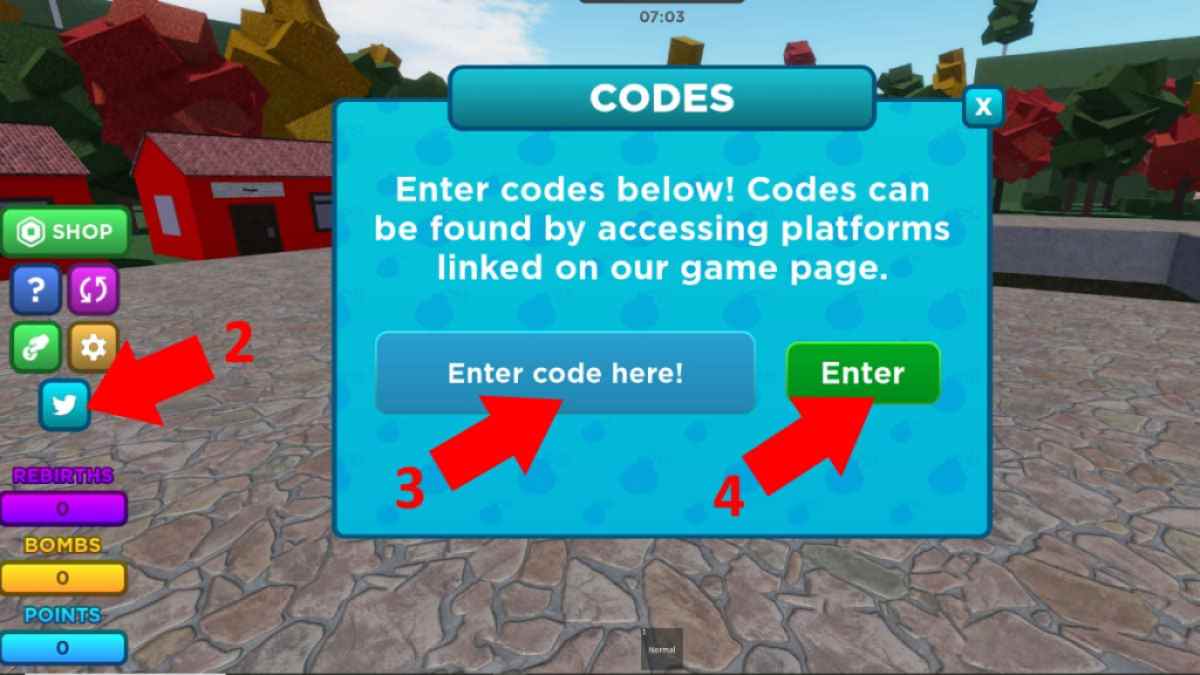 Launch Dig to China on Roblox.
Press the blue Twitter bird button on the left of the screen.
In the text box that says Enter code here! do so exactly as it appears in the list above.
Press the green Enter button to claim your reward! If that isn't working, press Enter on your keyboard instead.
How can you get more Dig to China codes?
If you're too desperate for more Dig to China codes to wait for us to post them, you could try becoming part of the Rubidium Roblox Group. You might also want to follow @MarbledRuby on Twitter and become part of the Rubidium Discord Server. Once verified, you'll have access to channels including game announcements and a Dig to China FAQ.
Why are my Dig to China codes not working?
Dig to China codes need to be inputted exactly if you want them to work. We suggest you cut and paste from here because otherwise, a simple missed capital letter or number mistaken for a letter can invalidate them. If the code has definitely been put in correctly and still won't work, unfortunately, it has probably expired. Most Roblox codes meet this fate in the end, but most are also replaced, so check back for new codes here soon!
Other ways to get free rewards in Dig to China
The best way to get more free rewards in Dig to China is to complete challenges. Head into the Challenges Store, which is just to the right of the Premium Bobs Store. When you enter, a pop-up menu will appear. There are Easy, Medium, and Hard challenges, and you'll need to work through the Easy ones first. You do parts of them automatically, so you only need to make a note of your next challenge and be sure to come back once it is complete (for example, use 100 bombs or Reach China). Completing challenges either gives free bombs or free points.
What is Dig to China?
Dig to China is an interesting take on the Roblox clicker genre, where you drop bombs to break through the ground to gain points. The bombs will throw you into the air, but you won't be damaged, so you can stay in the hold and keep working your way down. Once you have earned the right to Rebirth, you'll gain more bombs and points on your next iteration.
If you're looking for codes for other games, we have a ton of them in our Roblox Game Codes post! You can also get a bunch of free stuff via our Roblox Promo Codes page. And in the meantime, take a look at the latest news to stay up-to-date on all things entertainment.