Roblox Obby games always seem to provide the most excitement for casual players, and Extreme Fun Obby is no exception. While the game can be more difficult than many other Obby maps, this is overshadowed by the level of excitement and determination players experience as they try to reach the end.
With the increase in difficulty, many of us find some stages are simply too difficult to complete. Luckily, with the codes we provide below, you can claim skips in the game to pass the more difficult areas. Much like most Obby maps, these skips can be used to go through any part of Extreme Fun Obby. We recommend saving them to the end, if possible!
While you're getting free skips for Extreme Fun Obby, be sure to check out one of our codes lists for other similar titles, including Bloxtun's other maps. We have the latest codes for popular Roblox games like Mega Easy Obby, Mega Fun Obby 2, Obby Maker, and Cartoon Obby!
All Extreme Fun Obby Codes
Updated May 10

Added new codes
Extreme Fun Obby Codes (Active)
askip4u—Redeem for 1 Skip (New)
bigrewards—Redeem for 4 Skips (New)
letsgo—Redeem for 1 Skip (New)
fourskips—Redeem for 4 Skips (New)
early—Redeem for 20 Rainbows (New)
Release—Redeem for 3 Skips (New)
Extreme Fun Obby Codes (Expired)
How to redeem codes in Extreme Fun Obby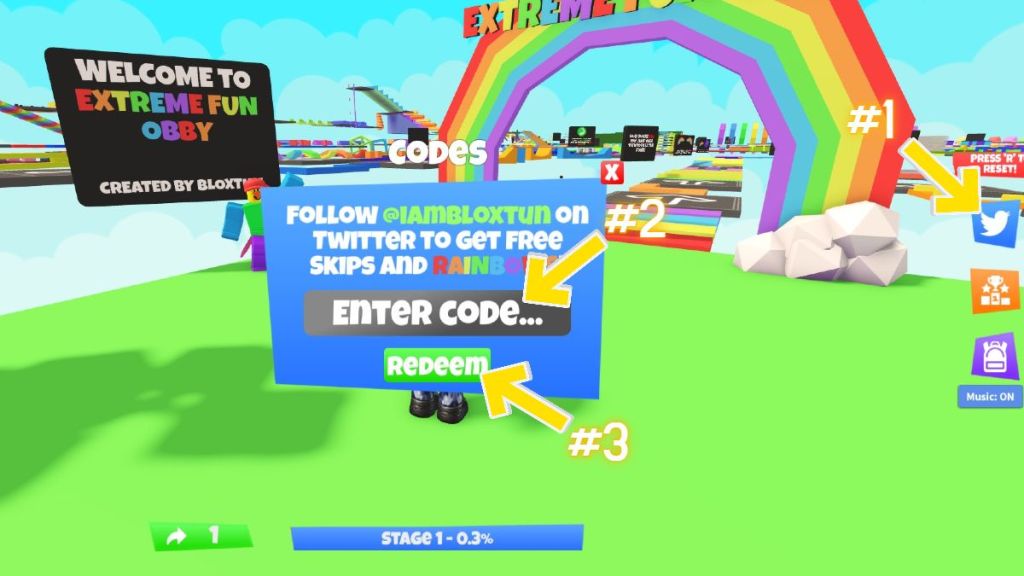 In the game, press the Twitter Bird icon on the right side of the screen.
In the text box, enter the code exactly as it appears in the list above.
Press Redeem to claim your reward!
How do I get more Extreme Fun Obby codes?
Extreme Fun Obby has frequent updates, and codes are usually released when there are significant changes. When updates are added, the game's developer usually includes a code on their official Twitter, which makes it the fastest way to get codes when they're dropped.
You can also monitor the game's official Discord channel to see if there are any codes from previous updates that are still active. However, the best way to get new codes is to bookmark this page and check back periodically, as we will update the page as soon as we know the codes are available!
What are skips and how do I use them?
Skips serve only one purpose in Extreme Fun Obby: To skip you ahead of your current stage. If you find you can't parkour your way past the stage you're on, or you want to bypass one to get to the next checkpoint, you can press the Skip button at the bottom of the screen. This will subtract one Skip from your total. If you have zero skips, you won't be able to use the Skip button!
Game Description
Extreme Fun Obby is like most other Obby games in that you must use your best jumping and parkour skills to reach the end of a massive parkour course. What sets Extreme Fun Obby apart from most other Obby courses is that you can collect "Rainbows" for completing parts of the course that you can turn in for fun cosmetics, character trails, and pets in the game. According to the official Roblox page, new stages are added every couple days, so you'll always have more content—even when you reach the end!
If you're looking for codes for other games, we have a ton of them in our Roblox Game Codes post! You can also get a bunch of free stuff via our Roblox Promo Codes page.