Updated December 4, 2023

We tried to find more codes!
Try not to trip or take the wrong route in Roblox Flood Escape 2. A flood is at your heels! You must use your reflexes to parkour and the ziplines on the 36 available maps to make your way safely out of each level. This fast-paced traversal game will leave you returning to beat your time as you level up.
Our Roblox Flood Escape 2 Codes has the most up-to-date list of codes that you can redeem for some free Coins and Gems. These codes will get you quite a bit of currency, allowing you to purchase Auras, Emotes, Buddies, and Skins! Redeem them to stay dry!
When the world is ending, you will need codes to help you get that head start to avoid being wiped out. These Roblox games and the codes will help you avoid the inevitable. Escape the Darkness Codes, Roblox Cursed Islands Codes, Roblox The Floor is Lava Codes, Roblox Titanic Codes, and Roblox Disaster Island Codes.
All Roblox Flood Escape 2 Codes List
Roblox Flood Escape 2 Codes (Working)
5thAnniversaryFE2—Redeem for 20 Gems, 40 Coins, and 500 XP
Roblox Flood Escape 2 Codes (Expired)
ok—Redeem for 500 Gems, 500 Coins, and 5k XP (New)
aCodeThatContainsStuff—Redeem for 100 Gems, 200 Coins, 2.5k XP (New)
LotsOfWater—Redeem for 60 Gems, 120 Coins, and 2k XP (New)
HalfADecade—Redeem for 40 Gems, 80 Coins, and 1k XP (New)
NoWay10K—Redeem for 100 Gems and 100 Coins
JustForYou—Redeem for free rewards

LuckyNumber7—Redeem code for 7 Gems, 70 Coins, and 700 XP
MadeYouLook—Redeem code for 50 Gems and 100 Coins
25KMembers—Redeem code for 20 Gems!
WannaSeeMeSpeedrun?—Redeem code for Speedrunner Item
4000onTwitter—Redeem code for 60 coins and 10 Gems
2021goodwill—Redeem code for 100 coins, 50 Gems, and 1,000 XP
happybirthdayfloodescape2—Redeem code for a third anniversary cake!
finally—Redeem code for 50 coins and 20 Gems!
LotsOfItems—Redeem code for 200 Coins!
Happy400M—Redeem code for 100 coins, 30 gems, and 1,000 XP
iwannavote—Redeem code for a 60 coins and 10 Gems
Roblox Flood Escape 2 FAQ, Answered
Our guides below are here to make claiming your Roblox Flood Escape codes easier.
How to Redeem Codes in Flood Escape 2
Redeeming your codes in Flood Escape 2 is easily done!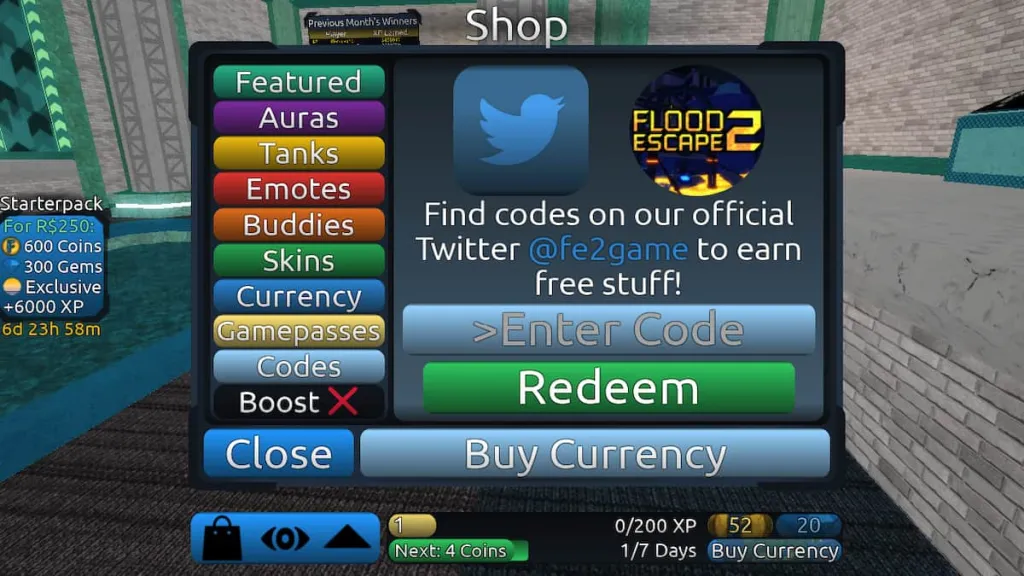 Open up the game.
Look for the shopping bag icon in the bottom menu on the screen.
Click on that and you will open up the Store.
Click on it and copy one of the codes from our list and paste it in there.
Hit the Enter key on your keyboard and you will receive your reward.
How to get more Roblox Flood Escape 2 Codes
To get the latest codes in Roblox Flood Escape 2, follow the developer Crazyblox Games on their social pages like Twitter @fe2game, YouTube on their channel Crazyblox, or their Crazyblox Community Discord Server. We here at Pro Game Guides have the latest in all the codes you need for your favorite Roblox games, so save this page and visit us often to get the latest codes for Roblox Flood Escape 2.
Why aren't my Roblox Flood Escape 2 codes working?
There are a few reasons your Roblox Flood Escape 2 codes aren't working. Codes can expire quickly, so make sure to claim all the new ones as they are released on our list. You could be typing them into the text box incorrectly, so copy and paste the code from our list to avoid any future mistakes.
What is Roblox Flood Escape 2 Game?
In Roblox Flood Escape 2, you must be as fast as possible to avoid the flood from washing you away. Using Parkour skills, you will need to navigate and traverse the map area to reach higher ground. The water never stops coming; the faster you are, the more points you will get to take you to the top of the leaderboard!
You can also get more free codes to help you in all your Roblox adventures by going to the Roblox Promo Codes page. We have you covered when it comes to all things Roblox and Roblox Anime!