Updated: December 1, 2023

On the lookout for the most recent codes!
Let me take you to funky town! Do you have what it takes to keep up with the rhythm? Test your skills in Funky Friday! Grab a microphone, prepare your best freestyle, and rack up as many points as possible against your opponents! Whether you prefer to battle it out against strangers or challenge your friends, Funky Friday is sure to push you and your hand-eye coordination to the limit. After you've finished an intense face-off, you may want a few rewards to celebrate, so why not enter a few codes!
If you're looking for more Roblox content to read while you wait for new codes, check out some of our favorite best of lists including Roblox: Best Scary Games – Roblox Horror Games!, Best Roblox games like The Sims, or Best Roblox Third-Person Shooters!
All Funky Friday Codes List
Funky Friday Codes (Working)
SPOOKYMIC—Redeem for the Spooky Time Microphone
TAMBRUSHISBACK—Redeem for FNF Speaker
funkymillion—Redeem for the Lyte Lantern mic
1YEARSCOOP—Redeem for the One Year Scoop Microphone
1YEARFUNKY—Redeem for 1k Points
2v2!!—Redeem for Sakuroma Microphone

CHEEZEDTOMEETYOU—Redeem for Cheese Microphone
1BILCHEESE—Redeem for Funky Cheese Animation
9keyishere—Redeem for 500 Points
MILLIONLIKES—Redeem for Radio Emote
100kactive—Redeem for 250 Points
Halfbillion—Redeem for 500 Points
smashthatlikebutton—Redeem for 300 Points
250M—Redeem for 250 Points
1MILFAVS—Redeem for the Boombox Animation
100M—Redeem code for 500 Points
19DOLLAR—Redeem code for the RickRoll animation
XMAS2021—Redeem for Candy Cane Animation
Funky Friday Codes (Expired)
There are no expired Funky Friday codes.
How to redeem Funky Friday codes
With the help of PGG, it's easy to redeem codes for free rewards in Funky Friday!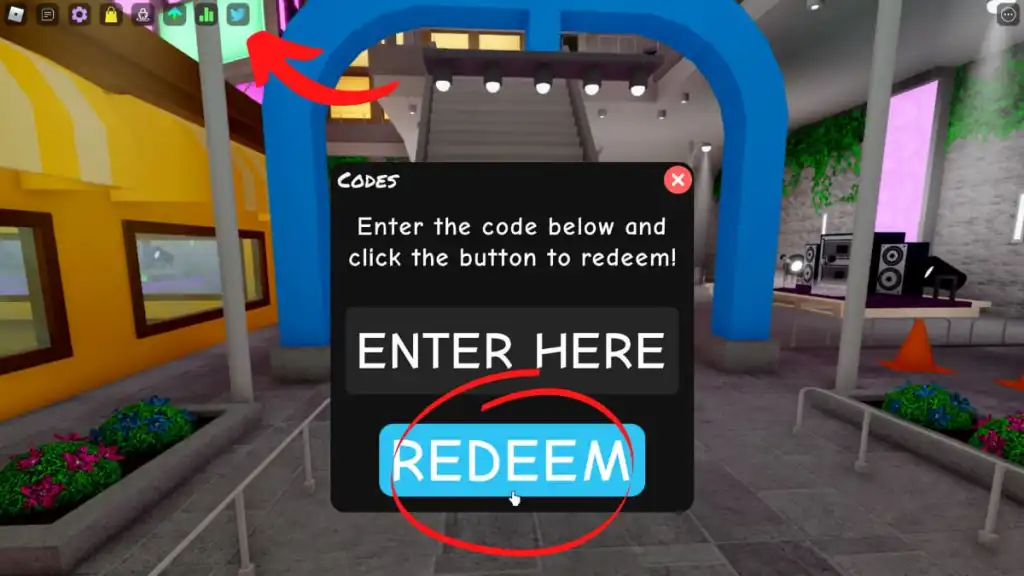 To start, launch the experience

Press the Twitter button (bird icon) at the top of the screen

In the

new window that appears, enter each working code into the text box

Once you've typed in the code, press Redeem to receive your free reward!
How do you get more Funky Friday codes?
As with most experiences, updates for Funky Friday aren't released on a certain schedule, so there's unfortunately no way to know exactly when or where more codes will be released. The best way to stay up-to-date on codes is by checking back with this article, following Lyte Interactive, the development team behind Funky Friday, on Twitter, and joining the Funky Friday Discord server. Codes typically aren't released there, but you could also subscribe to the Lyte Interactive YouTube channel for more behind-the-scenes info and sneak peeks!
Why are my Funky Friday codes not working?
Not all Funky Friday codes are active for the same amount of time, meaning some expire exceptionally quickly and may even become inactive after 24 hours or less! If you attempt to enter a code and it says Code Expired, that code is no longer active and, unfortunately, can no longer be redeemed.
There's nothing that you can do to fix this issue, the code is simply unobtainable. If you attempt to type in a code and it says Invalid Code, however, this means that you've likely mistyped the code or neglected to use the correct capitalization. If this happens, try to retype and re-enter the code once more, being sure to copy it exactly as it's written!
What is Funky Friday?
Funky Friday is a competitive rhythm game where two players duke it out on stage, Dance Dance Revolution style. The experience is set up like a rap battle, with each player having to match a series of directional arrows in time with their choice of music. At the end of the round, the player with the highest score wins. If you're a fan of the Newgrounds classic Friday Night Funkin', you'll love Funky Friday!
If you're looking for codes for other games, we have a ton of them in our Roblox Game Codes post! You can also get a bunch of free stuff via our Roblox Promo Codes page.