Updated November 1, 2023

Checked for new codes!
Before Doodle World, before Loomian Legacy, there was Monsters of Etheria. Players inside of this experience can travel the Alchas region, collect Etherians, and train them to be the best of the best all while either following the role-play story mode, or facing off against other players in the fast-paced battle mode. Whatever way you decide to play, Monsters of Etheria offers an endearing adventure for everyone! And how can you make your adventure even better? With codes of course!
From skins to Credits, the codes below have it all! If you're looking for even more freebies, be sure to check back with this article regularly—we update this list as soon as new codes come out! If you find a code in the Working Codes section that seems expired, please let us know so we can remove it as soon as possible. Keep in mind, also, that you'll need to enter each code exactly as it's written or the experience won't accept it!
If you're looking for more Roblox content to browse while you wait for new codes, check out some of our other related articles including Roblox Dogecoin Mining Tycoon Codes, Roblox Super Golf! Codes, or Roblox Rebirth Champions X Codes (May 2022)!
All Monsters of Etheria Codes List
Monsters of Etheria Codes (Working)
Halloween2023—Redeem for rewards (New)
sub2TheConfidentDiamond—Redeem for a Tarabi Confident Skin
Monsters of Etheria Codes (Expired)
These codes are no longer available and can't be redeemed!
SummerFun2023—Redeem for a 350 Credits
RoleplayExperiment2023—Redeem for 350 Credits
SpringCheer2023—Redeem for 350 Credits
Halloween2022
TwoTwo2022—Redeem for 2 Multi Crates
HappyHolidays2021 —Redeem for 1000 Credits

GetSpooked2021 —Redeem for Creepy Jardrix
VeryScary2021—Redeem for Creepy Tarabi
TrickOrTreat2021—Redeem for Creepy Vacrunch
Halloween2021—Redeem for Creepy Braybug
AdCrates—Redeem code for a Multi-Crate
AdCredits—Redeem code for 200 Credits
MidMarch2021—Redeem code for 3 Multi Crates
LunarNewYear2021—Redeem code for YOTOx Braybug in Monsters of Etheria
FinalFortune2021—Redeem code for 3 Multi Crates
Valentines2021—Redeem code for Gentle Dolladoodle Skin
DayFourRiches2021—Redeem code for 500 Coins
DayTwoSwag2021—Redeem code for 3 Creation Crates

CodeWeekFeb2021 - Redeem code for 2 Multi Crates
DayThreeTreasure2021 - Redeem code for 2 Multi Crates
NewYearNewMe2021—Redeem code for 300 Credits
HolidaySeason2020—Redeem code for 300 Credits
Harvest2020—Redeem code for 2 free Multi Crates
HAPPYBDAY2020—Redeem code for a free skin
TWOYEARS—Redeem code for 300 credits and the Oinkoin Etherian
SpookySeason2020—Redeem code for 300 credits for free
HappyEaster2020—Redeem code for 2 Multi Crates
Sunshine2020—Redeem code for a Sunshine Elekityaaaa
SummerFun2020—Redeem code for 300 credits for free
UglyNotSoPoe—Redeem code for a 30 Self Crates

CodeFix2020—Redeem code for a Multi Crate.
How to Redeem Monsters of Etheria Codes
Redeeming codes in Monsters of Etheria is easy! To do so, follow the steps below.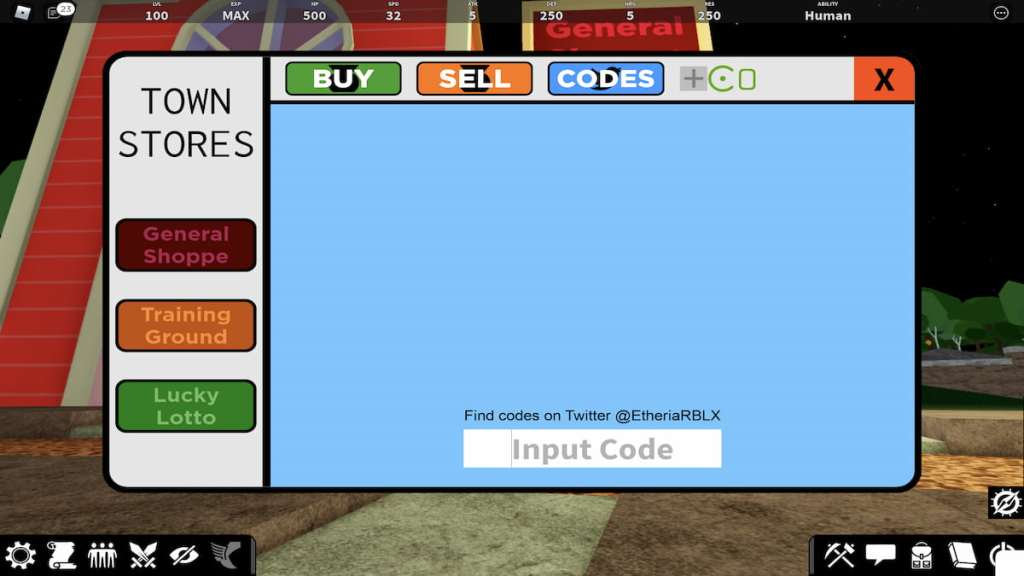 To start, launch the experience, look for the Roleplay portal and enter it
From the menu that appears, choose Explorer
Once inside, look for the red building titled General Shoppe and enter it
From the menu that opens, look for the Codes heading and select it
Now, copy and paste or type in the codes from our list and hit the Enter key to receive your free reward!
Monsters of Etheria Wiki: Discord, Twitter, and how to get more codes
Monsters of Etheria may not boast a massive player count anymore, but it's still consistently updated with new events and content, including a few sporadic codes! The best way to get codes as soon as they're available is follow the official Etheria Twitter account, follow the #announcements channel in their Discord server, or by joining the Monsters of Etheria Roblox group!
If you're looking for codes for other games, we have a ton of them in our Roblox Game Codes post! You can also get a bunch of free stuff via our Roblox Promo Codes page.