Welcome to Multiverse Reborn, a sandbox battling world where you can play as your favorite characters! Whether it's superheroes such as The Flash, anime legends like Goku, or gaming legends including Sonic, the choice is yours. Each character has its own unique abilities and attacks, so you can run amok in the city and battle your friends.
While the game is in development, codes currently give you access to new characters to play in the game. But future codes could also include anything from unique equipment to currency to spend on in-game upgrades and items. If you like Roblox superhero sims, you should also check out The Flash: Infinite Earth.
All Multiverse Reborn Codes List
Multiverse Reborn Codes (Working)
These are all the working Multiverse Reborn codes.
New52FlashReborn—Redeem for DCEU Reverse Flash (New)
ITWASME—Redeem for Rebirth Flash (New)
Multiverse Reborn Codes (Expired)
These are expired codes for Multiverse Reborn.
There are no expired codes for Multiverse Reborn
Related: Superhero City Codes
How to redeem codes in Multiverse Reborn
Follow the instructions below to redeem codes in Multiverse Reborn.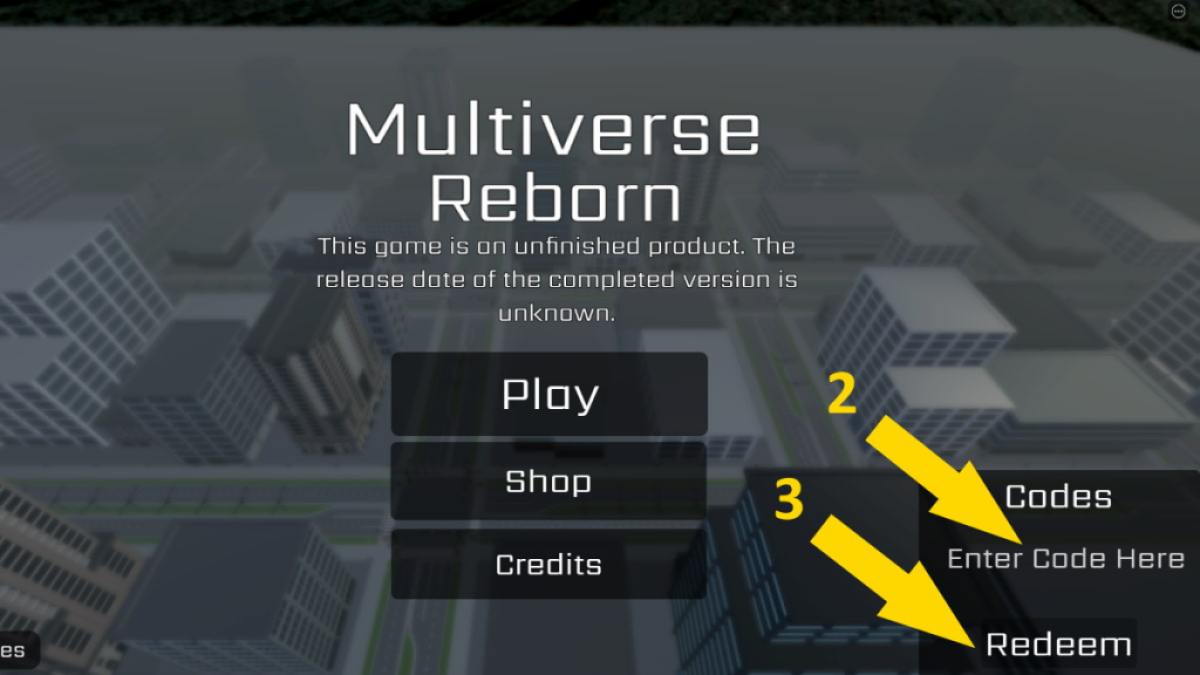 Launch Multiverse Reborn on Roblox.
In the text box on the right of the home screen that says Enter Code Here, enter the code exactly as it appears in the list above.
Press the Redeem button underneath to claim your reward!
How can you get more Multiverse Reborn codes?
Looking for more on Multiverse Reborn? You can start by joining the Brian's Youtube Gang Roblox Group. You can also become a part of the Multiverse Reborn Discord Server (which has a dedicated codes channel), and subscribe to the Brian Singh YouTube channel.
Why are my Multiverse Reborn codes not working?
If you try one of our Multiverse Reborn codes and it comes up as invalid, you may have a typo. We always suggest that you cut and paste codes directly from here, as something as simple as a missed capital letter or a number mistaken for a letter can make a code fail. If a code comes up as expired, it means it will no longer work as it has timed out. In that case, you'll just have to pop back soon, as we'll be on the lookout for replacement codes right now.
How to use Reverse Flash in Multiverse Reborn
When you start playing Multiverse Reborn, it can be confusing to know what to do. There are no in-game instructions right now, so if you use the codes above to get Reverse Flash, this is how to control him and battle other players:
Left Control: Run
F: Flash time
C: Charge
X: Tornado
Left Click: Punch
Q: Lightning Throw
R: Speed Force
What is Multiverse Reborn?
Roblox experience Multiverse Reborn is a city simulator where players start by choosing which character they'd like to play, with choices including gaming, manga, and comic heroes. Once in the game, you can choose to roleplay with friends and explore the city. But danger lurks around every corner, as it is a PVP free-for-all with a variety of special abilities for the different characters.
If you're looking for codes for other games, we have a ton of them in our Roblox Game Codes post! You can also get a bunch of free stuff via our Roblox Promo Codes page. And in the meantime, take a look at the latest news to stay up-to-date on all things entertainment.