It's time to build up your own business in Roblox My Car Wash! You start with a basic car wash but can soon have a top-notch operation on your hands! Add petrol pumps, tire services, and a café to boost your revenue, then earn bonus Gems for serving customers and getting five-star reviews from your customers! Level up to open up more options and become the best Car Wash in the area.
My Car Wash codes give you free limited-time boosters. Depending on the code, these can give you double Coins, Gems, or Luck boosts for either 10 or 20 minutes. Coins and Gems are both used to improve various parts of your gas station, while Luck boosts see you have a better chance to be visited by rare vehicles. This is great because rare vehicles pay more for the car wash! If you love car-based tycoon-style Roblox games, also check out Car Factory Tycoon Codes.
All My Car Wash Codes List
My Car Wash Codes (Working)
These are all the working My Car Wash codes as of 5/24/23.
There are no working codes for My Car Wash
My Car Wash Codes (Expired)
These are expired codes for My Car Wash.
250FAV—This code has expired.
100LIKES—This code has expired.
RELEASE—This code has expired.
Related: Car Dealership Tycoon Codes
How to redeem codes in My Car Wash
Follow the instructions below to redeem codes in My Car Wash.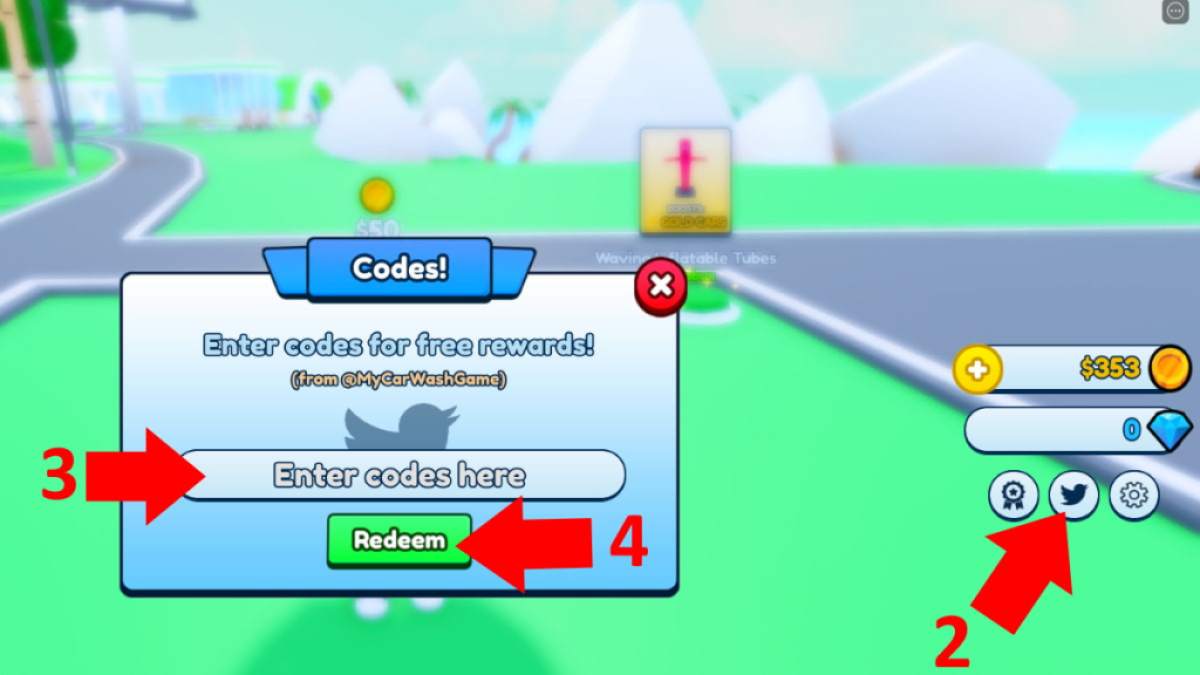 Launch My Car Wash on Roblox.
Press the Twitter Bird button on the right of the screen.
In the text box saying Enter code here, do so exactly as it appears in the list above.
Press the green Redeem button to claim your reward!
How can you get more My Car Wash codes?
Looking for more My Car Wash codes or other game information? A good starting point is the My Car Wash Studio! Roblox Group. Outside of Roblox, you can also follow @UncIeHenry and @CarWashGame on Twitter and become part of the official My Car Wash! Discord Server, where you'll find channels including Sneak Peaks and Game Updates.
Why are my My Car Wash codes not working?
If a My Car Wash code comes up as invalid, it is often down to a typo. Try cutting and pasting the code directly from Pro Game Guides, as even something as small as getting the capitalization wrong can cause an error. If you know the code was correct, but it is coming up as expired, it means the devs have stopped the code. We can't help with that as the code will no longer work but check back with us soon for new codes!
Other ways to get free rewards in My Car Wash
The best way to get more free rewards in My Car Wash is to build up all three parts of your business as quickly as you can. The Car Wash is great as you don't have to do anything, and it gives you constant free cash! I find the café the most fun, as making burgers and hotdogs faster sees you playing three different mini-games. Even better, each customer served gives you free Gems. Don't forget to regularly check your Reviews, as this is also a great source of Gems once you've built up your Car Wash. However, you have to be level seven before you can complete it.
What is My Car Wash?
My Car Wash is a tycoon-style Roblox experience where you build up a car wash but also a gas station and a café. You'll earn more money for rarer cars that visit, which happens more as you improve your facilities. But you'll have to serve food in the café and man the pumps yourself to make the most profit. You can also explore the town and visit the other car washes in your area.
If you're looking for codes for other games, we have a ton of them in our Roblox Game Codes post! You can also get a bunch of free stuff via our Roblox Promo Codes page. And in the meantime, take a look at the latest news to stay up-to-date on all things entertainment.