Attention! Roblox Recoil is a game where you get thrown right into the heart of a heated battle. You will need to shoot your way through different maps against other Roblox Recoil players and get as many kills as possible. This is a fast-paced First Person Shooter game where you need the best load-outs to shoot faster than your opponents.
We have the codes for new skins and camos and valuable experience points. Claim these codes to make the start of the game a lot easier and level up and create that loadout that suits your shooting style.
Are you looking for more First Person Shooting action or just looking for more army games that you can climb into? We have the codes and Roblox games for your warmongering needs. Try these to help you get that perfect loadout. Roblox Army Fighting Tycoon Codes, Roblox Ultimate Army Tycoon Codes, Roblox Noob Army Tycoon Codes, Roblox Warriors Army Simulator Codes, and Arsenal Codes | Roblox.
All Roblox Recoil Codes List
Updated July 7, 2022

New info added.
Roblox Recoil Codes (Working)
MYBAD21—Redeem for 75k xp
BURITOBLOX—Redeem for 500k XP, 10 days 2x XP, 20 days 2x Weapon XP, and 20 days 2x Challenges
TURKEY20—Redeem for Ghillie Autumn and Camo
XMAS20—Redeem for Kringle Camo and Character
TEST19—Redeem for AUG A3, Abstract, and Radiation Skin
STRIKE20—Redeem for Lightning camo
RABBITEGGS21—Redeem for Rabbit Camo, Char, and Charm
SPOOKY20—Redeem for Halloween camo, Bone Knife
Zesty—Redeem for Zoocumber Camo and Zesty Charm
TTVOUTCAST—Redeem for Camo and Charm
UNeko—Redeem for UNeko Skin and Charm
DragonsClub—Redeem for JDRAGO Skin and a Charm
Roblox Recoil Codes (Expired)
Roblox Recoil FAQ, Answered
We answer all your questions about Roblox Recoil below.
How to Redeem Roblox Recoil Codes
It's easy to redeem codes for free rewards in Roblox Recoil. To do so, follow the instructions below.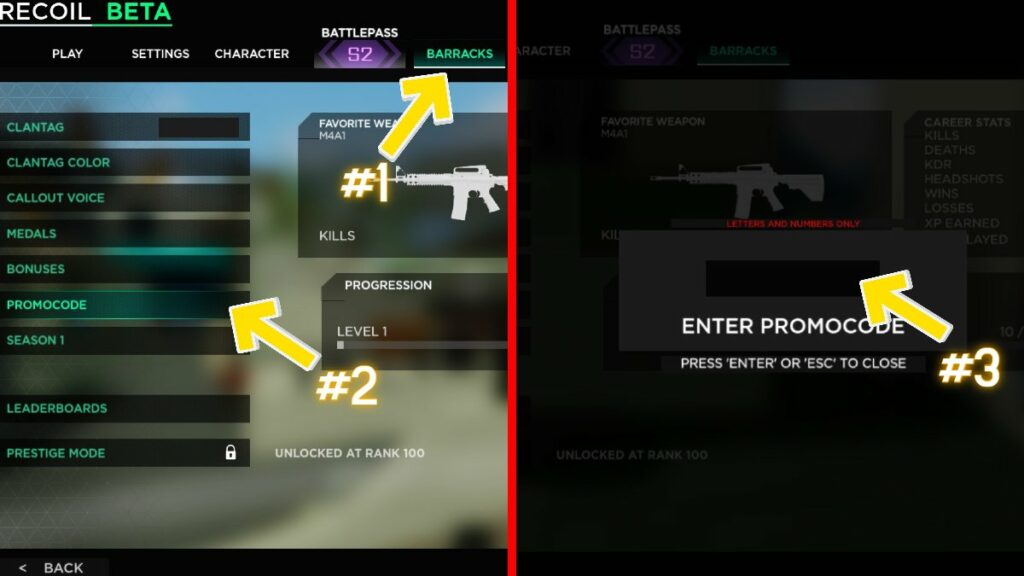 In the game's main menu, navigate to the Barracks tab.
Select the Promo Code option on the left side of the Barracks tab.
In the box above 'Enter Promocode', enter the code exactly as it appears in the list above.
Press 'Enter' on your keyboard to claim your reward!
How to get more Roblox Recoil Codes
The latest codes available for Roblox Recoil are found by following the developer Bad Skeleton on their social media pages like Twitter @CDDev_, their YouTube channel CDDevelopment, and their Recoil Discord Server. We here at Pro Game Guides have the latest codes for you, so save this page and never miss out on another Recoil code!
Why aren't my Roblox Recoil codes working?
So far, all the codes on our list are working. If you find a code that's not working, please let us know in the comment section below.
You could be misspelling the code, so ensure that when you type the code into the code box, all the punctuation and grammar are correct.
What is a Roblox Recoil game?
A Roblox Recoil game is inspired by Call of Duty. This is a First Person Shooter game where you will spawn into a battlefield with the load out that you have chosen or built up to take on other players and score as you make kills. Make your way to the top of the leaderboard, and get new skins and cosmetics for your character and rifle along the way.
If you're looking for codes for other games, we have a ton of them in our Roblox Game Codes post! You can also get a bunch of free stuff via our Roblox Promo Codes page.