Speed Run 4 puts you on multiple obstacle courses at hyper speed. They are a lot like obbys but are more like platforms because you only die if you fall. As you get more levels, you can earn gems and stars which can be used to unlock new levels.
The codes below give you an emote and unlock the Moon Dimension. The Moon dimension is a new set of levels players can run through. This game doesn't have many codes since you can't do anything else besides run through it, but the codes do give you more levels to complete.
For more codes for games like Speed Run 4, check out Roblox Mega Fun Obby Codes, Roblox Mega Easy Obby Codes, and Roblox Cartoon Obby Codes. These codes can normally give you skips to get past difficult levels.
All Speed Run 4 Codes
Updated July 29, 2022

Added new information
Speed Run 4 Codes (Working)
Here's a look at all the working Speed Run 4 codes:
Moon—Redeem for a whole new dimension!
OOF—Redeem for Meme Shout!
Speed Run 4 Codes (Expired)
These codes for Speed Run 4 no longer work:
There are no expired codes for Speed Run 4
Speed Run 4 frequently asked questions, Answered
Here's everything you need to know regarding Speed Run 4 codes.
How to redeem codes in Speed Run 4
If you want to redeem codes in Speed Run 4, it's easy.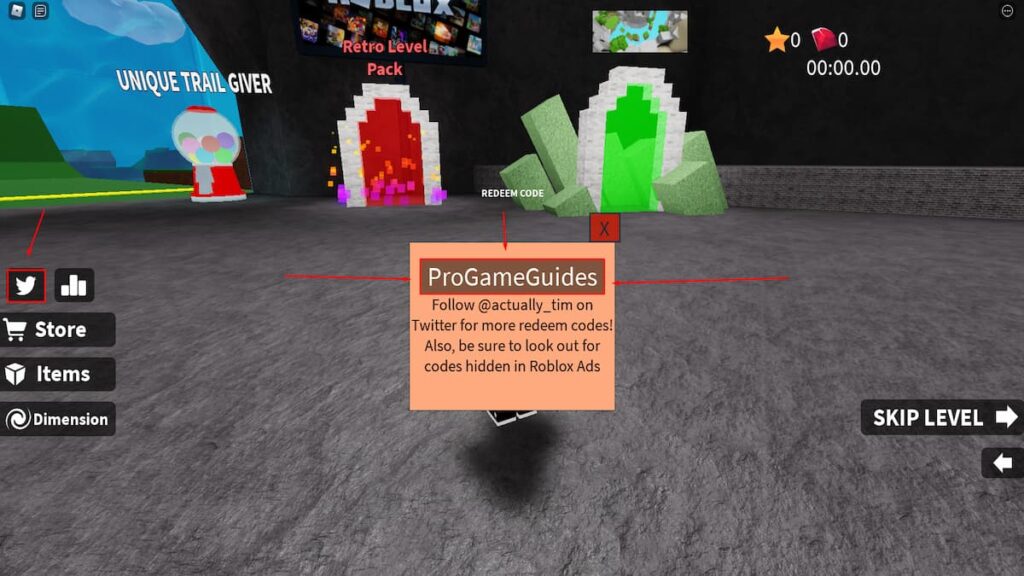 Launch Speed Run 4 on Roblox.
Press the Twitter icon on the left
Enter the code in the text box that appears.
Press the Enter key to redeem your reward.
How can you get more Speed Run 4 codes?
The best way to get more Speed Run 4 codes is to bookmark this page and return often for new codes.
Alternatively, you can join the developer's Discord and Twitter. On Twitter, they don't usually post codes but ask for suggestions on Discord. When more codes are released, the developer will announce it on Discord.
Why aren't my Speed Run 4 codes working?
The most common issue of your codes not working in Speed Run 4 is that they are entered incorrectly. To avoid typos, copy the code from our page and paste it into the text box in-game. If you have done everything right and still find that the codes aren't working, let us know, and we will double-check the code.
How to unlock Zombie Mode in Speed Run 4
To unlock Zombie mode, you need to complete 30 levels. The levels don't have to be part of the same dimension. You can complete 15 regular levels and 15 moon levels, which will count as 30.
What is Speed Run 4?
In Speed Run 4, you start at the beginning of a speed obby. Upon crossing the starting line, you begin running fast. Using the platforms, you must reach the finish line. You start at the beginning of each level if you fall. By using the code above and by collecting gems, you can unlock more dimensions.
If you're looking for codes for other games, we have many of them in our Roblox Game Codes post! You can also get some free stuff via our Roblox Promo Codes page.