Don't let the name confuse you; this game has nothing to do with Spider-Man or dancing. Swinging Simulator is about swinging your sword and ranking up your weapon, stats, and character rank. You do this by getting the best pets, collecting Swings, and rebirthing your character to swing them up to the top.
If you want help to skip some of the tedious grinding that Roblox simulator games have, you can use our codes list below to claim in-game rewards. These codes often provide things like exclusive pets, free rebirths, or even just add stacks of Swings to your running total. Free rebirths are often a rare reward in simulator games, so be sure to claim them when they're available!
While you're using our codes list for Swinging Simulator, don't forget to check out our extensive list of other codes for similar Roblox simulator games. We have the most up-to-date lists of codes for popular games like Soda Simulator X, Burn Everything Simulator, Dragon Fighting Simulator, and Blox Firearms Simulator. Or, if you came here looking for a Spider-Man game, check out our codes for Tangled Web!
All Swinging Simulator Codes List
Updated May 31, 2022

Added new codes
Swinging Simulator Codes (Working)
Here's a look at all the working Swinging Simulator codes.
FreeHugePet—Redeem for a Pet (New)
1000Likes—Redeem for Swings (New)
500Likes—Redeem for 5 Rebirths
lollyissad—Redeem for 5 Rebirths
DevFoyRBX—Redeem for 3 Rebirths
Croatian4K—Redeem for 3 Rebirths
ModeDeveloper—Redeem for 3 Rebirths
StarterPet—Redeem for a Dog from the first egg
New—Redeem for 150 Swings
Release—Redeem for 300 Swings
AlienArea—Redeem for Swings
Swinging Simulator Codes (Expired)
These Swinging Simulator codes no longer work.
Swinging Simulator Frequently Asked Questions
How to Redeem Swinging Simulator Codes
Redeeming codes for free rewards in Swinging Simulator is easy.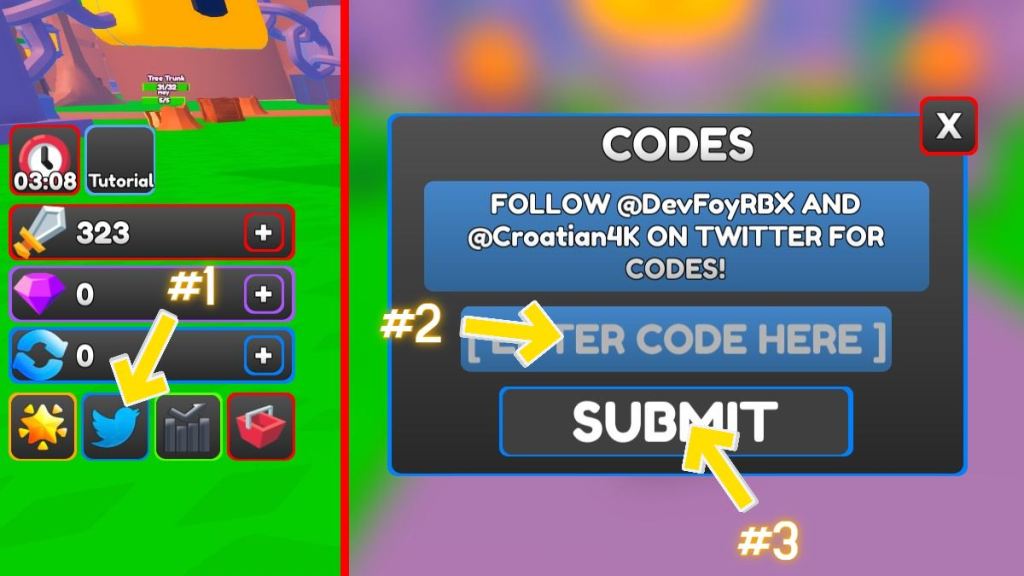 In the game, press the Twitter Bird icon on the left side of the screen.
In the text box, enter the code exactly as it appears in the list above.
Press the Submit button to claim your reward!
How can you get more Swinging Simulator codes?
The best way to get new codes is to bookmark this page and periodically check back for updates—especially if you notice that an update has been pushed on the games Roblox page. However, you can also monitor the game's Discord channel to keep track of new updates and the codes that come with them. If you use Twitter, you can follow developer DevFoyRBX to catch the latest news about changes made.
Why aren't my Swinging Simulator codes working?
Usually, invalid codes are caused by the user entering them incorrectly. Most games make their codes case-sensitive and required users enter any punctuation, including periods and spaces. To avoid this, copy and paste the code directly from our list into the game. If you are certain you entered the code correctly, then you have either used the code already, or the code has expired. The game will notify you if either of these is the case.
What is Swinging Simulator?
Swinging Simulator is a simulator game on Roblox that has a lot of similarities to clicker simulator games. You increase your rank by consuming rebirths, improve your equipment to increase your rates, and use your pets to get multipliers. Your goal is to get reach the highest rank possible. But, what sets Swinging Simulator apart from other games is the fact that you can build and destroy bases. Using your weapons, keep your base safe from attacking players and demolish anything in your path!
If you're looking for codes for other games, we have a ton of them in our Roblox Game Codes post! You can also get a bunch of free stuff via our Roblox Promo Codes page.