Get your note cards ready, it's time to present! Hop into a virtual classroom inside of The Presentation Experience and be whatever kind of student you want! Are you the class clown? The attentive listener? The sleeper? The one who reminds the teacher that there's homework? The choice is yours! Interact with your peers by spending points to cheer them on while they present, or throw them off with various sounds and physical interruptions! So how do you get points quickly? With codes of course!
All of the codes below can be used to redeem a certain amount of points, or even a special point boost if you're lucky! If you're looking for even more freebies, be sure to check back with this article regularly—we update this list as soon as new codes come out! If you find a code in the Working Codes section that seems expired, please let us know so we can remove it as soon as possible. Keep in mind, also, that you'll need to enter each code exactly as it's written or the experience won't accept it!
If you're looking for more Roblox content to browse while you wait for new codes, check out some of our best of articles including 5 best Roblox games like Call of Duty, 5 best Roblox games like Pokémon, or Best Roblox games like The Sims!
All The Presentation Experience Codes List
Updated May 29, 2023

Added a new code!
The Presentation Experience Codes (Working)
Here's a look at all the working The Presentation Experience codes.
unexpected—Redeem for Points (New)
200MVISITS!—Redeem for 100 Points
coffee—Redeem for 60 Points
maxwellgood—Redeem for 20 Gems
manfacepooper—Redeem for a 5x Point Boost for 10 min
fartyreward—Redeem for 100 Points
minimalgamespro—Redeem for 25 Points
UwU—Redeem for 20 Gems
Hallway—Redeem for 10 Gems
pencil—Redeem for 100 Points
100MVISITS—Redeem for 15 Gems
MILLIONMEMBERS!—Redeem for 10 Gems and 10 minutes of 5x XP
therearenootherteachersintheschoolbecausenobodywantstoseethebadteacher—Redeem for 10 Gems

nootnoot—Redeem for 75 Points
Megaboost—Redeem for 5x Points for mone minute
5gems—Redeem for 5 Gems
toilet—Redeem for 50 points
itsaboutdriveitsaboutpower—Redeem for 150 Points
poop - Redeem for 100 Points
NikkoCoder - Redeem for 50 Points
bookworm - Redeem for 80 Points
code - Redeem for 15 Points
RAT - Redeem for 25 Points
Teachermadcuzbad - Redeem for 200 Points
The Presentation Experience Codes (Expired)
These The Presentation Experience codes no longer work.
CHRISTMASGIFT—Redeem for 39 Gems
anfisanova—Redeem for 25 Points
bababooeypoints—Redeem for 50 Points
180klikes—Redeem for 10 Gems
Easter—Redeem for 8 Gems
700kmembers—Redeem for 10 Gems and a 1 minute 5x Points Boost
600kmembers—Redeem for 5 minutes of 2x Boost
175klikes—Redeem for 10 Gems and 5x Point Boost
150KLIKES
beatbox - Redeem for 30 Points
sus - Redeem for 30 Points
How to Redeem The Presentation Experience Codes
It's easy to redeem codes for free rewards in The Presentation Experience! To do so, simply follow the steps below.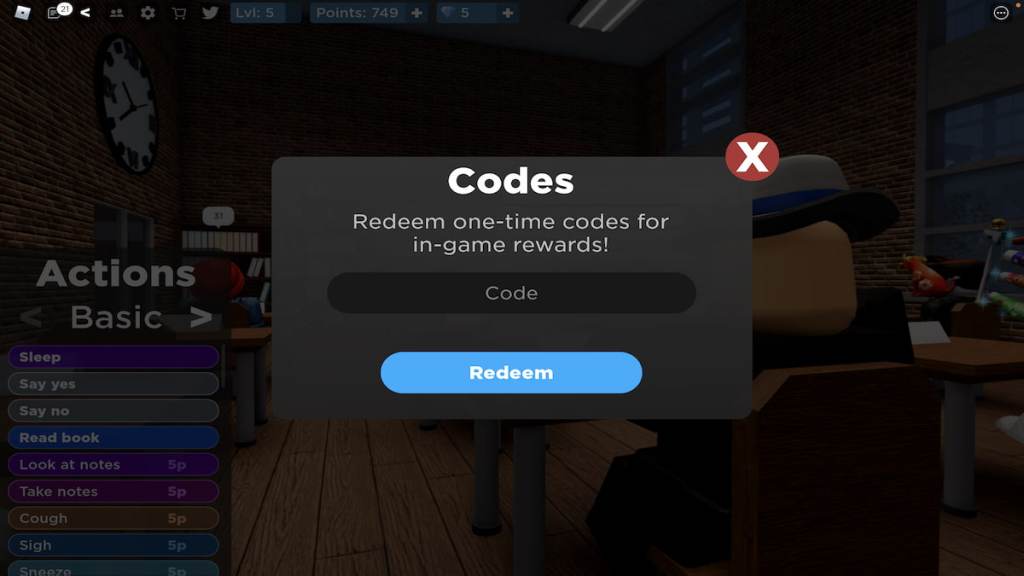 First, launch the experience
Once inside, look for the Gear in the top left corner and click on it.
Then, select the Twitter bird icon labeled Codes.
Type or copy and paste a code into the new window that appears.
Press confirm to receive your free reward!
How do I get more The Presentation Experience codes?
Codes for The Presentation Experience are typically released each time that the experience hits a new like milestone. To stay up to date on these codes, be sure to check back with this article often, join the Minimal Community Discord server, and join the Minimal Games Roblox group. Players who join the Roblox group will also receive a bonus 500 points and 10 Gems!
Why aren't my codes working?
Not all Roblox codes are active for the same amount of time, meaning some expire exceptionally quickly and may even become inactive after 24 hours or less! If you attempt to enter a code and it says Code Expired, that code is no longer active and, unfortunately, can no longer be redeemed. There's nothing that you can do to fix this issue, the code is simply unobtainable. If you attempt to type in a code and it says Invalid Code, however, this means that you've likely mistyped the code or neglected to use the correct capitalization. If this happens, try to retype and re-enter the code once more, being sure to copy it exactly as it's written!
What is The Presentation Experience?
The Presentation Experience is a school-based role play experience that allows players to take turns presenting randomly selected topics that are either created by the AI teacher or other players/students in the classroom. Once the teacher calls on you to present, you better be ready—you only have a few minutes to make a great impression! During presentations, other students can clap, scream, jump out of their seat, sleep, burp, and more to interrupt or cheer on their peers. The teacher will do her best to control the class, but it's only a matter of time before things get out of hand!
If you're looking for codes for other games, we have a ton of them in our Roblox Game Codes post! You can also get a bunch of free stuff via our Roblox Promo Codes page.