Our Roblox Titanage Codes has the most up-to-date list of OP codes that you can redeem for lots of in-game cash and accessories. Redeem these freebies as fast as possible, because a Titan might eat up all the codes!
All Titanage Codes List
We'll keep you updated with additional codes once they are released. You should redeem these as soon as possible because you'll never know when they could expire! These codes have been tested on the date that this post was released. If you find one that is expired, please let us know the exact code in the comments below so we can remove it!
Enter the code exactly as it is listed, or it might not work correctly!
Updated Feb. 28
Titanage Codes (Working)
Here's a look at all the working Titanage codes.
55K!—Redeem for 5.5k Money (New)
ArgIdol—Redeem for 500 Money, 100 EXP (New)
ParIdol?—Redeem for Jacketless Levi Clothing, 500 Money (New)
Update—Redeem for 600 Money (New)
ItsBack—Redeem for 50 EXP (New)
BUSYBEEE - Redeem for Bee Buddy accessory (NEW)

OMGIGOTTABLACKTRIDENT - Redeem for Black Demon Trident accessory (NEW)
YEAHIMABOSS! - Redeem for Boss Necklace accessory (NEW)
40KLikes - Redeem for 3,000 cash (must meet a certain amount of in-game playtime) (NEW)
LUXURIOUS!!! - Redeem for Luxury Hat
MFSA12F - Redeem for Body Pillow accessory
KAWAIISUSSYBAKA - Redeem for Chick Mask accessory
CoronaBack? - Redeem for Face Mask accessory
Titanage Codes (Expired)
These Titanage codes no longer work.
25KLikes - Redeem for 3K Cash
15KLikes - Redeem for 3K Cash
10KLikes - Redeem for 2.5K cash
5KLikes - Redeem for 2K cash
Adurah&QueenIzzyLookThemUp! – Redeem code for BoomBox accessory
Testing! – Redeem code for Cash
MarshmelloDJY7 – Redeem code for MarshmelloDJ accessory
How to Redeem Titanage Codes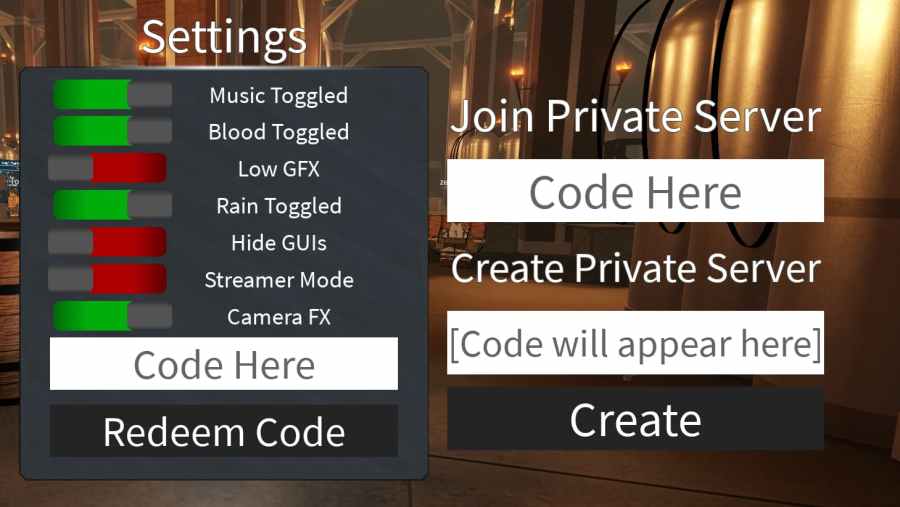 It's easy to redeem codes for free rewards in Titanage. Just launch the game and press the Gear Cog settings button on the bottom-right side of the screen. A new window will appear where you can enter each working code into the text box. Press Redeem Code to receive your free reward.
Game Description & Recent Update
Fight the evil Monster Titans, prestige, make Squads with your friends! Be careful not to get wiped you you can lose your progress, avoid getting grabbed, stomped, chomped while fighting to save your world! This game will not be easy to the common player you've been warned.

Subscribe for codes & updates:
https://www.youtube.com/channel/UCPELGzdpDWX3yOLJZwz_ZAw

Stay up to date by joining our socials! (see updates early!)

Controls: Q, E, F, R, H, V for PC the game has XBOX support!
Settings, bottom right tweak your experience however!

Disclaimer: Game is still in development, 2 months worth of development.
If you're looking for codes for other games, we have a ton of them in our Roblox Game Codes post! You can also get a bunch of free stuff via our Roblox Promo Codes page.