Jailbreak is a pretty popular and longstanding game in Roblox that has you pretty much playing GTA in Roblox. You can mastermind robberies by becoming a criminal, or you can become a police officer and thwart these evildoers and make sure they get thrown in jail! Whichever role you decide to take, it is a pretty fun way to spend sometime with friends. The game also includes a bunch of cars, weapons, and skins that you can collect by earning cash.
The new "molten" update includes a whole new town, with a brand new layout and some homes with interiors. This town also includes brand a new donut shop, garages, and a whole lot of other places to explore. There's the Molten M12 vehicle that is available for a limited time. It's a pretty futuristic looking vehicle, and you will for sure be noticed when you drive that baby around the town. The volcano base has been upgraded, and there is now a police garage at the prison. If you've been hanging around the prison area, you might have noticed some additional improvements.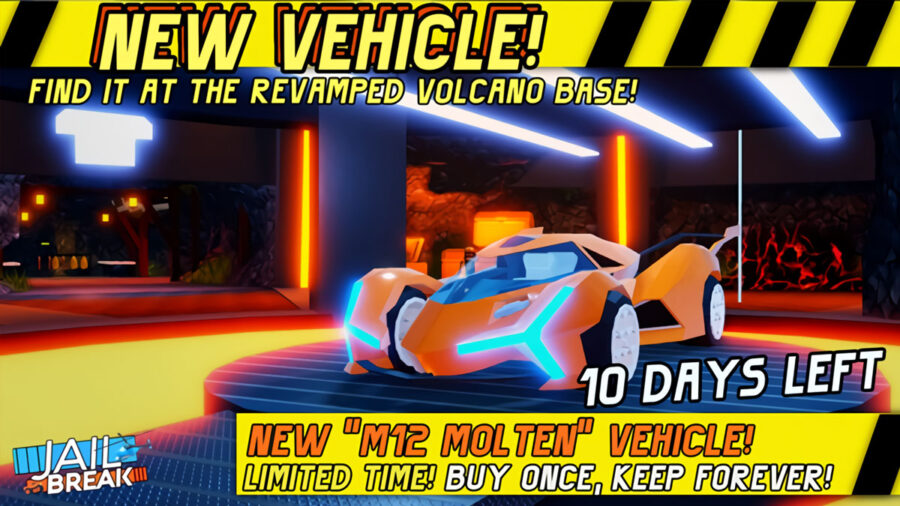 Here's a look at all of the new things you can find in the game:
ALL NEW TOWN! With a new layout and a few homes with interiors!
NEW MOLTEN M12 VEHICLE. LIMITED. Buy once and keep forever. This vehicle is off-sale in 10 Days.
UPGRADED VOLCANO BASE!
POLICE GARAGE at the Prison! Plus Prison improvements!
BIGGER SERVERS!
For a view of everything that's in the new update, you can find it in the following trailer video for the October update below.