In Tower Defence Tycoon, you need money to purchase upgrades, defenses, and expansions to your tower. You can earn money by waiting for your dropper and factory equipment to accumulate some. It's crucial that you keep your tower's health up to the max by utilizing the proper weapons and protective defenses, which you can do by growing your wealth and purchasing upgrades.
You can earn some money and weapon upgrades instantly by using in-game codes. Developers give out codes for players to redeem free items that can give them a headstart in their experience.
You can redeem more exciting rewards with codes right here on Pro Game Guides for other great games just like this one, such as Roblox World Defenders Codes, Arena Tower Defense Codes, Roblox SCP Tower Defense Codes, One Piece Tower Defense Codes, or All Star Tower Defense Codes.
All Tower Defence Tycoon Codes List
Updated December 1, 2022

Added new Tower Defence Tycoon codes.
Tower Defence Tycoon Codes (Working)
Here are all the working Tower Defence Tycoon codes.
release—Redeem for 1K free Money!
CodeDropper—Redeem for the free OP Dropper!
200likes—Redeem for 20k free Money!
500likes2xmoney—Redeem for 500k free Money and 2x Money boost!
maxhealth750likes—Redeem for 1M free Money and Max Health for your tower!
1000likes—Redeem for 10M free Money!
1500likes—Redeem for 15M free Money and a free CodeMachineGun!
3000likes—Redeem for 100M free Money and 100 free extra health for your tower!
Tower Defence Tycoon Codes (Expired)
These Tower Defence Tycoon codes are no longer working.
100likes—Redeem for free Money!
250likes—Redeem for free Money!
How to redeem Tower Defence Tycoon codes
Redeeming Tower Defence Tycoon codes is a quick and easy process.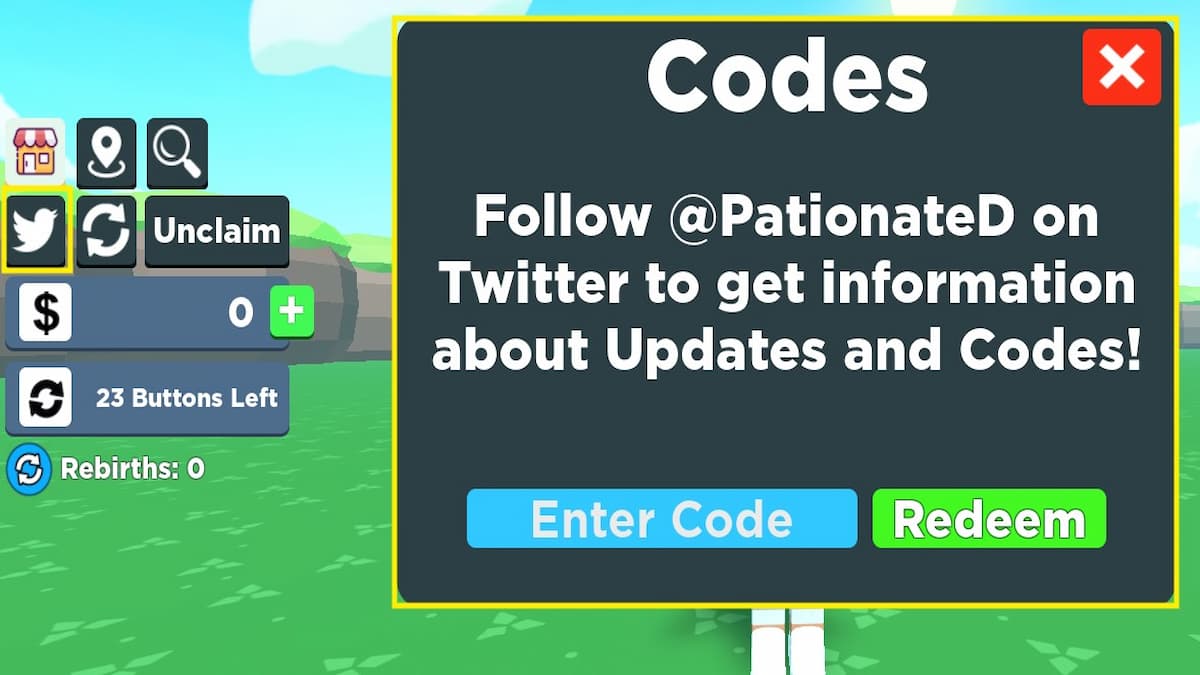 In the game, open the Codes menu symbolized by the Twitter icon on the left side of the screen.
Enter your code in the text box exactly as shown in the list above. (This works better on Mobile.)
Press Redeem to enjoy your rewards!
How can you get more Tower Defence Tycoon codes?
Developers usually give out codes during an update, event, or as a goal is met, such as a specific number of likes reached. Some developers will place them directly in the game's image or description to notify players when they are available. However, other developers might require you to follow them on their social media accounts, such as Twitter or Discord to stay updated. You can follow this experience on their Twitter, PationateDev, or their Discord, Pationate Studios Community. For your convenience, you can also bookmark this page and check back whenever to see when a new code is added.
Why aren't my Tower Defence Tycoon codes working?
There are various reasons why your codes may not be working correctly. The main reason is that the codes may have already expired. Since codes are reguarly cycled in and out of the game, they can expire with little to no notice. We try to keep our lists updated, but if you notice a change before us, feel free to leave a comment below, and we will try to fix it as soon as possible.
It is also important to double-check your spelling when entering codes. They are almost always case-sensitive, meaning the slightest typo could make them appear invalid. Ensure you are typing them exactly as shown in the list above, or if the game allows, copy and paste to avoid any issues.
What is VIP in Tower Defence Tycoon?
VIP for Tower Defence Tycoon consists of various gamepasses that can greatly benefit your tower in the game, such as a VIP dropper that increases your Money faster, a VIP gun, and gun upgrades that are much more powerful. You can find these gamepasses for sale in the Store tab on the game page or within the game Shop. They are available for R$ 90 each.
What is Tower Defence Tycoon?
Tower Defence Tycoon is the perfect combination of a Tower Defense and Tycoon experience, requiring you to earn money with droppers and factory equipment and use it to purchase upgrades and defenses for your tower. Your goal is to keep your tower defended from threatening forces as you attempt to max out your upgrades so you can rebirth with 2x the profits. Utilize powerful weapons and expansions to your tower to keep it strong.
If you're looking for codes for other games, we have a ton of them in our Roblox Game Codes post! You can also get a bunch of free stuff via our Roblox Promo Codes page.