Our Roblox Tower Defense Simulator Codes has the most up-to-date list of working codes that you can redeem for xp and troops. This is a quick and easy way to get a step up in the game, so you can defend your towers better and gain experience for rewards!
All Tower Defense Simulator Codes List
Here's a look at all of the currently available codes, as well as some you might have missed out on. Make sure to check back often because we'll be updating this post whenever there's more codes!
Tower Defense Simulator Codes (Working)
DOUBLEBLOXIES - Redeem code for Cowboy Skin (Must Own Cowboy Tower) (NEW)
ICYFREEZE - Redeem code for Freezer Skin (Must Own Freezer Tower) (NEW)
W33KLICODE - Redeem code for +65 experience
5KMILESTONE - Redeem code for Minigunner Twitter Skin
B1RDHUNT3R - Redeem code for Free Hunter Troop
Tower Defense Simulator Codes (Expired)
Springtime Skin (Shredder): SPR1NGM1L3ST0NE
Springtime Skin (Commander): HAPPY3AST3R!
100 Coins: ELECTRO
100 XP: SW33TXP
Gain XP: 02MOMENT
Gain XP: MOARXP
How-to Redeem Codes in Tower Defense Simulator
It's a very simple process to redeem your codes in Tower Defense Simulator. Look to the left of screen for the Troops menu option and press on that. You will open up the following menu: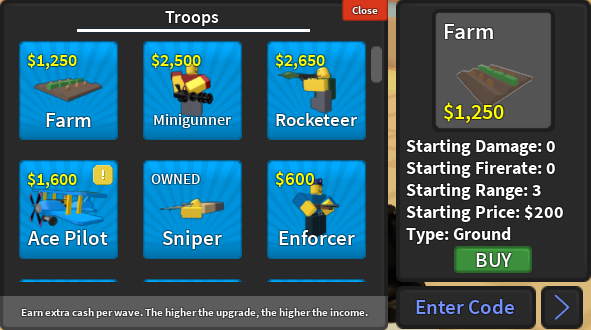 Click on the area that says "Enter Code" and enter one of the codes from below. Once you've got it entered in correctly, you'll just need to hit the the > button and you will be given the reward!
Leveling Up & Troops
Gaining additional XP is useful to you because you can unlock various rewards. These include additional troops that you can use in the game to bolster your army! Be sure to check out the Rewards menu on the side of the screen to see what you will gain by leveling up. Additional troops will give you different options to use when heading into different maps.
If you're looking for codes for other games, we have a ton of them in our Roblox Game Codes post! You can also get a bunch of free stuff via our Roblox Promo Codes page.