Roblox War Tycoon is half tycoon game, half FPS. Set up your oil drills to earn a steady income, then build up your walls to help defend your base. Buy guns to arm yourself, then head out to capture resources and strategic bases. The more you earn and capture, the more you can improve your arsenal to include drones and vehicles.
War Tycoon codes often give you free Cash in-game to help build up your base and arsenal of vehicles and weapons. But they can also give you exclusive weapons and limited-time Cash boosters.
If you like War Tycoon, we have lots more recommendations for other Roblox games we have codes. Check out Dragon Dynasty Tycoon codes, Death Star Tycoon codes, Evil Genius Tycoon codes, Military Island Tycoon codes, and Military Tycoon codes.
All War Tycoon Codes List
Updated November 10, 2022

War is hell unless you have codes. We have added codes.
War Tycoon Codes (Working)
Here's a look at all the working War Tycoon codes.
BlueBird—Redeem for the MP5 Twitter Edition rifle
250k—Redeem for $25,000 in-game Cash
Hooray50K—Use for $50,000 in-game Cash
War Tycoon Codes (Expired)
These codes for War Tycoon no longer work.
200K—Redeem for a 20-minute two-times Cash boost, 200k Cash, and a one-life Barrett M82 Gamepass Gun
50M—Redeem for 50 minutes of 2x Cash
Weekend—Redeem for 250k in-game cash, 30 minutes of two-times Cash, and a FAL Heavy
TweetUp—Redeem for free Cash
GoinUp—Redeem for free Cash
BigBucks—Redeem for $100,000 Cash
Stonks—Redeem for 2x Cash for 10 min
War Tycoon FAQ, answered
Here's everything you need to know regarding War Tycoon codes.
How to redeem War Tycoon codes
Redeeming codes for free rewards in War Tycoon is easy.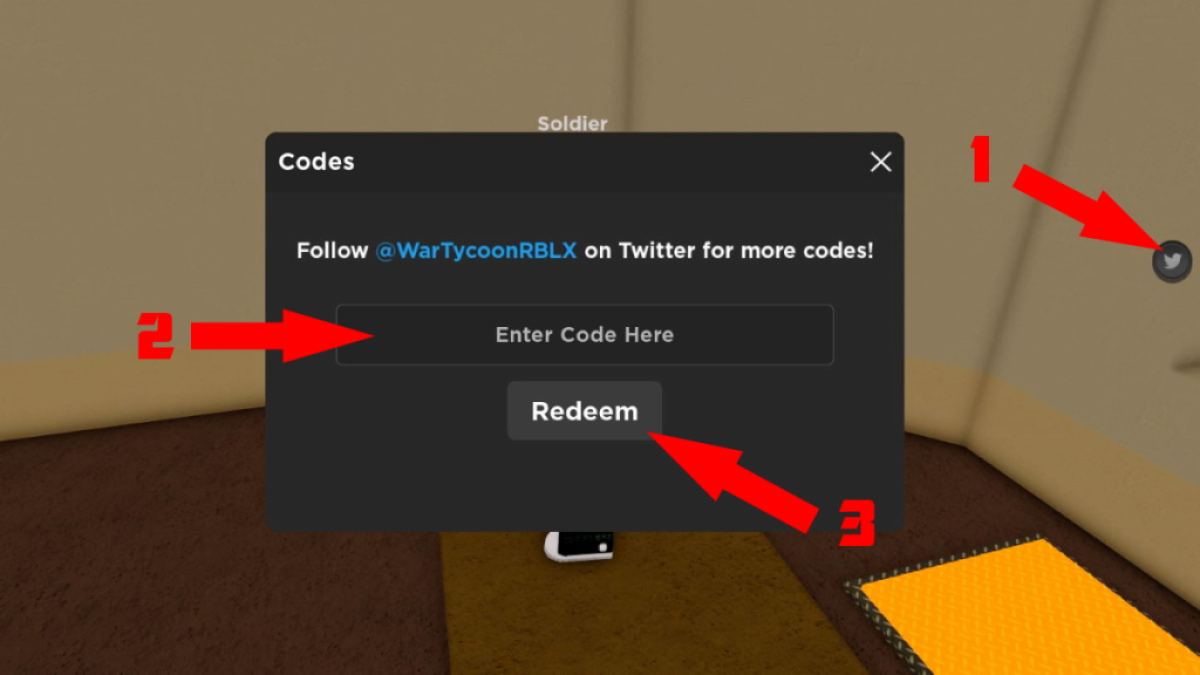 In the game, press the Twitter bird button on the right side of the screen.
In the window that opens up, cut and paste the code into the box that says Enter Code Here.
Press the Redeem button beneath that text box to claim your reward!
How can you get more War Tycoon codes?
We send our grunts to track down and capture new War Tycoon codes regularly. But if you want to scout out your own, start by joining the Green Titans Entertainment Roblox Group. For more potential code targets, head to the KizmoTek Discord Server and follow @WarTycoonRBLX on Twitter.
Why aren't my War Tycoon codes working?
The first thing to do is check the War Tycoon code closely, as you may have made a typo. The most common causes of this are mistaking a letter for a number or using the wrong capitalization. For these reasons, we highly recommend you copy and paste the codes directly from this page. If a code still doesn't work, it may have expired. Even veteran Roblox codes catch a bullet sooner or later! Please let us know if this happens so we can update the guide and check for fresh codes soon.
How to master the helicopter in War Tycoon
You know you've arrived in War Tycoon when you first take your helicopter into combat. But it is no easy ride! You'll watch other players pilot them easily, but it takes some serious practice to do well. The most important thing to do is decrease your collective. This will slow your heli down, making it much simpler to get to grips with. If you're still going too fast, point it upwards to slow down a little. To gain altitude, press and hold E, and if you need to stop completely, press H. Also, remember to enable weapons by clicking Z.
What is War Tycoon?
War Tycoon has all the tropes you expect from a tycoon game, as you set up an ever-larger set of droppers to gain income to spend. But you are never safe, as you're under constant threat from your opponents. Rather than being purely cosmetic, the items you buy (such as weapons and vehicles) can be used to attack your fellow players to gain strategic points and valuable resources.
If you're looking for codes for other games, we have a ton of them in our Roblox Game Codes post! You can also get a bunch of free stuff via our Roblox Promo Codes page.