Saints Row 2022 is an open-world action game with many new characters, weapons, vehicles, and areas to explore. While you can start your Saints Row journey solo, there is an option to play the game in cooperative mode with your friend. Here's how the co-op mode works in the game.
How co-op multiplayer works in Saints Row 2022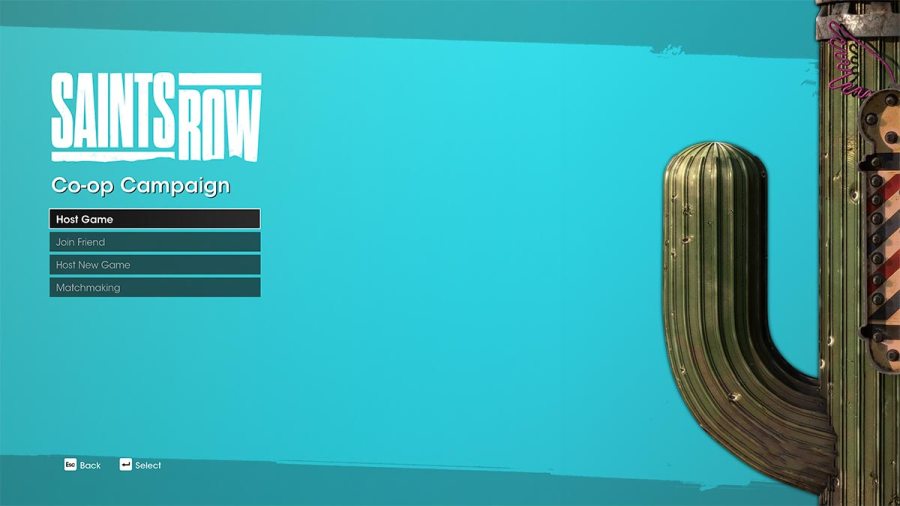 The Saints Row campaign features a two-player co-op mode that allows you to play the game with one of your friends from the very beginning. You can also invite your friend in the middle of the story. Follow the steps below on how to play Saints Row in co-op:
From the game's main menu screen, select the Co-op Campaign option.
Here you will find four options from which you can choose based on your preference:

Host Game - If you have already played the game for a while, you can launch the game from one of the saved files and invite your friend over as the host.
Join Friend - This option allows you to join your friend's co-op lobby while he hosts.
Host New Game - Starting the game for the first time, you can begin your journey with your friend from here.
Matchmaking - Use this option to team up with a random player online.

You can also invite your friend mid-game from the pause menu. Simply go to Co-op and then select from the Invite Friend or Join Friend options.
When a friend invites you, you will get a pop-up on the screen. Press Accept to get into their game successfully. You will then spawn in your friend's lobby somewhere close to them.
The person you want to team up with only shows up on the friends list as long as they are connected to you on the platform you are playing on and they own the game. For instance, Saints Row players on PC need to be friends on Epic Games to be able to play co-op. Furthermore, there is no crossplay, which means you can only play with your friends if they are on the same platform as you.
Related: Will Saints Row be on Game Pass?
Saints Row 2022 Co-op Settings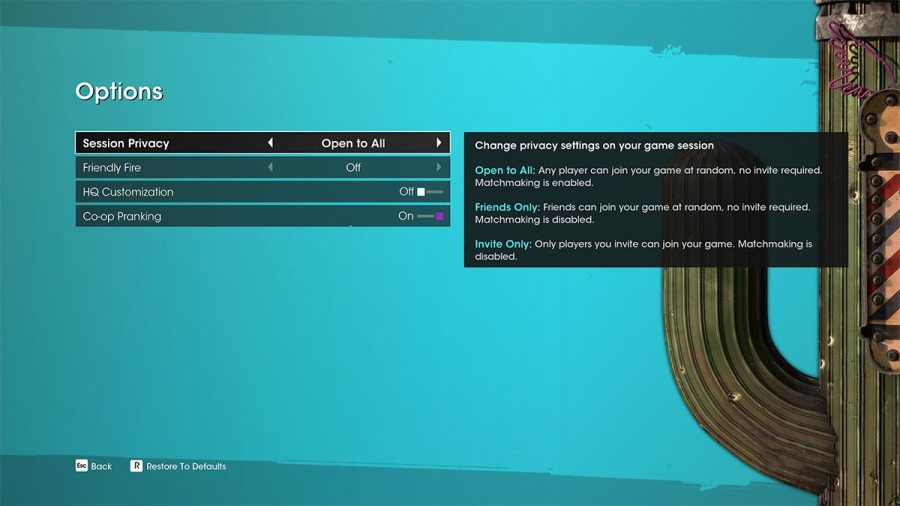 Within the Options menu, you can select Gameplay and then Co-op Settings to change various features:
Session Privacy - Select from Open to All, Friends Only, and Invite Only options.
Friendly Fire - Turn this off, Partial, or Full depending on your preference. While Partial Friendly Fire allows you to take reduced damage from your co-op partner, Full doesn't reduce the incoming damage.
HQ Customization - Choose whether your friend can customize your HQ or not.
Co-op Pranking - Both players need to turn this to On or Off for the setting to take effect.
Stay tuned to Pro Game Guides for more on Saints Row. In the meantime, head over to our article on How to unlock the signature ability for vehicles in Saints Row.