Shell Shockers is a first-person shooter set in the world of eggs that fight for dominance while trying to look nice simultaneously. You can play the game free from your browser, so no installation is necessary, but it is advised to create an account. To become one of the better-looking eggs, you'll need some Shell Shockers item codes.
For cosmetic rewards, you can use Shell Shockers item codes such as a new hat or egg skin. One of the significant parts of this game is to make your playable egg avatar look as sophisticated and stylish as possible. If you're into casual FPS action, check out 12 Best Roblox FPS games and Best FPS games on Core.
All Shell Shockers Codes List
Shell Shockers Codes (Working)
These are all the working Shell Shockers codes.
5831—Redeem this code to see how EGHG ORG was beaten.
3MIE3441J66—Redeem this code to get The Chain Hat.
Shell Shockers Codes (Expired)
These codes for Shell Shockers no longer work.
inapurplehaze—Redeem for rewards
kensentme—Redeem for rewards
noescape—Redeem for rewards
norealguns—Redeem for rewards
Related: Best Browser Games
How to redeem codes in Shell Shockers
Follow these instructions to redeem codes in Shell Shockers.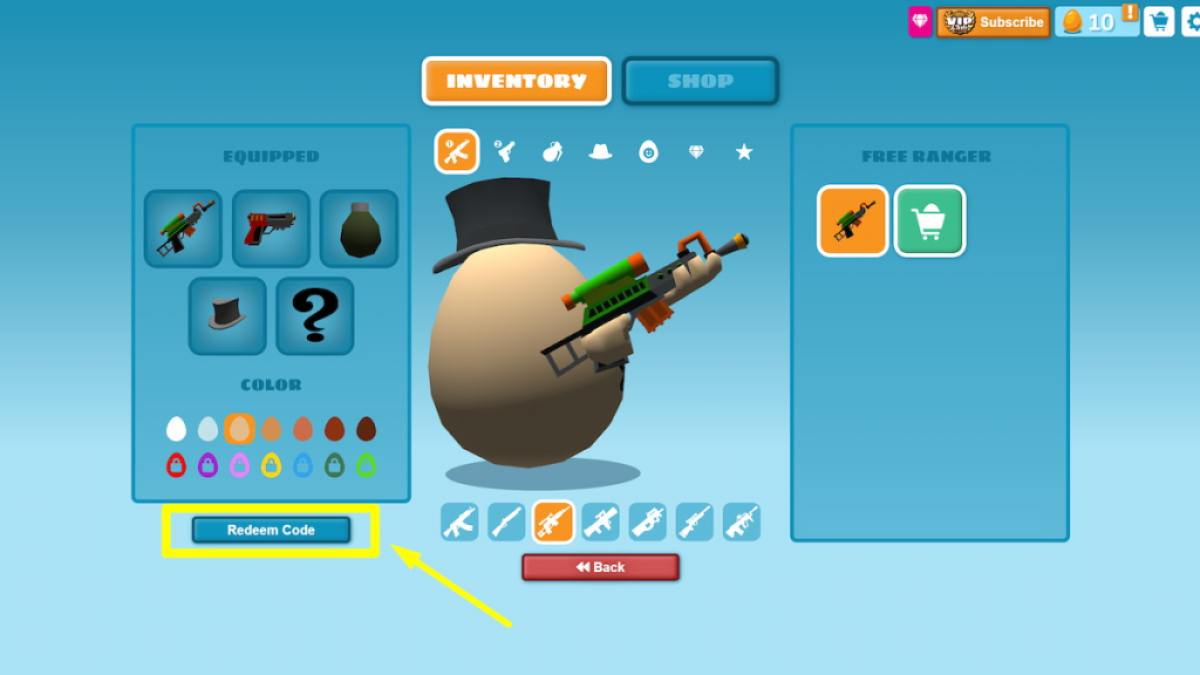 Launch Shell Shocker from the internet browser.
Click on the Inventory button in the middle of the screen.
Click the Redeem Code button to open the Enter Item Code Here text box.
Enter working codes into the Enter Item Code text box.
Click on the Confirm button to claim your free prize.
How to get more Shell Shockers codes
Enter giveaways in the Blue Wizard Digital Discord Server giveaway channel to get more Shell Shockers item codes. Every week giveaways occur for a chance to get an item code. You can also Subscribe to The New Yolker, a Blue Wizards official newsletter for Shell Shockers. By doing this, you'll receive a newsletter on the first day of every month with information on upcoming updates, news, and an item code. You can also bookmark this page, as we'll update it as soon as new codes appear.
Why are my Shell Shockers codes not working?
Many have wondered why there are hardly any codes for Shell Shockers, and of those that are found, 99 percent of the time, you get a "Code Used" message. The reason for that is simple. All Shell Shockers codes you can redeem are not multiple-use codes. This means that only one person can use that code.
Hence, if a person uploads that code and someone else tries to use it, a message will appear saying Code Used, and you will not get the cosmetic. It is scarce for a multiuse skin to be made available for all.
Other ways to get Item Codes for Shell Shockers
There are many ways to get item codes for Shell Shockers but remember, all codes are for one-time use only. All the ways below are potential ways to get codes; the more you do, the higher your chance of acquiring them.
Follow and watch Shell Shockers streamers on Twitch or YouTube. These are content creators supported by Blue Wizard, so they frequently do giveaways for Item Codes.
If you are good enough at Shell Shockers, enter the Shell League. If you become the Season Most Valuable Player (MVP) or Win, you'll obtain some rare Item Codes.
Enter competitions and quizzes in the Blue Wizard Digital Discord.
Become a VIP (Very Important Poultry.) You get perks for joining, such as two exclusive skins. But to become a VIP, you must subscribe to the paid service.
Become an official Shell Shockers Content Creator. You can apply in the Blue Wizard Digital Discord. You can host your own giveaways and receive codes to decorate your egg if you get in.
Play other games created by Blue Wizard, such as Killstreak, Merc Zone, and Castles CC. By playing these games, you'll have an opportunity to get Shell Shockers item codes.
What is Shell Shockers?
Shell Shockers is a first-person shooter that looks like a combination of Counter-Strike and Worms. Although the game seems like it doesn't take itself seriously with all the eggs running around with bazookas and machine guns, you'll need some skill to play this game. While you're at it, you might as well look good. Claim Shell Shockers item codes to be deadly and fashionable.