The Sims franchise remains the most popular and ever-expanding home-building simulation collection of games, allowing players to design endless creative spaces and play as unique characters with various lifestyles. Sims 4 continues to grow and update with new content that makes building a home and life even more enjoyable.
It can be a slow and challenging process to walk your Sims through life, saving money to get the house and items you want. However, if you're a returning Simmer and aren't looking to go through the beginning motions for another time or don't have the time to work from the bottom up, there are ways you can purchase your dream house right from the start––with the Free Real Estate cheat!
How to get a house for free in Sims 4 - Free Real Estate Cheat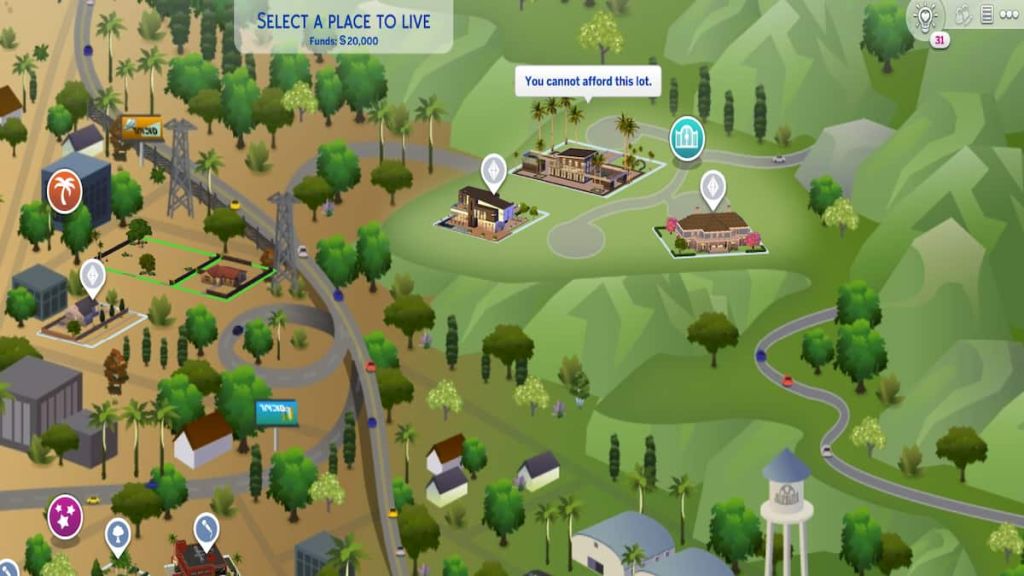 To buy a new house or move to a new place, whether you're starting a new game or moving residencies, you will want to go to the Manage World menu. This is where you can see available houses and lots with a green outline around them. When you're starting a new game, you only get a budget of $20,000, and the more expensive houses will always warn you that you can't afford them. Here are the steps to fix that:
Press CTRL, Shift, and C to open the cheat menu on PC, or L-Bumper, R-Bumper, L-Trigger, and R-Trigger on a console controller (this opens a white box on the top left side of the screen)
Type in testingcheats true
Then type freerealestate on
After typing in the cheat, you should see a message in the cheat box saying, "Free Real Estate on." This means all lot options will now be available despite how much money you have. Go ahead and click on the house that you want!
Notice that now when you go to purchase the home, it will still list your remaining funds as the same $20,000. You won't use any of your money to buy the lot and will get it 100% free. You could also go into the building mode beforehand and add whatever items you want before purchasing the house and get it all for free! Press that Purchase Home button to jump into your new place and begin your Sims adventure without any hassle!
Why aren't the cheats working?
There are a few reasons why the cheat wouldn't work for you, and in most cases, it's because you have your cheats turned off. However, be sure you are typing it correctly––usually, there are never any spaces between the words except for the 'true' and 'on.' Always ensure you first type in the command: testingcheats true before you type in the other cheat. If that isn't working, go into your Options-Game Options, and switch to the Other tab.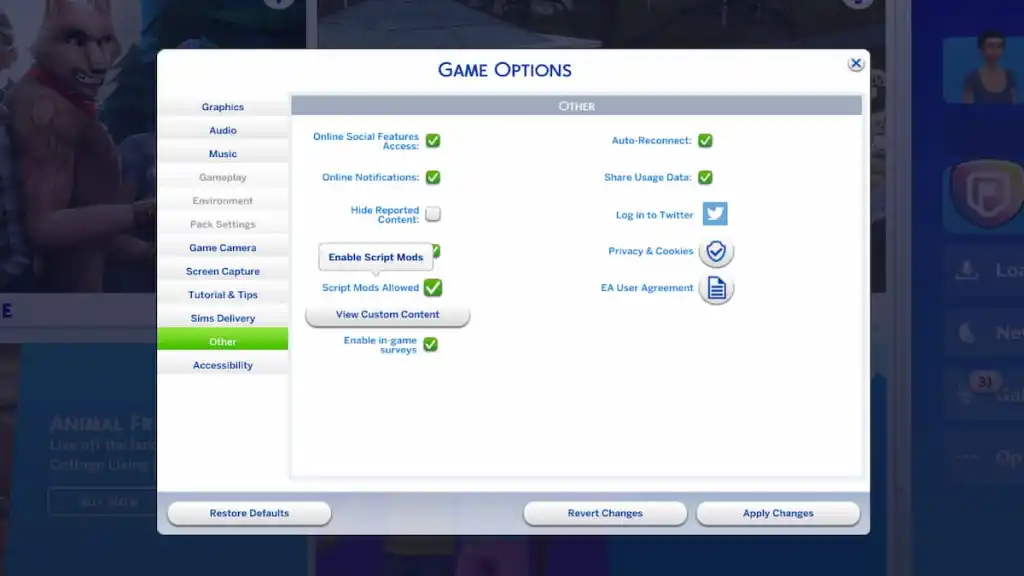 Be sure that the Scripts Mods Allowed is check-marked. If it already is check-marked and it still isn't working, uncheck it, re-enable, apply changes, and restart your game to see if it is fixed. If this doesn't manage to fix things, it may be a deeper problem with your game that might require a re-install.
Let us know if this cheat worked for you and what dream house you decided to purchase entirely for free! Also, don't forget to check out Pro Game Guides Sims 4 guide on more cheats to unlock all items!
Looking for more Pro Game Guides Sims 4 content? Check out our guides on Sims 4 Werewolves – What they look like, release date, & everything we know or 6 Best Sims 4 Expansion Packs in 2022!