Stardew Valley is home to many NPCs in the game, most of which you will meet by doing the game's first quest, which tasks you with meeting them all. However, this quest only applies to the town NPCs, and will you still have to search for them. One is known as the Dwarf, and you will need to do some leg work in order to find him.
How to find the Dwarf in Stardew Valley
The Dwarf is a mysterious character in Stardew Valley, and to find him, you will need to go to the mine. That said, to find the Dwarf, start by heading into the mine, but before you do, make sure you either have a steel pickaxe or a cherry bomb.
This is because you will need to blow up a rock blocking a path to the right inside the mine. Once the rock is gone, you can find the Dwarf all the way to the right; but you will not be able to interact with him just yet, due to him speaking in Dwarvish.
---
Related: Stardew Valley Best Crops for Every Season – Spring, Summer, & Fall!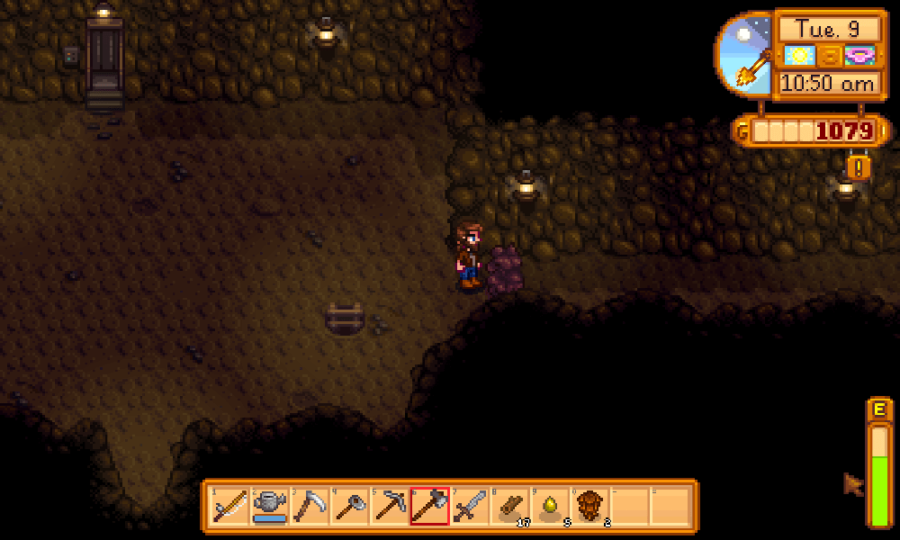 To understand the Dwarf, you will need to find four Dwarf scrolls and donate them to the museum Dwarvish Translation Guide; this item will help you understand the Dwarf NPC. You can find the Dwarf scrolls inside the mine or Skull cavern as loot drops from the various enemies in the mine's lower levels. You can also find Dwarf scrolls by tilling soil with a hoe on any floor of the mine or cavern.
Once you gathered up all four scrolls, take them back to the museum and donate them. After this, you will get the translator you need to talk to the Dwarf, which will then unlock a unique merchant NPC that sells the following items below.
Miner's Treat

Rarecrow Six

Stone Cairn

Life Elixir

Oil of Garlic

Weathered Floor

Cherry Bomb

Bomb

Mega Bomb
For more on Stardew Valley, PGG has you covered with guides like the one linked above and how does split-screen work on Switch, PS4, and PC.