As simple as it should be, building in Starmancer can be complicated if you don't know exactly how to access and use the menu properly. In the guide below, we explain how to build in the game and how to properly use the menu.
Building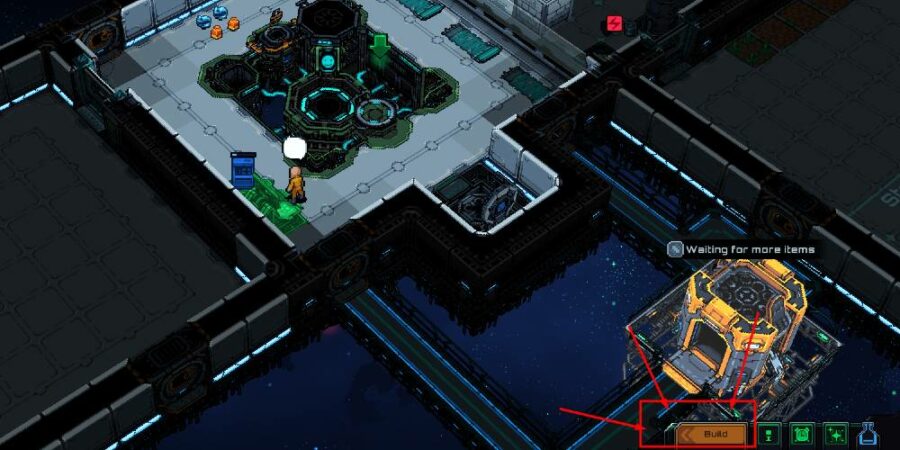 As you can see in the image above, the Build button is on the bottom right corner of the game screen. When you press it, a menu stretches across the bottom of your screen that allows you to select what you'd like to build. If you're at the start of the game, you will probably find that after building a couple objects, many of your options are grayed out and disabled so you can't select them. This is because you need to have the appropriate amount of Zipher to build them, which is currently the game's only resource requirement for building.
Once you have selected which objects to build, the characters will place priority on when to build it based on what you have the Building task set as in their character menu.
Resources
Currently, there are two ways to get Zipher: You can build a Trading Post (the first trading post is free) and sell resources, or you can build a Cryptominer. At the start of the game, most people opt to build a Trading Post first, since the Cryptominer runs 10,000 Zipher and requires a constant source of energy.
Placement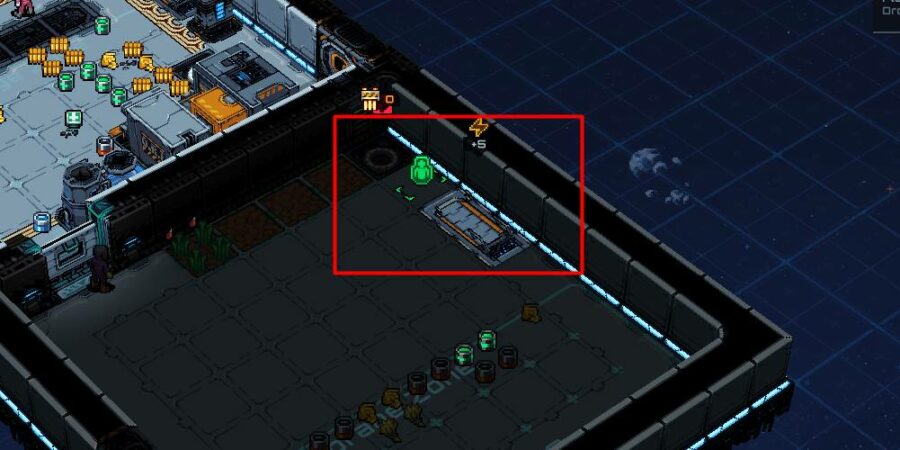 When you select something to build, you will have a hologram of it that follows your mouse and allows you to choose where you'd like to place it, like what is shown in the image above. Some objects will have green silhouettes on the ends (also shown in the image above). These represent the spots on the object that allow the characters to access them. They must be clear when they are placed, otherwise your characters cannot use them.
Destruction
Destroying objects is simple, but can be clunky when it comes to controlling it. In the image above, you see where to click to switch to Destroy mode. From here you must drag your mouse across the screen and select which objects you'd like to destroy. This is where the controls get a little confusing because it doesn't select things within the area of your mouse. Rather, it selects objects within an area of the Build Grid that are within the confines of your mouse selection. For an example of this, you can see the image above to the right.
Tips and Tricks
In the text below, we've provided a short list that might help you while trying to place and build your objects.
Don't destroy if you don't need to! For most objects, including things like doors and windows, you can Move the object instead of destroy it and build it again in a new area.
Select individual objects to destroy. When selecting objects to destroy, instead of selecting an area, you can simply click on an object to highlight it for destruction.
Pay attention to object information. Some objects make noise, which can cause problems regarding character happiness. Be sure to place objects in areas where the least interfere with the characters.
With the guide above, you should be able to get a basic understanding of building in Starmancer.
At Pro Game Guides, we offer guides and news for the latest and most popular games! Check out our homepage to see guides for games like Fortnite, Genshin Impact, and Minecraft!