The Switch Pro controller is Nintendo's take at a conventional console control design. The Switch Pro controller doesn't boast too many features, though its simplicity may be exactly what makes it so appealing. Its uncomplicated design makes it extra appealing for those looking to pick up a controller for a Steam game. Here is how to connect a Switch Pro Controller to Steam.
Connecting a Switch Pro Controller to Steam is extremely easy and will let you use the controller with all the gamepad-supported games you have on Steam. All that is needed to use your Switch Pro Controller with Steam is the controller itself, a USB charging cable for wired play, or a Bluetooth connection for wireless play, as well as the latest version of Steam.
Once you have everything you need, all you need to do is:
Connect your Switch Pro Controller to your PC, either with a USB cable or via a wireless adapter.
Start up Steam and go into Big Picture Mode.
Navigate to the Settings cogwheel in the top right corner.
Click the Controller Settings button under the Controller sub-menu.
Check the Switch Pro Configuration Support box.
If you've followed the steps above, you will now be able to use your Switch Pro Controller to play any Steam games with gamepad support.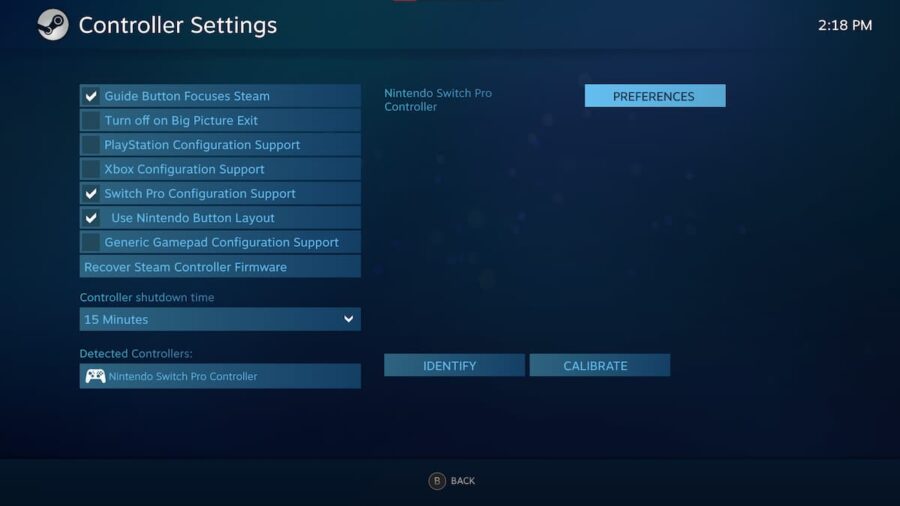 Additionally, if you click on your connected controller, you can pull up that controller's preferences. The controller layout will be Nintendo default, meaning the A and B buttons are swapped. However, you can swap these back and edit the rest of the layout to fit whatever needs you may have.
There you have it, that is how to connect a Switch Pro controller to Steam. As long as they support a controller, you can play your favorite games on your PC with the simplicity of your Switch Pro Controller.
For more Steam guides, check out How to connect an Xbox One Controller to Steam right here on Pro Game Guides.