Like in any survival game worth its salt, you will, along with hunger, need to deal with dehydration; in Stranded Deep, this is also the case, and to deal with dehydration in the game, you will need to find water.
How to collect water in Stranded Deep
To get water in Stranded Deep, you can do a multitude of things and the first is to find and collect coconuts, and the second is to make a water still. You can find coconuts at the top of the trees; you can either climb up and grab them or chop the tree down with a crude axe or stone tool. Either one will work, but you will need to level up to level one before you can craft the axe.
Here's how to make both tools:
Stone Tool

One Rock:

you can find these sitting along the beach on some islands.

Crude Axe

Two Stone Tools

One Wood Sticks:

You can find them sitting along the beach along with various other items; you can also get sticks from chopping up wood logs

One Lashing:

To make lashings, you need to get fibrous leaves from chopping up yuca plants; one lashing takes four fibrous plants to make.
Once you get some coconuts, you can drop them on the ground and hit them with a tool to turn them drinkable, or you can make the coconut into a coconut flask. Making a coconut flask will allow you to use it as a portable water source in conjunction with a water still; if you want to make a coconut flask, you will need one coconut and one lashing. You can also get water by gathering and farming quwawa berries by planting them.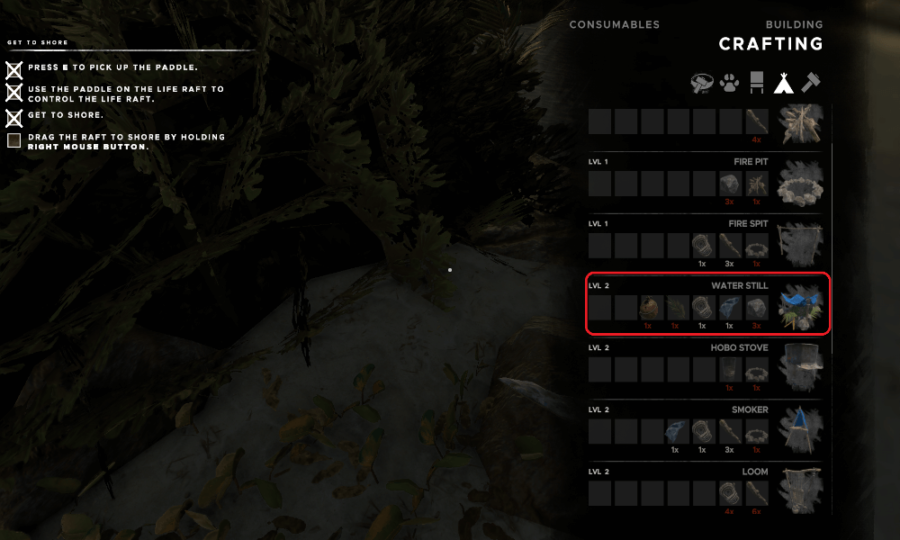 How to make a water still & water storage in Stranded Deep
To make a water still in stranded deep, you will need the following materials listed below; you will also need to be at level two in the game.
Three rocks

One Cloth

: you can scavage cloth along the beaches of Islands in the game, from shipwrecks, and with a loom and four fibrous leaves.

One Palm Frond

: you can get these by chopping down palm trees.

One Coconut Flask
Once you get the materials listed above, craft the still and place it on the ground near your camp, and over time it will fill up with water. You can then walk up and drink from the still with your hands or fill either your coconut flask up or a leather flask you can make with two leather and one wood stick.