Fieldwork is a Tears of Themis game mode that can be unlocked after completing the Main Story stage 4-18. You can access it on the bottom left of the home screen. It introduces a Reputation system, where you can get rewards by providing legal help to various areas in Stellis.
Some tasks may require you to complete Lawsuits under Fieldwork. These are special debates that can be unlocked after completing five jobs in any area.
Where to Find Lawsuits in Tears of Themis
Click on Fieldwork, select Legal Aid, then choose an area to access the local jobs. Around two to three cases will appear at a time. There are relatively simple debates with a recommended power level of 20,000 to 40,000. Each regular debate costs 10 AP and 10 Fatigue. After completing all of them, you need to wait for DAVIS to find more jobs.
Related: How does Shadow of Themis work in the Tears of Themis Secrets of the Tomb event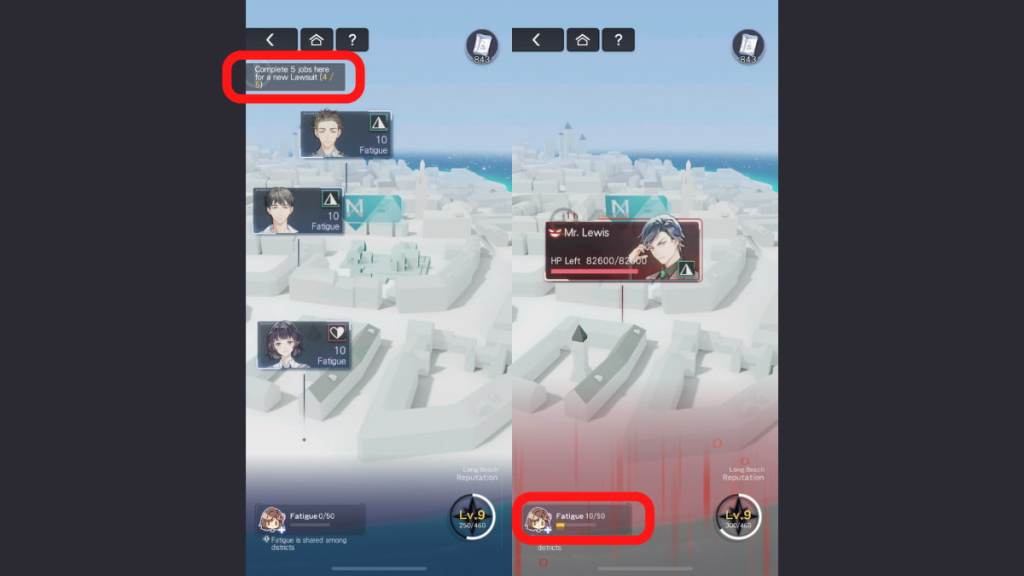 Completing five jobs in any area will automatically prompt a Lawsuit against the Baldr Legal Office. These are harder debates with a recommended power level of more or less 80,000. However, if you fail to win the debate in one go, you can keep trying again. Lawsuits don't use up any Fatigue but will cost 10 AP each try.
You can track the number of jobs required to reach a Lawsuit on the upper left of the screen. Keep in mind that this counter is separate for each district. So if you need to complete Lawsuits within a certain period, it's best to stick to one to two areas at a time.
Check out our Tears of Themis Returner Gifts event guide to get plenty of rewards to pull for the limited Shadow of Themis.