The Tears of Themis Secrets of the Tomb event runs from April 29, 2022, to May 20, 2022. During this period, you can play through the limited event story called Shadows of Resurrection. It's released in parts over time and covers Main Stories, Side Stories, and Collection Stories.
You can immediately play through the Main Stories, while Side Stories are unlocked after completing each Main Story. In contrast, you need to do some work to unlock Collection Stories.
How to Unlock Collection Stories in the Shadows of Resurrection
Collection Stories are standalone dialogues that aren't tethered to a particular Main Story, so you can initiate them at any point in the event. Each Collection Story is attached to an item from the Rubis Museum, whether Accessories, Ornaments, Tools, or others. This means that you will only unlock a Collection Story after obtaining its corresponding artifact.
Related: How to participate in the Tears of Themis Millennium Dream event and win a merchandise pack
Where to Get Artifacts in Tears of Themis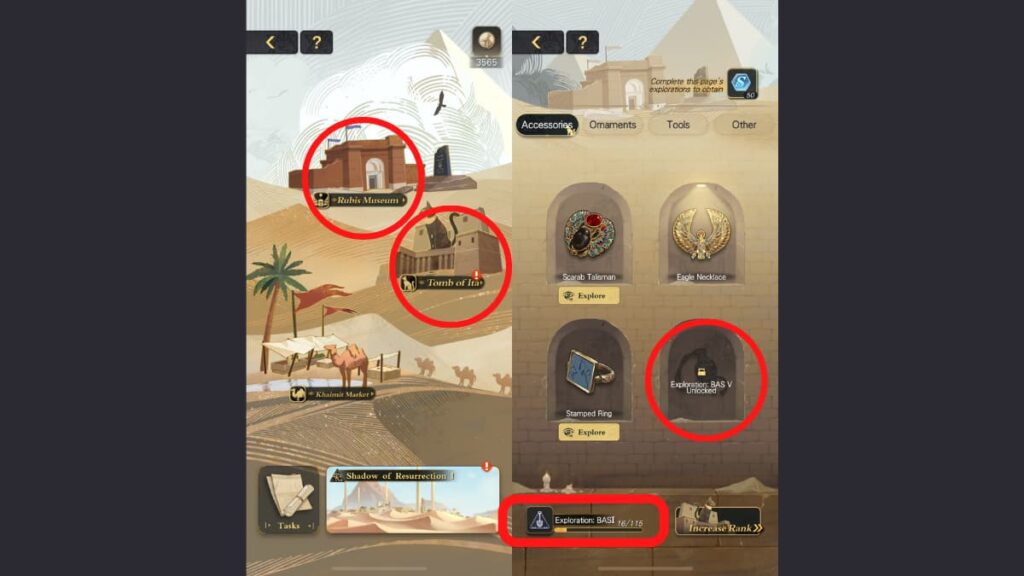 Artifacts can be obtained by leveling up your Exploration Rank in the Tomb of Ita. Each round will merit you a certain number of Antiquated Coins and Exploration EXP, regardless of whether or not you complete all five floors. Once your EXP gauge is filled, you'll level up.
If you reach the level requirement for unlocking any item (indicated in the Rubis Museum), you'll receive the item-in-question and can proceed with its corresponding Collection Story. You don't have to complete Collection Stories immediately, but make sure to do them before the event ends to obtain rewards.
Check out our guide on How to explore the Tomb of Ita in the Tears of Themis Secrets of the Tomb event to help you farm Exploration EXP.