It's time for Halloween, and Tears of Themis has a big treat for attorneys this year. The Bewitching Night Rave event features Halloween-themed AU MR cards for all members of the NXX. You can participate in the event from October 24, 2022, to November 3, 2022. The cards will not appear in the regular pool after this event.
How to play the Bewitching Night Rave event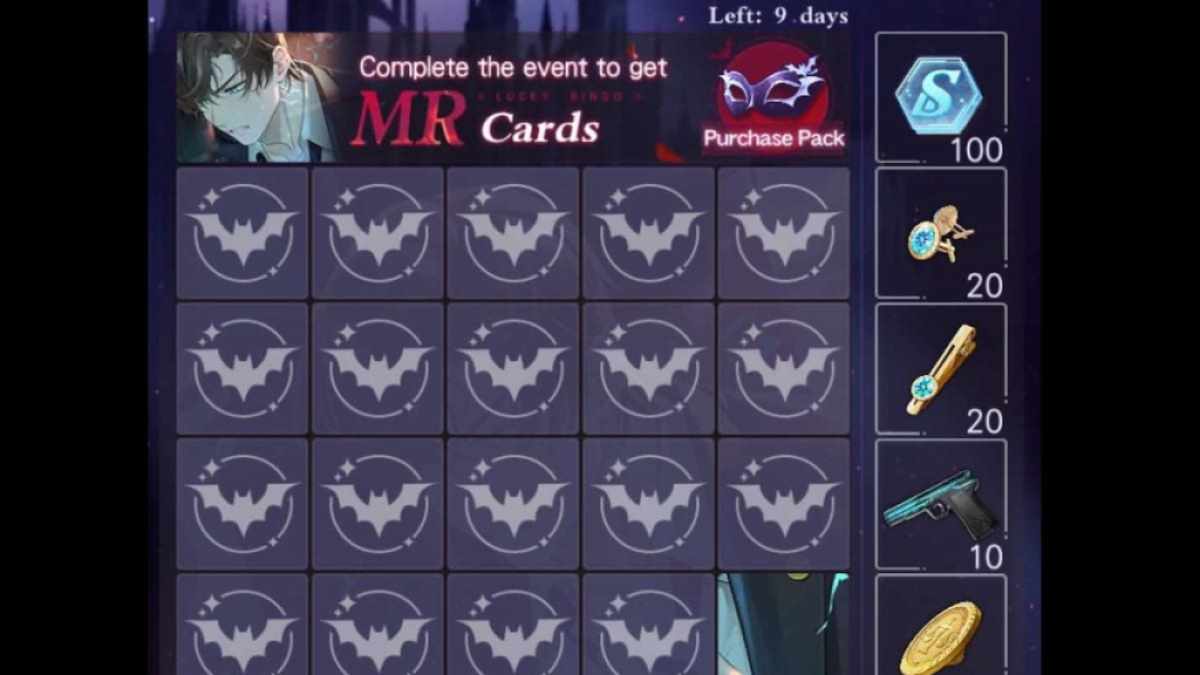 You can play a bingo tile game during the event to get limited MR cards featuring each male lead. You can access the event by selecting Bewitching Night Rave from the event menu.
For each bingo round, you can choose one of the four limited MR cards featured in the event. You cannot change your choice. You receive the MR card after you've flipped all the tiles on the bingo board. Once you've completed a board, you can choose the next MR to flip for.
Each tile flip costs 100 Carnival Masks or 100 S-Chips. Carnival Masks can be obtained by doing event tasks, much like what you've done in the recent HoYoland and Cozy Reveries events.
All MR cards for the Bewitching Night Rave event:
Luke "Moonlit Prisoner" (Empathy)
Artem "Imitation" (Empathy)
Vyn "Return to Night" (Logic)
Marius "Sinful Lust" (Intuition)
Related: Tears of Themis Codes (October 2022)
Can I get a free MR card in Bewitching Night Rave?
Unlike Code of Flowers, which allowed you to receive the first MR card for free, you'll need to spend S-Chips to get yours in the Bewitching Night Rave event. The first board needs 2,500 Carnival Masks/S-Chips to be fully unlocked. However, you only get 1,500 by doing all the event tasks. And although 100 Carnival Masks are sent to you via mail at the event's start, you're still 900 S-Chips short.
How much does it cost to get all MR cards in Bewitching Night Rave?
If you want all the MR cards, you will need 7,200 S-Chips on top of all the S-Chips you'll be getting from flipping tiles in the bingo event. The cost to flip an entire board always needs 2,500 Carnival Masks/S-Chips. Fortunately, some of the bingo rewards include S-Chips, which can help offset the cost somewhat. This is why you only need around 7,000 S-Chips.
What are MR cards in Tears of Themis?
MR cards are limited edition, event exclusive cards in Tears of Themis. They're ranked lower in power compared to SRs. However, a fully-stared MR card should be the equivalent of a two-star SSR. You can level up your MR cards by exchanging Gift I/II items in the Mall. You don't get copies of these cards, so you can use your Gifts guilt-free. These cards don't have stories, just two Private Messages.
For more help with Tears of Themis and other mobile games, take a look at some of our other posts here at Pro Game Guides.