Tears of Themis' Revisiting Youth event revisits the male leads in their school days and is split into two parts, the first runs from Aug. 18, 2022, to Aug. 25, 2022. During this period, you can complete event tasks to collect jigsaw Puzzle Pieces to form an illustration and get rewards in return. The event is open to all attorneys and requires participation across multiple days to score all the rewards—so don't wait until the last minute before starting.
Revising Youth part 1 jigsaw puzzle guide in Tears of Themis
Head to the event menu and select Revisiting Youth to participate in the event. Click on the Obtain Tokens button to see the list of daily and event one-time tasks. Pay attention to the red timer beside each task, as this indicates how much longer it can be completed. Daily tasks expire after the server resets and refreshes the next day, so try prioritizing them throughout the event.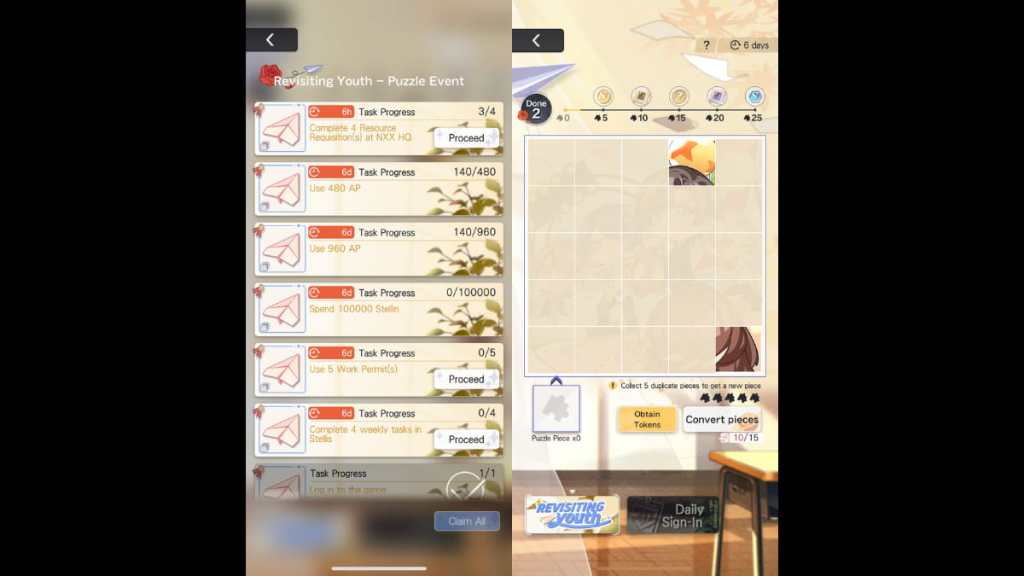 Completing tasks will merit you with tokens called Youthful Paper Plane. Once you've collected 15 Youthful Paper Planes, click Convert pieces to get a jigsaw Puzzle Piece in return. You will sometimes get duplicate pieces. After getting five duplicates, you will be rewarded with a new Puzzle Piece, which will appear on the square on the bottom left of the event page.
Click and drag the Puzzle Piece to its corresponding position on the board. There's a faint outline of the final image, so this is fairly easy to do! If you make a mistake, you can always reposition the Puzzle Piece at any time. Don't forget to claim rewards from the top of the event page after placing five to 25 unique Puzzle Pieces on the board. After the event ends, any unused Youthful Paper Planes will be converted to Stellin at a 1:100 rate.
If you haven't already played through the latest Main Story Episode, check out our guide on Tears of Themis Episode 7 (Part 2) – The Rain of Monte Cristo (II) Investigation and Trial walkthrough.