Temtem is an online multiplayer role-playing game. Temtems are elemental creatures that are very similar to Pokemon. It is critical to know how each of your Temtem will do against each type if you want to be successful. Our Temtem Type Chart features a full look at all the strengths and weaknesses, so you can see what each creature can do.
Complete Temtem Type Chart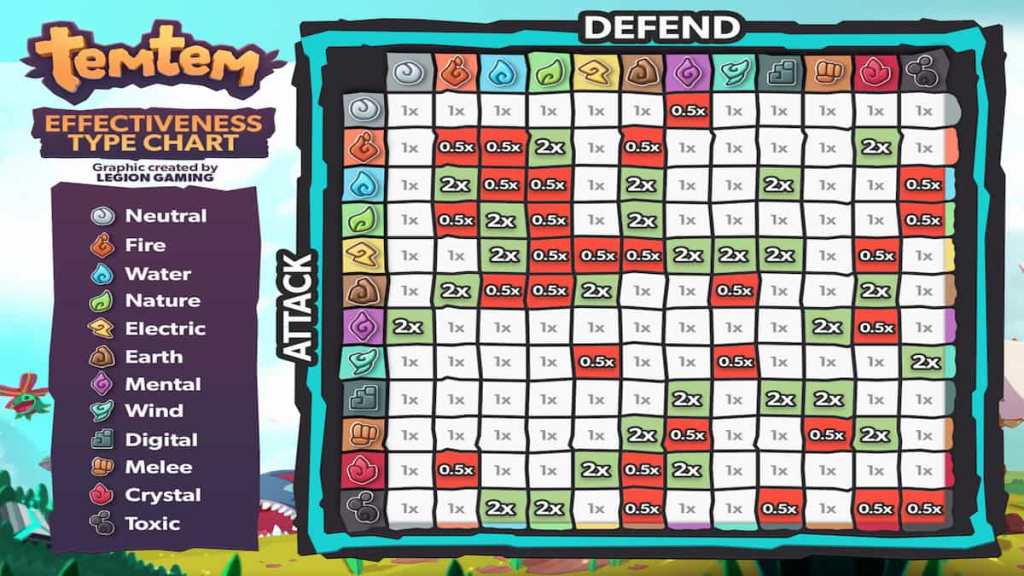 Here's a full type chart on the strengths and weaknesses of each of the types. Green (2x) means that the Temtem will either deal double damage or take double damage. White (1x) represents if the Temtem will deal or take the base damage from the technique. Red (0.5x) means that the Temtem will either deal half damage or take half damage from the move.
If a Temtem has multiple types, they will be considered when dealing with or receiving damage. If a Temtem has two types that are weak to a particular type, it will receive 4x the damage. If a Temtem is strong against a particular type, it will receive .25x damage.
Related: How Long is Temtem?
All Temtem Types List
If you've ever played Pokemon games in the past, then you'll be very familiar with creature types and how each element works for them. The only real difference is the name of the Temtem elements, but most are relatively common sense regarding things like Temtem Fire, Temtem Water, Temtem Electric, etc. There are currently 12 elemental types that a Temtem can have. Each Temtem has at least one but can have two at the most. Here's a full list of the Temtem types:
Crystal Temtem type—magenta-colored creatures that originate from underground regions of Tucma island where the Quetzal city resides.
Digital Temtem type—gray-colored mechanical creatures that were created in Cipanku region.
Earth Temtem type—brown-colored rock-like creatures that originate from Kisiwa region.
Electric Temtem type—yellow-colored creators connected to lighting that are mosty settled in Cipanku region.
Fire Temtem type—red-colored creatures connected to lava that reside in Omninesia island region.
Melee Temtem type—orange-colored physically dominant creatures that live on Arbury island.
Mental Temtem type—purple-colored creatures with psychic abilities reside on Arbury island.
Nature Temtem type—green-colored creatures connected to plants found in Omninesia island region.
Neutral Temtem type—white-colored creatures come in many forms and are mostly found on Kisiwa island.
Toxic Temtem type—black-colored creaturs connected to venoms living in Tucma and below Arbury.
Water Temtem type—blue-colored aquatic creatures that live in Deniz.
Wind Temtem type—cyan-colored flying creatures that can be found on Deniz.
For more information on Temtem, check out guides like Temtem Melee Type and Temtem Wind Type on Pro Game Guides.