Terraria has a special place in our hearts as gamers because the developer is so dedicated to his fans. What started as a side-scrolling knock-off of Minecraft quickly became a full-fledged game packed with shiny new content. Some of this content that made the game more fun was the newer, better, flightier boots!
Best Boots in Terraria
We've got the list! We used them and perused them and have come up with a list of three pairs of boots that outshine the rest, with one pair, in particular, topping them all. Read below to see which ones are the best for your Terrarian travels.
Hellfire Treads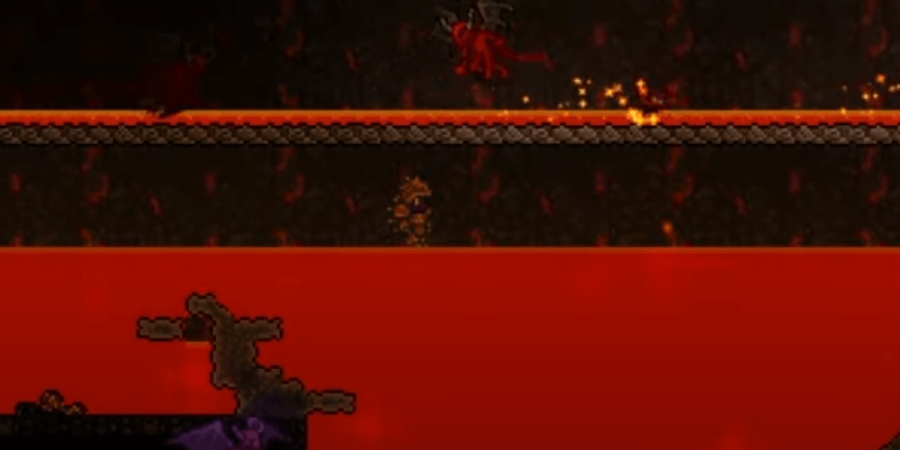 First up on our list are the Hellfire Treads. They show up before the last list item we have, and until you craft that one, these are an absolute necessity for the late game. They allow the following crucial benefits for defeating some of the more challenging bosses in the game.
The ability to walk on all liquids (lava, water, and honey)
Immunity to fire blocks
Immunity to the Burning debuff
Seven seconds of immunity to lava
Reduce damage from touching lava
The Hellfire Treads are some of the most convenient boots in the game because you can use them to access areas that are otherwise extremely difficult to reach. Here are some additional helpful tips and tricks for using these hot boots.
Hellstone: Mining Hellstone is much easier. Usually, standing on Hellstone burns you, but these stop that from happening!
The Wall of Flesh: If you don't have the resources or time to build a walkway, these boots will provide you with the necessary maneuverability to run while fighting off this boss.
Stacking Immunity: You can wear them with other trinkets and armor to increase the amount of time you remain invulnerable from lava damage.
Frostspark Boots
These boots definitely add spark to your game. They show a snazzy particle effect similar to snow clouds. Not only are they aesthetically pleasing they also provide the following benefits to your character's abilities.
Flight
Sprinting (so fast!)
Increased regular movement speed
Increased mobility on ice
The flight ability has a limited time span, but that could quite honestly be the difference between life and death, especially once you enter Hard Mode. Compared to their convenience-oriented counterpart Hellfire Treads, the Frostspark boots add a bit of style to your game and give you the ability to perform some neat acrobatic tricks.
Terraspark Boots
The Terraspark Boots provide you the best of both worlds. These boots combine two already powerful boots into boots made for a super-soldier. These boots are therefore — officially — the Best Boots in Terraria. If you want to know what kind of benefits the Terraspark Boots provide — read above! These boots are obtained by combining the Frostspark Boots and the Lava Waders and get all the benefits of both.
Here are some additional helpful information about Terrasparks:
They increase your running speed by more than 100%! You get a nice boost from 15 mph to 34 mph.
If you land on the surface of any liquid with the Terraspark boots equipped, you will not take any fall damage.
You can combine them with wings to give you additional flight time!
We'll end this guide with an interesting fact. Originally, the developer didn't want to implement the Terraspark Boots because he believed they were two overpowered. Eventually, fans pestered him enough to convince him to bring them into the game. He still thinks they're overpowered.
We have some helpful guides that will get you started in your Stardew Valley world! Use this guide to get all the NPCs. Maybe you need help making your bed?