When you get to the Warrens Tier and the Cluster 13 district, upon following the story mission, you'll eventually unlock Side Missions. These are Green Triangle markers that appear on your map.
Upon navigating to one of these green markers, you'll end up speaking to an NPC, who will offer you a side mission. These are completely optional but will help you in the long run by providing you with more equipment and EXP to level up.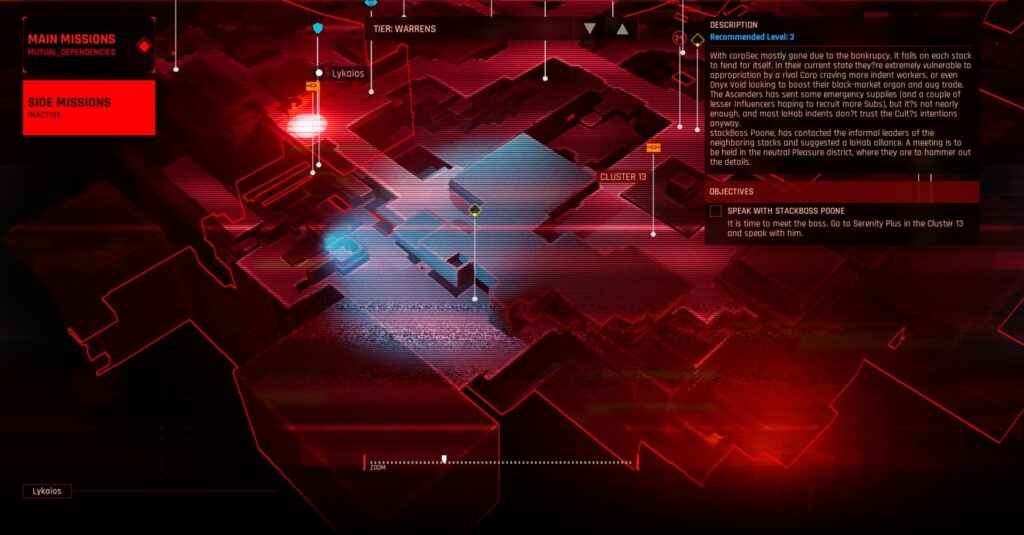 Related: How to equip Augments in The Ascent?
Accepting the side mission does not automatically make the game track it. You have to do that manually. To start a side mission, go into the menu and go to the Map & Missions tab. Then go to Side Missions, press A or Right Click, and the side missions you have accepted will appear. Choose the one you want to do, and this will replace the Main Mission and become the active mission.
The mission objectives will be displayed on your HUD (Heads-Up Display) underneath the mini-map. You cannot have more than one mission selected at once. You can only have one.
Do take note of the Recommended Level of the side mission, which is just below the Description when selecting a mission. You do not want to attempt to complete a mission that is a much higher level than you.
Check out some of ProGameGuides other articles on The Ascent!