Maxis just recently dropped the new Sims 4 stuff pack Paranormal Stuff, which is one of the sets we've all been most excited to see. It added plenty of new features, mechanics, and best of all — a new Ghost NPC! We want to welcome Guidry, who acts as a de facto guide to this exciting new pack.
How to Summon Guidry in The Sims 4
Guidry doesn't always naturally spawn in every family household. As such, you might be wondering how to make sure he appears to offer his abundance of amorous conversations and shiny pink aura. Luckily, there are two ways, and one of them takes advantage of the new Medium skill introduced with this pack. We've explained how to do this below.
Naturally Spawning Guidry
Guidry can be spawned via specific circumstances if you don't have an interest in making your Sim a paranormal investigator. When you move your household into a new home, keep an eye out for homes with the haunted house lot type. Guidry likes to casually saunter into these lots on the second night after you move in. Afterward, he comes and goes as he pleases. However, based on what we've seen, he comes back every night after his first appearance.
Related: How to write a song in The Sims 4 - Pro Game Guides
Summoning Guidry with a Séance
You must have a Sim who has a séance table or can perform a séance circle with this option. Once you have advanced your Medium skill to the required level, you will have the option to summon him. If you're wondering whether you should use one or the other — there isn't a significant difference. The séance table is far more expensive but allows you to perform séances without delving too far into the Medium skill. However, séance circles can be performed at any time and cost a meager five Simoleons.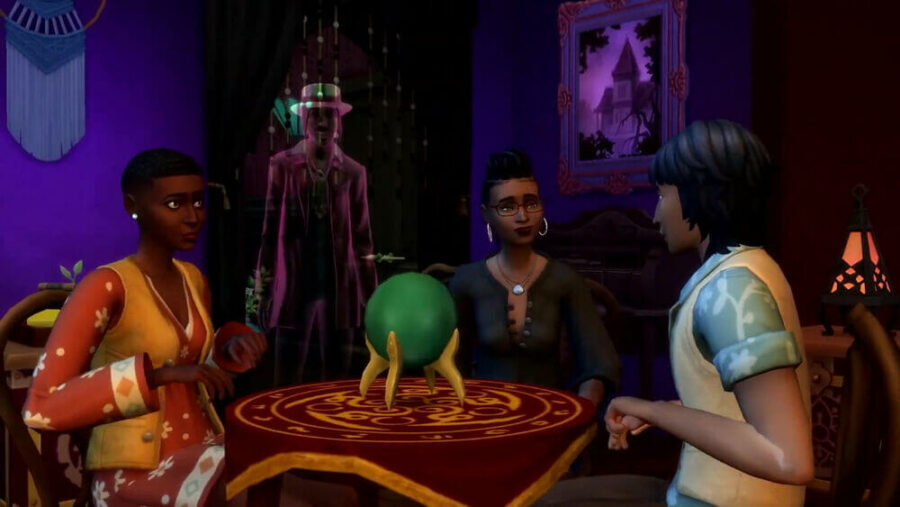 As you can see, Guidry is surprisingly easy to summon with the right knowledge. Before you go, though, we'd like to add a few notes about summoning this over-the-top ghost.
Because this is a brand new release, there are a couple of assumed bugs regarding Guidry. The most notable one is that when using a seance circle, one of the interactions you can perform with Guidry (an interaction aptly named Guidry) doesn't appear. This does not cause an impact on the game, though, and is not necessary to enjoy Guidry for all his other antics.
There is still some speculation on what level your Medium skill needs to be to summon Guidry. We're currently working on getting a definitive answer, but rest assured he can be summoned via séance. We've also narrowed down the minimum Medium skill requirement to be between levels three to five.
Have fun with your new guide!
We're working in a lot more guides for The Sims 4! Do you need help figuring out how to Write a Song?