The Witcher 3 is a massive open-world RPG with countless missions, side quests, monsters, and loot. Between cycling through new gear and collecting ancient relics, you can also visit a host of NPCs like Shopkeepers, Innkeepers, and Barbers to use their services. If you wish to give Geralt a new look, the latter is the one you need to visit. In this guide, we'll tell you where you can find all the Barbers in Witcher 3: Wild Hunt.
All Barber Locations in The Witcher 3: Wild Hunt
Barber shops in Witcher 3 are slightly harder to locate on the map since they only appear when you are close to them. They are indicated on the map with a logo that resembles white scissors. In some cases, Barbers will appear exclusively in missions. For example, Cledwyn, the Imperial Barber at the Royal Palace in Vizima, only appears before the special meeting between Geralt and General Voorhis, and cannot be visited after the end of this mission. That being said, the following are all the Barbers you can visit to give your Witcher a fresh look in Witcher 3.
Velen
1 - Barber near Oxenfurt Harbor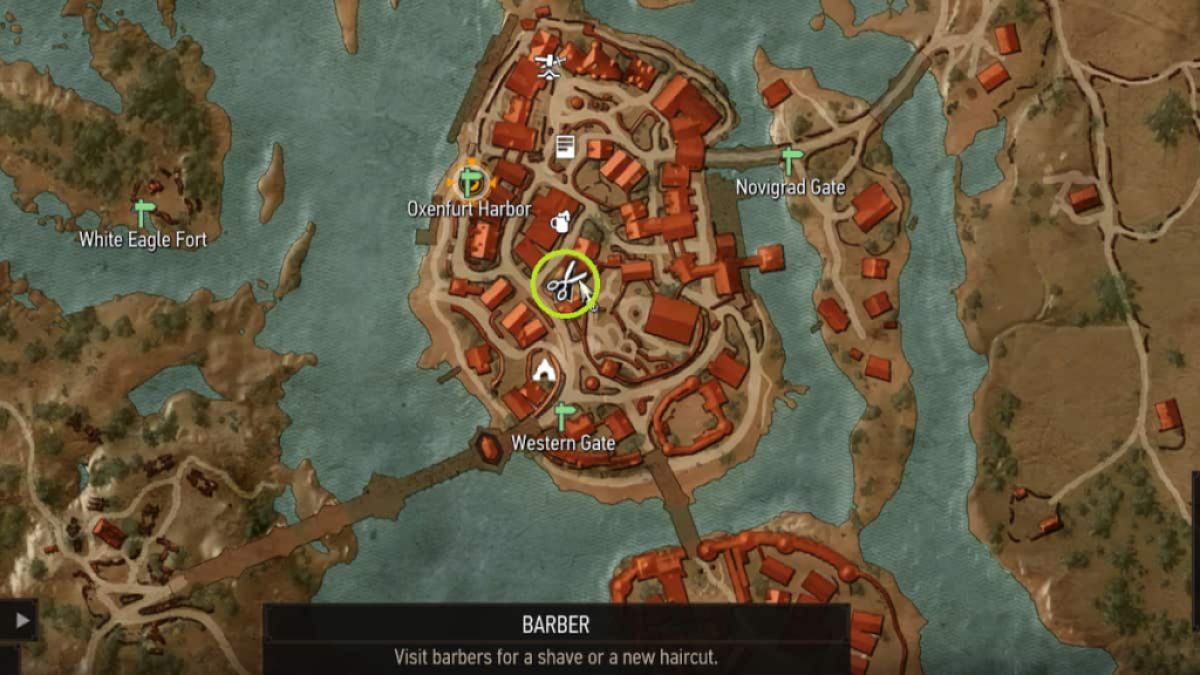 This barber can be found in Velen near the Oxenfurt Harbor signpost. Alternatively, players can use the Western Gate signpost to reach him.
2 - Barber in Claywich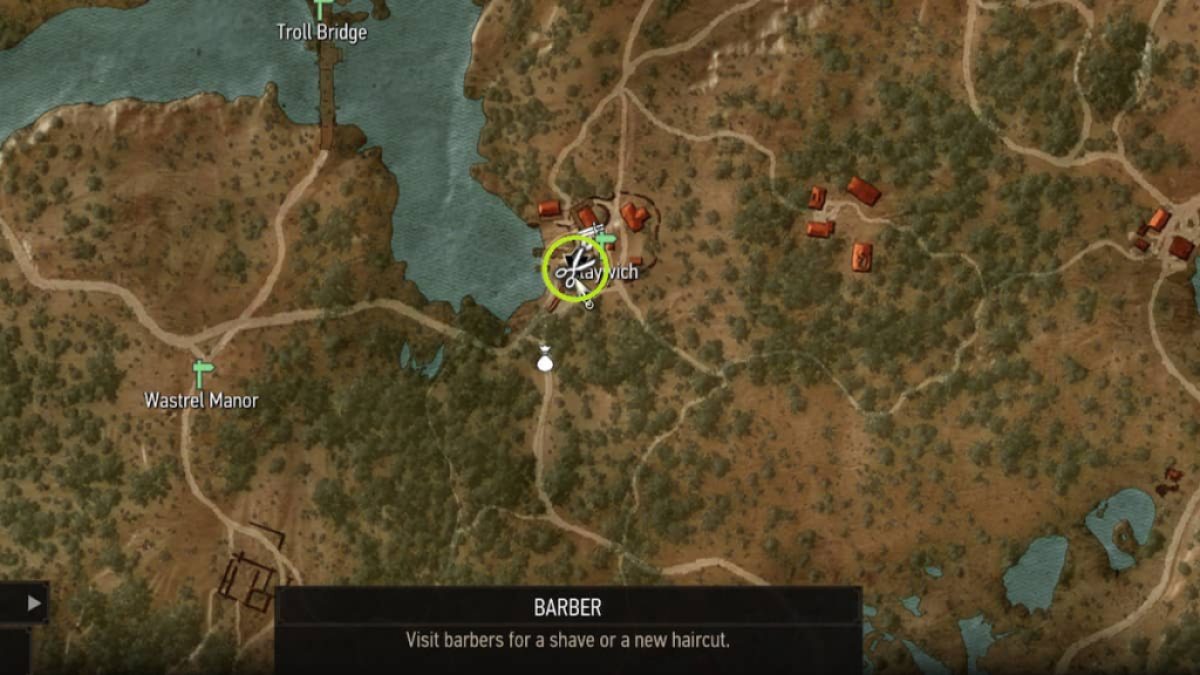 The Barber in Claywich will only show up in-game after you complete an open-world distress call event that involves you rescuing him from rebels. To start this event, head over to the Hangman Alley sign post, and head south west until you find him caught in a cage surrounded by enemies. After rescuing him, he will set up shop in Claywich.
Related: Best Witcher 3 Builds for Early Game
Novigrad
1 - Barber near St. Gregory's Bridge
To reach this jolly Barber, head to St. Gregory's Bridge sign post, and then walk south. After going down a slope a little, turn left, and you will see the Barber symbol show up on the mini map.
2 - Barber near Southern Gate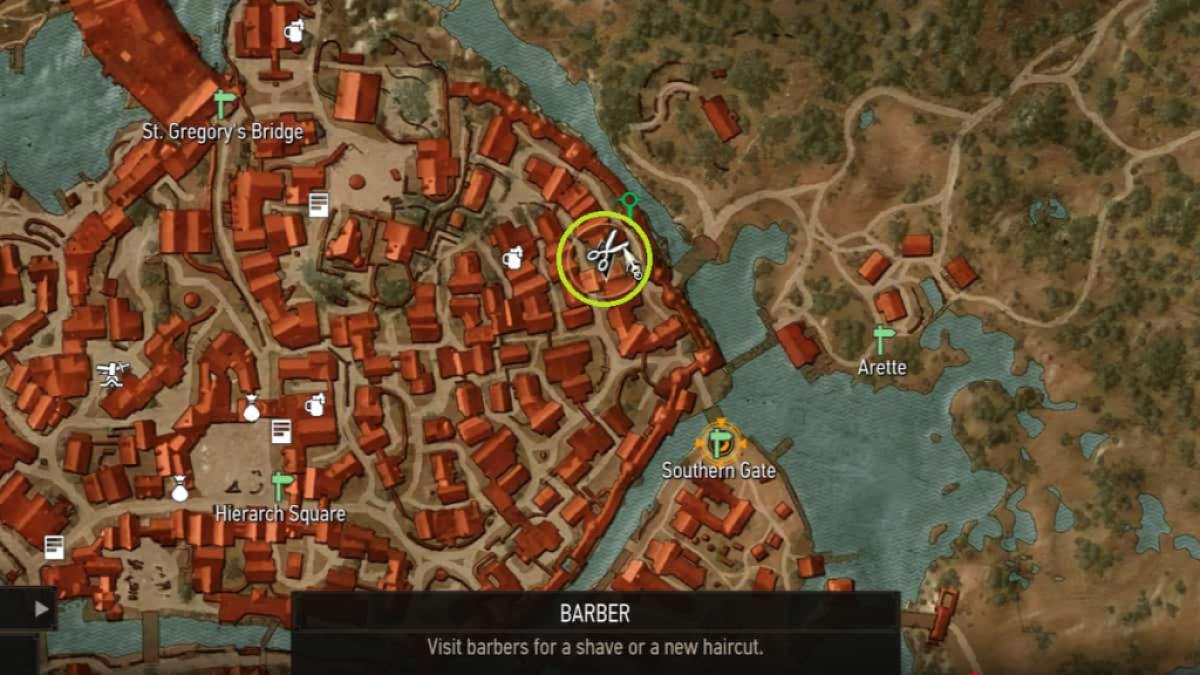 This Barber can be reached easily by teleporting to the Southern Gate sign post in Novigrad, and then head north into the city. Keep going straight, until you see a board with a large scissor stuck on a building to your left. Head inside, and you will find this drunken barber ready to give you a fresh look.
Skellige
1 - Sjusta, Kaer Trolde Harbor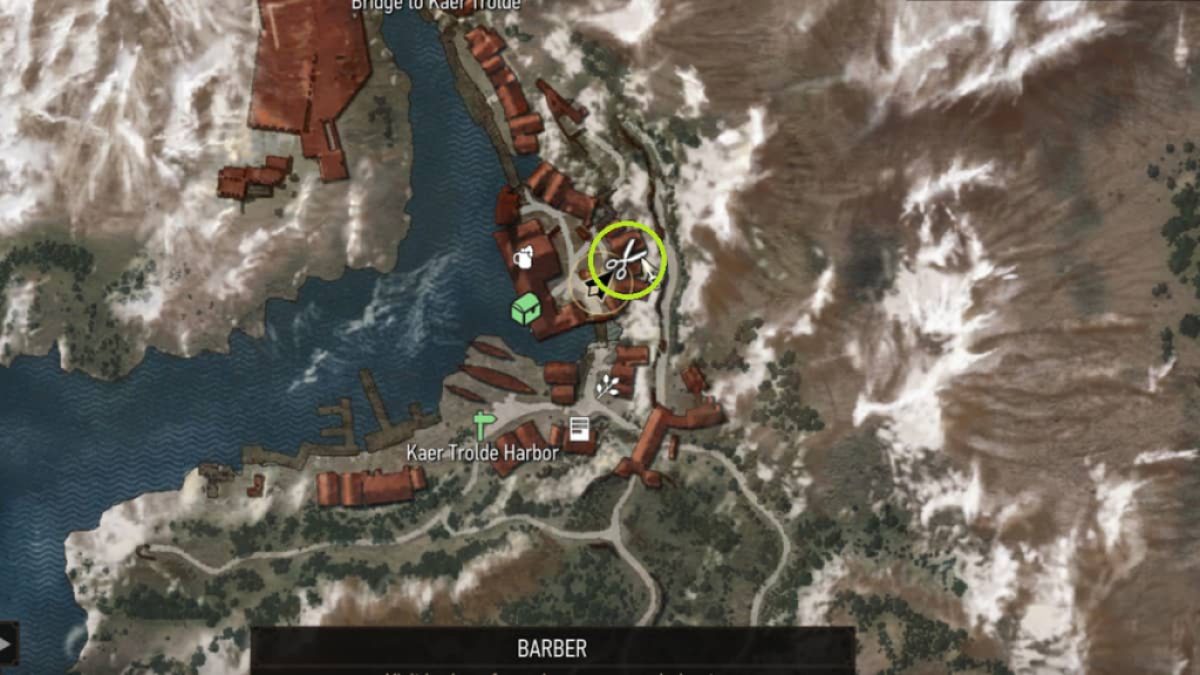 Unlike other Barbers in the game, Sjusta also doubles up as a merchant to trade items with. He will also entertain you to a round of Gwent, should you please. He can be found opposite to the tavern with your Stash near Kaer Troldee Harbor.
2 - Barber in Svorlag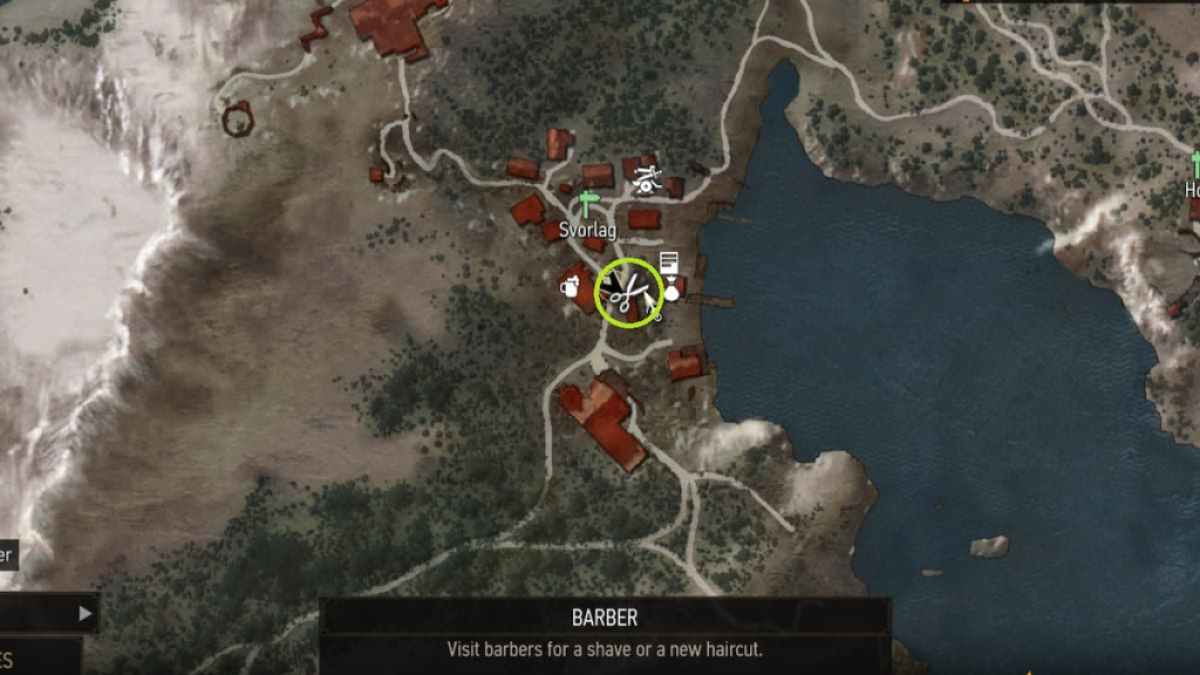 This simple Barber can be found by travelling to the small settlement of Svorlag in the Skellige Isles. You will find his location marker on your map as soon as you reach the settlement.
Related: Who to romance Witcher 3 – Romance options and guide
All Hairstyles in Witcher 3
The following are all the possible hairstyles and beard styles Barbers can give you in Witcher 3. Every hairstyle and beard style can be fashioned by any Barber in-game.
1 - Loosely gathered, tied behind the head
2 - Shaved, except for a ponytail
3 - Long and loose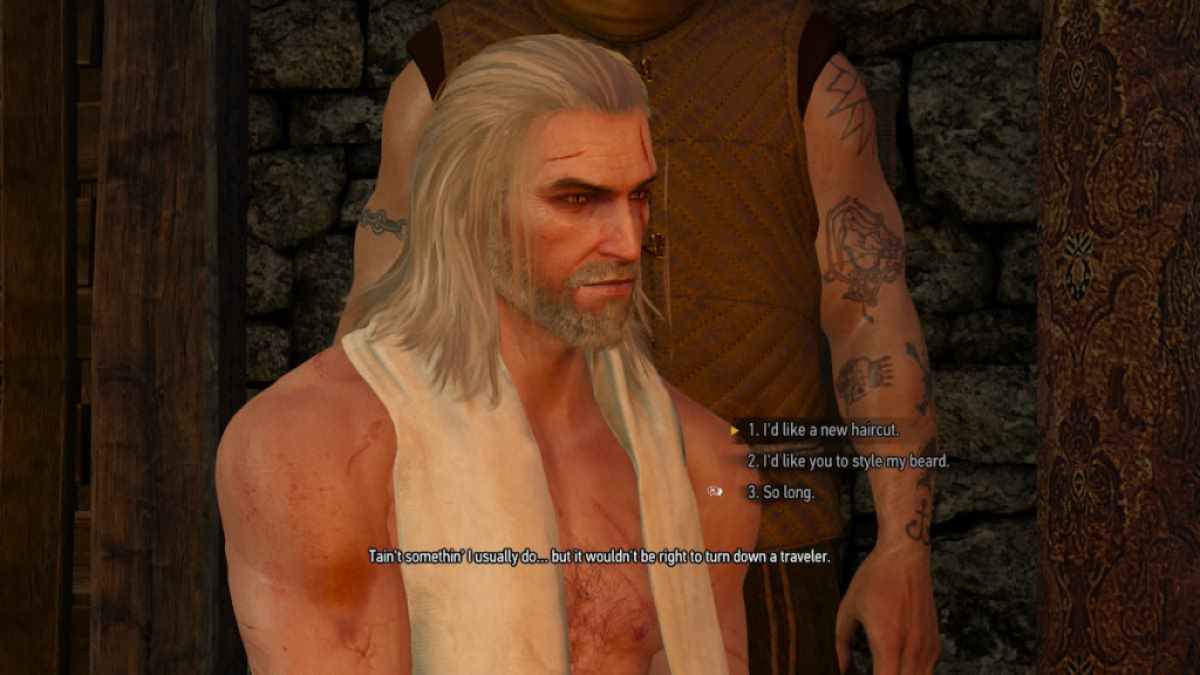 4 - Loose, not long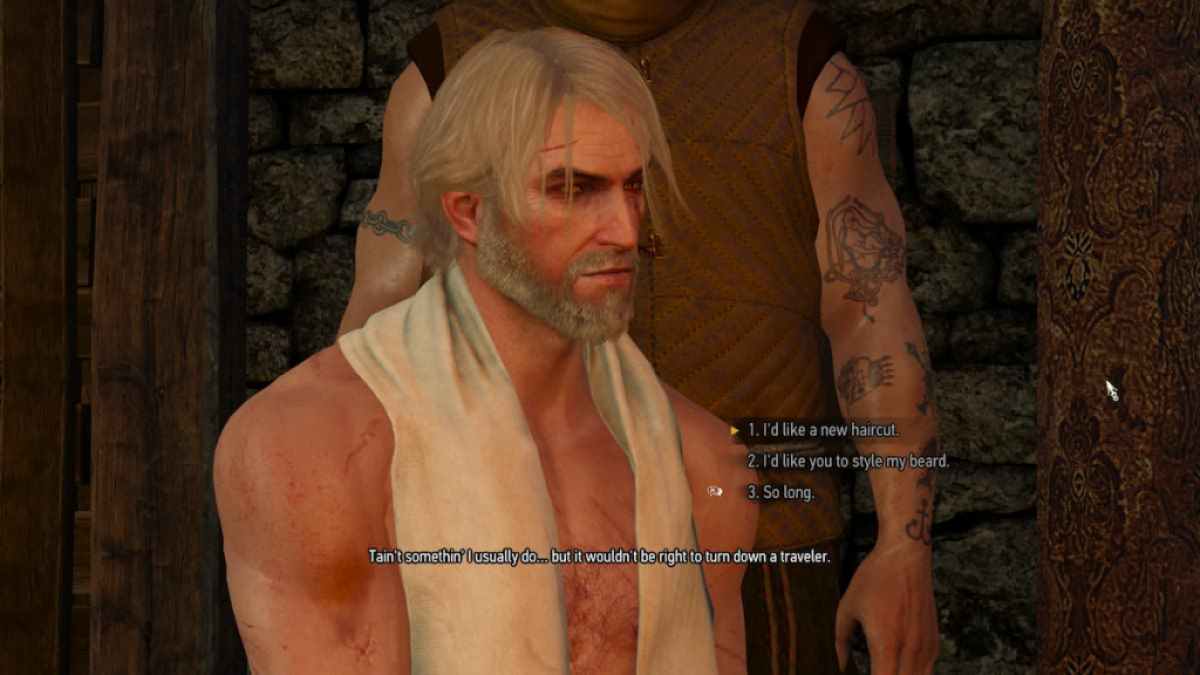 5 - Shaved on the sides, short on top, and a ponytail
6 - The elven rebel cut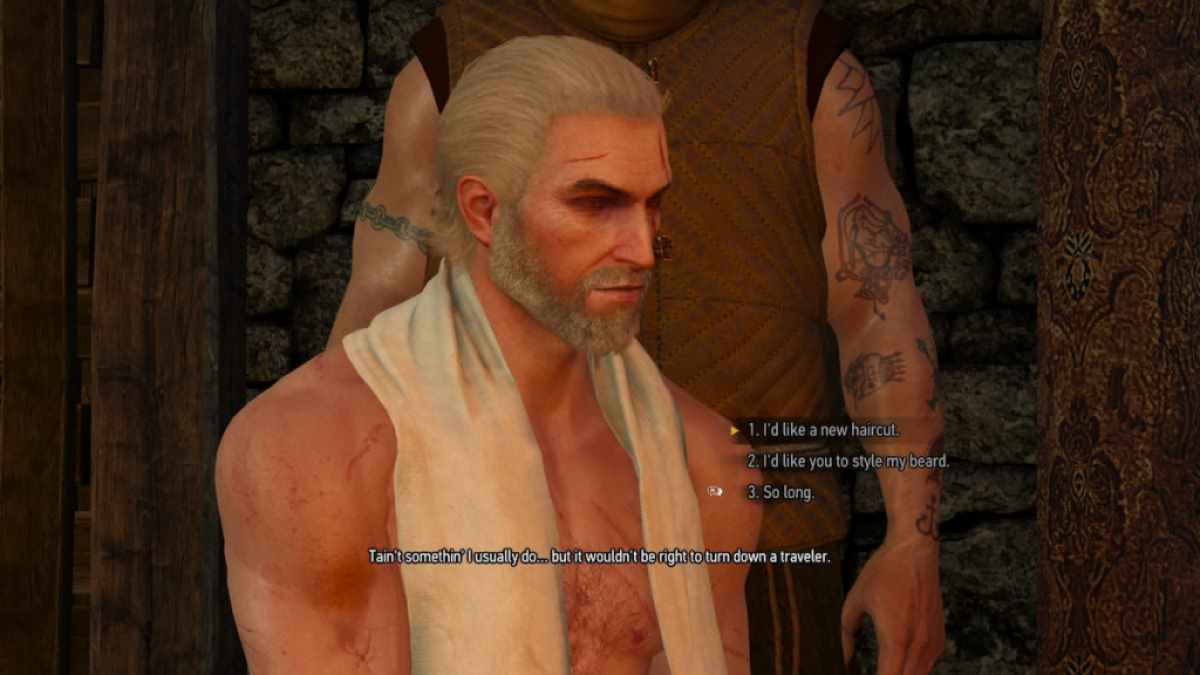 All Beard styles in Witcher 3
1 - Clean shaven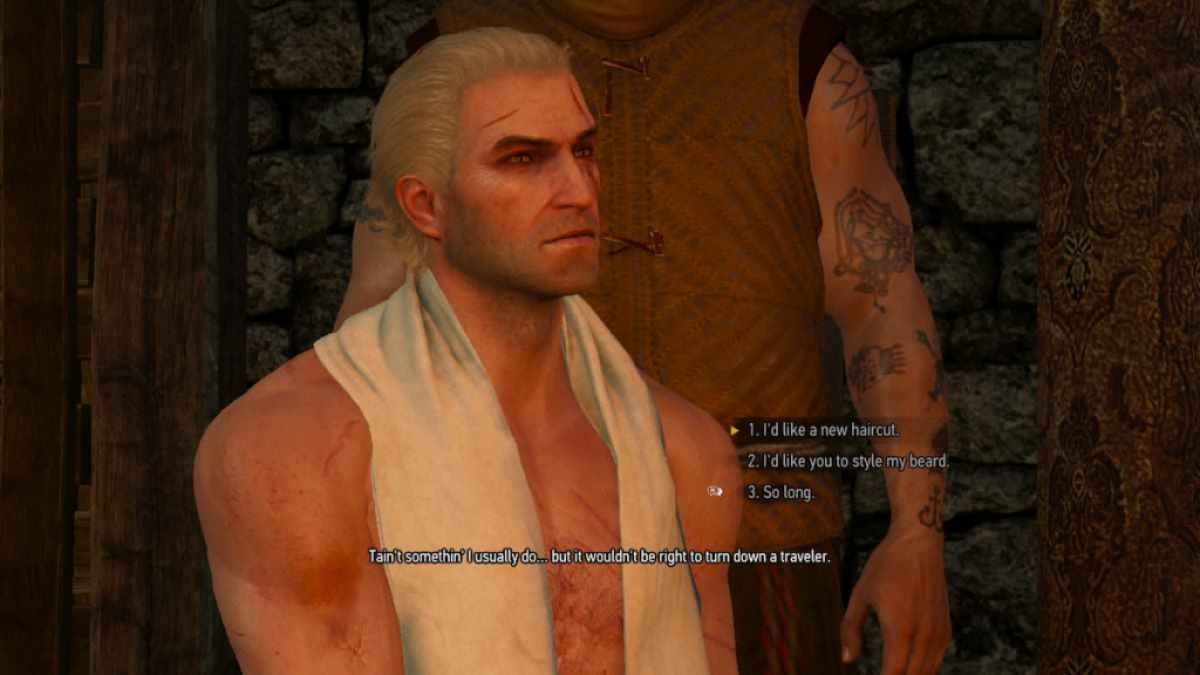 2 - Full beard, trimmed short
3 - Bushy goatee, short mustache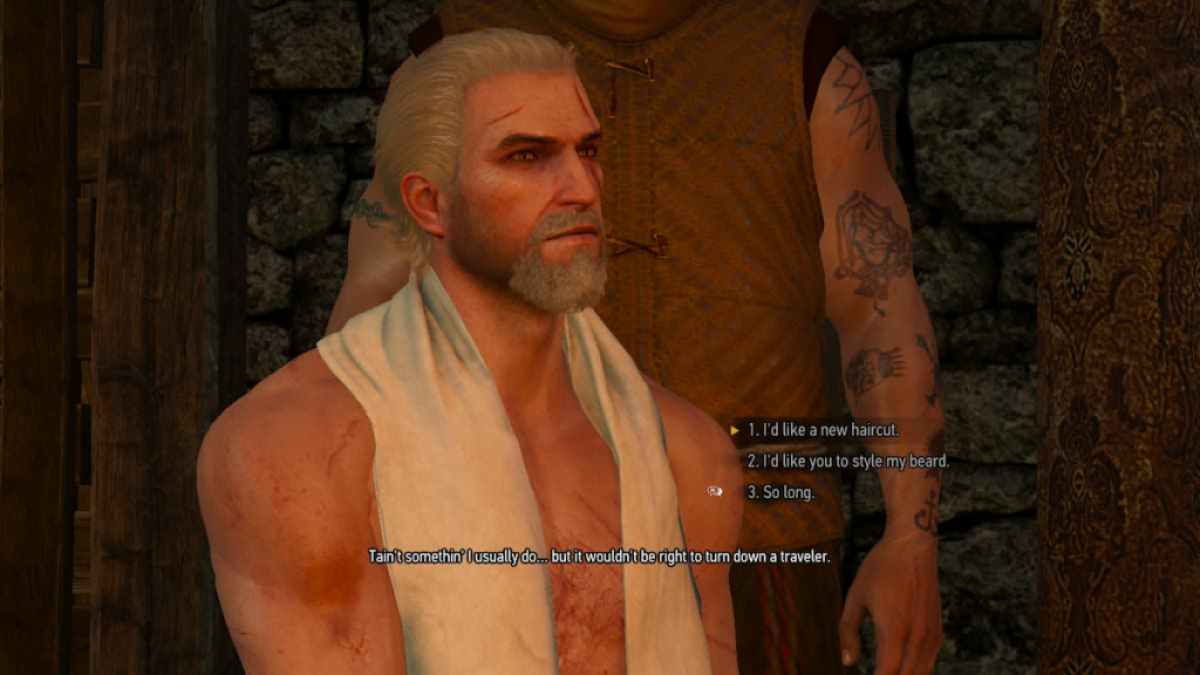 4 - Friendly mutton chops
5 - Mustache and a soul patch
Looking to start off your Witcher adventure on the right foot? Check out Witcher 3 – Tips for Beginners and Returning Players, right here on Pro Game Guides.