Alyss is a simulacrum in Tower of Fantasy who wields the Unyielding Wing weapon. This weapon is a DPS type, and primarily deals Ice elemental damage. Alyss uses her elegant moves and quick feet to hack and slash through enemies using her foot-mounted blades. It can be argued that Alyss provides little to a team composition at base level Advancement. However, getting a copy of Alyss can change things drastically, especially for team compositions using Ice elemental weapons. Therefore, it begs the question, should you spend your hard earned Red Nuclei for Alyss? Read on to find out.
Should you get Alyss in Tower of Fantasy?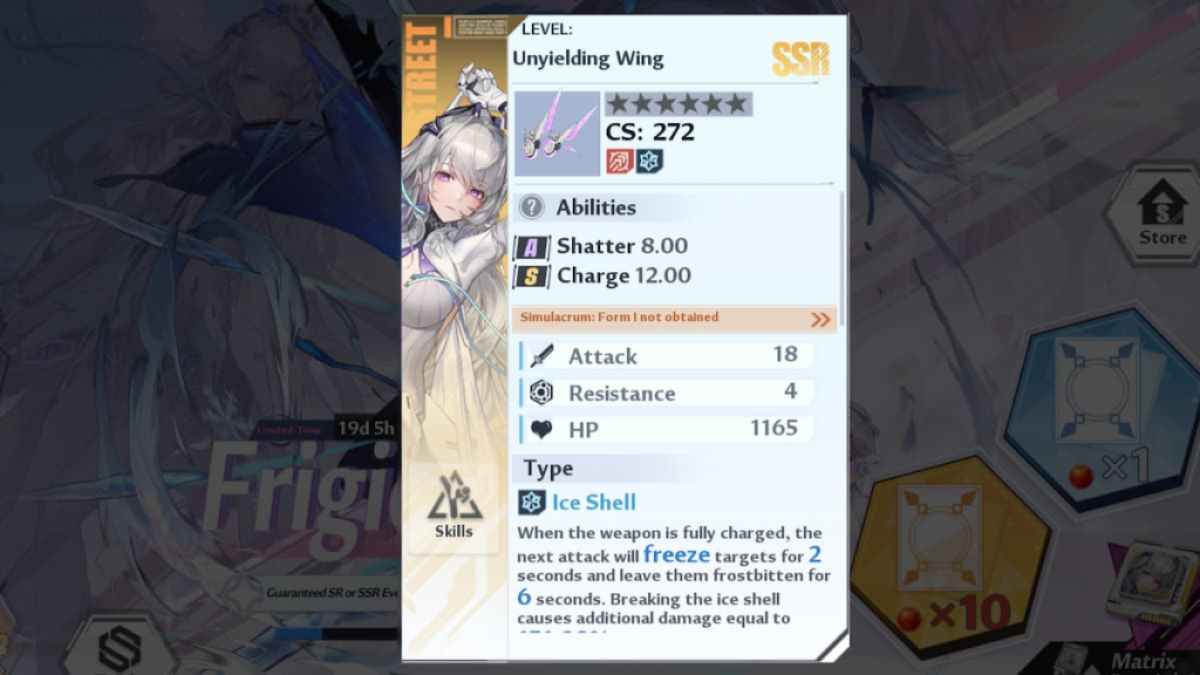 Alyss has fast mobility, and attacks that can slow and freeze enemies. She also can deal massive amounts of damage on the side. At Advancement level one, you gain the ability to summon Alyss in the field after using a frost weapon skill in the Chilling Field. When triggered, Alyss comes into the field and launches a Discharge skill inside the field which deals 70% of her original Discharge skill's damage. Furthermore, at 4000 Awakening Points, she can be summoned by using Physical, Flame, and Volt weapon skills in the Chilling field.
Therefore, if you're looking for a strong addition to your frost team composition, Alyss is a great simulacrum. However, be sure to get multiple copies of her to unlock her Advancement skills.
Related: What is new in Tower of Fantasy 2.3 Update Wandering Amidst Miasma? Release date, new Areas, Bosses, & more
All Alyss Advancement Skills
To Advance Alyss, you need to obtain multiple copies of Alyss from banner pulls. Getting a copy of Alyss to level her up to A1 is the key to unlocking the ability to summon her for support on the field. Further Advancements increase Alyss's attack growth, and add bonus effects. The following are all Alyss Advancement Skills in Tower of Fantasy:
1-star: When you cast a Frost weapon skill within the Chilling Field, you summon Alyss to cast a discharge skill in the field. This supporting discharge skill damage will be 70% of the original discharge skill's damage. The weapon skill that triggers the discharge will then be used again afterward.
2-star: Increase the current weapon's base Attack growth by 16%.
3-star: Trigger Alyss's support every time Starry Night is activated, and increase Starry Night and Hoarfrost damage by 10% for two seconds. This effect stacks up to three times.
4-star: Increase the current weapon's base Attack growth by 32%.
5-star: Increase normal attack and Spatial Slice damage by 35%. The Wanderer receives Alyss's support when they take fatal damage, preventing death up to one time. This passive has a 60-second cooldown.
6-star: Increases Frost damage by 12% when Alyss's Support reaches three stacks.
All Alyss Awakening Traits
1200 Awakening Points: Anisoptera

Increases final damage by 13% for 12 seconds after using a weapon skill.

4000 Awakening Points: Lepidoptera

Increases final damage by 18% for 18 seconds after using a weapon skill. At A1 level, receive Alyss's clone support when using a Physical, Flame, or Volt weapon skill inside the Chilling Field, causing Alyss to cast a discharge ability on the field. The weapon skill that triggers the discharge will then be used again afterward.
How to get Alyss in Tower of Fantasy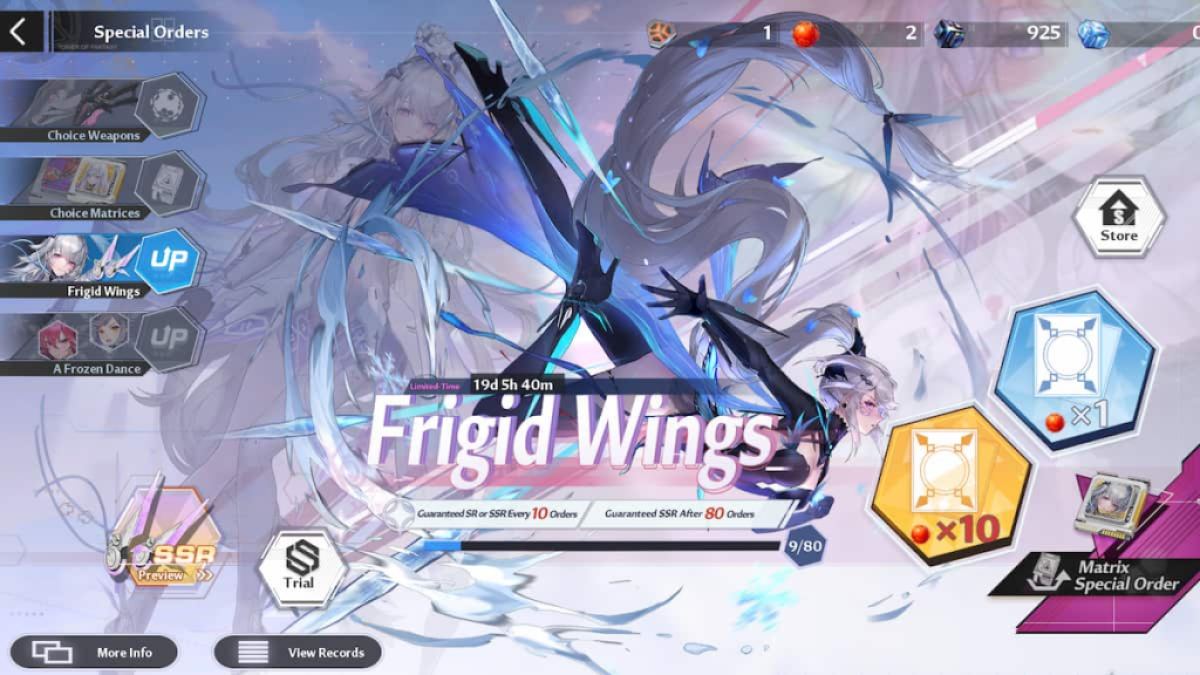 Alyss can be obtained from the Frigid Wings Limited Order Banner. This banner can be found on the Special Orders page, and can be purchased in exchange for Red Nucleus. During this limited event, players have a 2% chance to obtain an SSR weapon, with Alyss having a bonus 50% chance of being one of the SSRs.
Looking for more content on Tower of Fantasy? Check out What does Potent Omnium Crystal II do in Tower of Fantasy? Explained, right here on Pro Game Guides.