Tower of Fantasy has a vast open world to explore, with tons of collectibles to find, mini-bosses, and more! Robarg is an optional boss in the region called Astra. You can randomly stumble upon this boss, or you can use our guide for their exact location on where to find Robarg in Tower of Fantasy.
Where to find the Tomb of Thorns location in Astra
The Tomb of Thorns is located far southeast of the Astra Shelter, where Robarg is lying in wait. Once the map is unlocked using the Omnium Tower, locate the Ruin A-02 on your map. Just to the left of this location, you'll find a battleground covered in red plants. Waiting inside is Robarg.
Related: Where to find all Travel Log viewpoints in Astra in Tower of Fantasy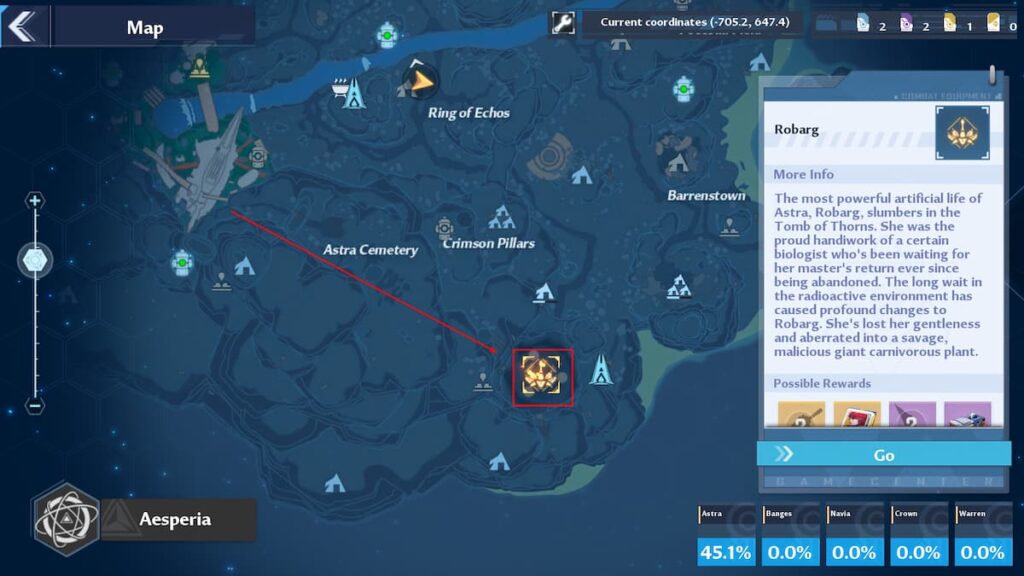 The location is pretty hard to miss. However, do not head toward Robarg until you are level 21 or higher, as she is level 22 and will give you an extremely hard battle. Bring plenty of healing with you, and advance your weapons as far as possible to provide you with an edge.
For more Tower of Fantasy guides, Pro Game Guides has you covered. Check out What is Estimated Repair Time in Tower of Fantasy or How to change Channel in Tower of Fantasy.