Our Dota Underlords Best Team Builds & Comps List will help you win matches by helping you choose which heroes and alliances to include in your build. The top comps in the game often combine the best of all worlds when it comes to autobattler strategies: crowd control pieces, defensive pieces, and damage dealers. Utilizing units that cover all bases, as well as unlock powerful alliances is the key to winning matches in Underlords.
There are many viable builds that can win, but in this article we list some of the top-tier comps that are dominating the Early Access Underlords meta. Expect the meta to shift as Valve continues to release balance updates, but here are some of the most powerful comps that Big Boss players are winning with.
Dota Underlords Best Builds List
These are our picks for the four best Underlords comps around (Updated: 07/05/2019).
The Troll-Knight Build
Heroes
Batrider
Troll Warlord
Shadow Shaman
Witchdoctor
Abaddon
Chaos Knight
Dragon Knight
Luna
Omniknight
Necrophos
Alliances
6x Knight
4x Troll
2x Warlock
2x Heartless
2x Human
1x Demon
While Knights are some of the best defensive units in the game right now due to a recent buff to their alliance bonus, they alone lack the damage necessary to carry a successful build to a win. Adding the max Troll alliance to the comp grants all your units the attack speed bonus they need to help with damage-dealing. Necrophos is an optimal 10th unit who unlocks the Heartless and Warlock synergies, which help to deal more damage and heal your units respectively. Throughout the creep rounds, you'll want to keep an eye out for the Coordinated Assault & Age of Chivalry perks. This build is as well-rounded as they come, although it does rely on getting 9 units on the board as soon as possible to unlock the 4 Troll + 6 Knight alliance bonuses.
The Mage-Knight Build
Heroes
Abaddon
Chaos Knight
Dragon Knight
Omniknight
Crystal Maiden
Keeper of the Light
Lich
Lina
Puck
Razor
Alliances
6x Mage
4x Knight
4x Human
2x Dragon
2x Heartless
1x Demon
This build offers a good blend of defense and offence through the use of the Knight and Mage alliances. Conveniently, the Dragon alliance bonus only requires 2 Dragons to unlock now which means that this build can take advantage of Dragon Knight's Elder Dragon Form and Puck's Phase Shift. The 4 Human alliance allows for some crowd control through the silencing of enemy units who are attacked, and the Heartless alliance allows your Knights and auto-attacks to deal a bit more damage while your Mages get ready to clean up. Six Mages seems to be decidedly better than 3 in Underlords due to the -100% Magic Resistance granted by the 6-Mage alliance. This allows your Razor, Lich & Keeper of the Light to deal massive magical damage while your tanky Knights protect your frontline. 
The Hunter-Warrior Build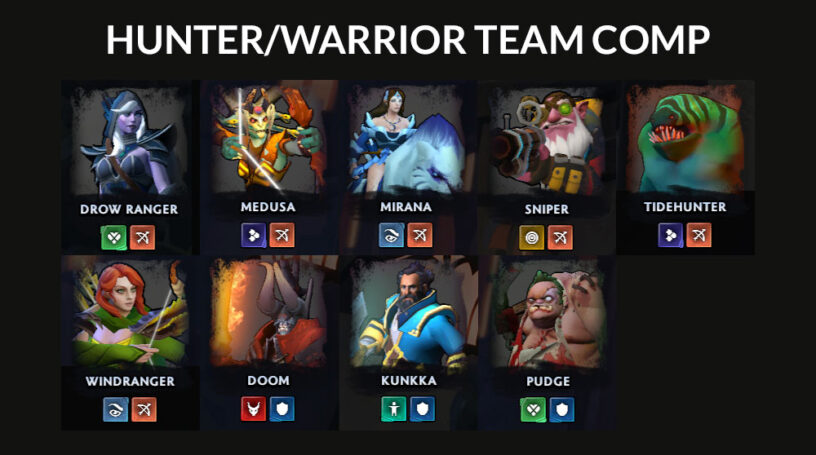 Heroes
Drow Ranger
Medusa
Mirana
Sniper
Tidehunter
Windranger
Doom
Kunkka
Pudge
FLEX SPOT: Tiny/Gyrocopter/Slark/Elusive Unit
Alliances
6x Hunter
3x Warrior
2x Heartless
2x Scaled
1x Demon
FLEX SPOT ADDS: 2x Deadeye / 4x Scaled / 3x Elusive
This Hunter-Warrior build is a 9-man comp, which means there is 1 flex spot which can be filled by a number of options. While a case can be made that 3 Hunters can work just as well as 6, this build takes more advantage of Drow Ranger's powerful passive ability. It also benefits more from the Hunter's Focus perk and does not have any hard counters. The downside of this comp is its cost. Considering most units are high-cost and won't be readily available to you until the mid-late game, you're going to want to preserve your economy in the early game. The upside of this comp is that it can be easily transitioned into by beginning with 3 early-game Warriors and any 3 Hunters. 
The Heartless alliance buff allows your Hunters to more easily pick apart opposing teams by reducing their armor, while your Warriors and Scaled act as your defensive alliances. This build handles 3 Mage builds well, however if opposed by a powerful 6-Mage comp, you should consider replacing one of the Warriors with Slardar and adding Slark as the 10th unit in order to unlock the 4x Scaled buff. The flex spot can be used to add Tiny (a mini-stun who tanks well), Gyrocopter (to unlock the Deadeye bonus) or any powerful Elusive unit such as Phantom Assassin or Templar Assassin.
The Troll-Warlock Build (Brand New!)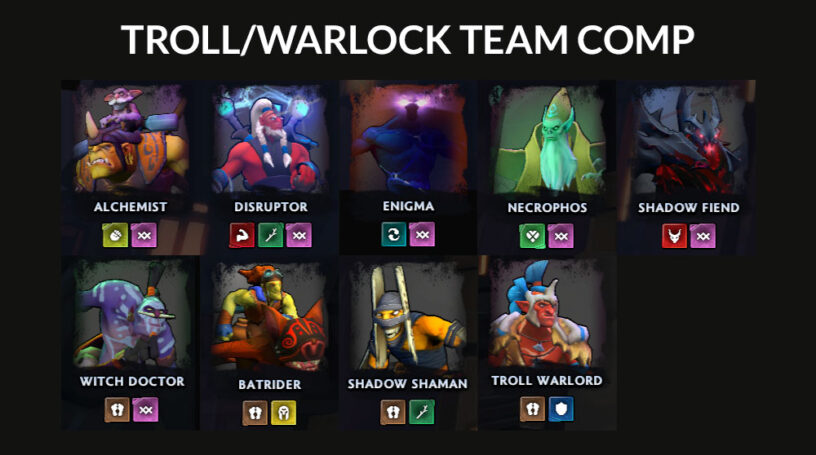 Heroes
Alchemist
Disruptor
Enigma
Necrophos
Shadow Fiend
Witch Doctor
Batrider
Shadow Shaman
Troll Warlord
Flex Spot: Crystal Maiden, 7th Warlock
Alliances
6x Warlock
4x Troll
1x Demon
This extremely powerful build was unlocked thanks to the recent updates which altered the Warlock alliance buff. The Warlocks now create links with the lowest-health unit on the board, which heals both that unit and the Warlock when a spell is used by the Warlock. What this means for a build like this is that your first Warlock to active its ability will heal your lowest-health unit, while all 6 of your other Warlocks are building up their ability in order to create links and heal the rest of your team. What results is an incredibly defensive build which can heal upwards of 20,000 health per round. Necrophos specifically is a powerhouse in this build, since its ability damages and heals for a good amount, while his alliance will now also further heal your weakest unit. Since the warlocks are so defensive, pairing them with trolls allows you to unlock the offensive force needed to easily fend off enemy comps. Alchemist reduces armor, Disruptor and Witch Doctor provide some much needed crowd control, Enigma and Shadow Fiend deplete their enemies' health, while your Troll Warlord provides some much-needed DPS to round out the team.
While this build is brand new and may not be over utilized at the moment, you can expect it to dominate games as more players realize how powerful the new Warlock alliance is. Some players are already calling for Valve to fix the Warlock alliance due to it being seen as overpowered. While it's available to us, we highly recommend you try this powerful and fun build out for yourselves!
And there you have it, some of the most powerful and successful builds to date. With balance updates and patches constantly being released by Valve, we can expect regular shifts in the meta. With that being said, these builds should allow players to easily win games and climb the Underlords ranks!