Our Dota Underlords Best Team Builds & Comps List will help you win matches by helping you choose which heroes and alliances to include in your build for the Mid-Season Update in August 2019! The top comps in the game often combine the best of all worlds when it comes to autobattler strategies: crowd control pieces, defensive pieces, and damage dealers. Utilizing units that cover all bases, as well as unlock powerful alliances is the key to winning matches in Underlords.
There are many viable builds that can win, but in this article we list some of the top-tier late-game comps that are dominating the Underlords meta. Expect the meta to shift as Valve continues to release balance updates, but here are some of the most powerful comps that players are winning with.
The Hunter-Warrior Build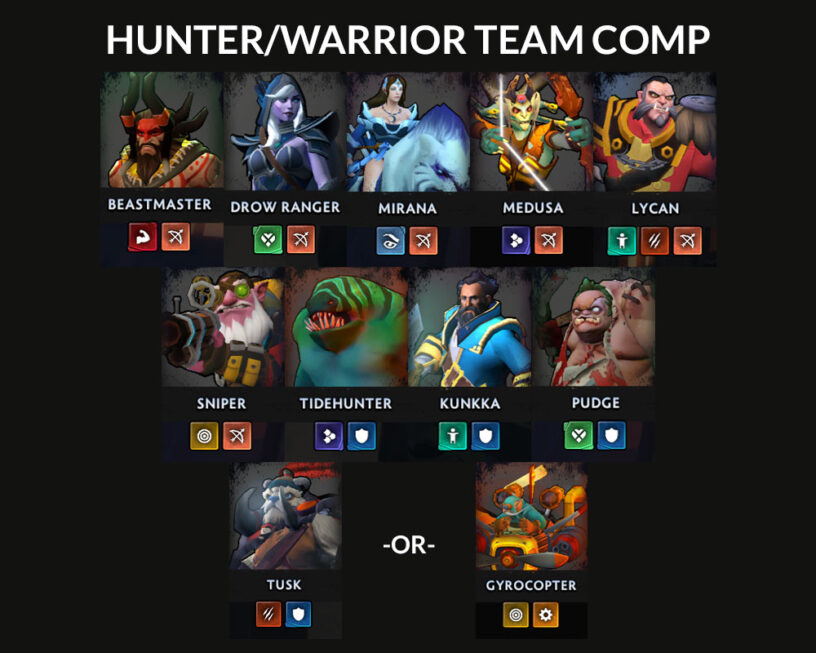 Heroes
Beastmaster
Drow Ranger
Mirana
Medusa
Lycan
Sniper
Tidehunter
Kunkka
Pudge
FLEX SPOT: Tusk / Gyrocopter
Alliances
6x Hunter
3x Warrior
2x Heartless
2x Human
2x Scaled
FLEX SPOT ADDS: 2x Deadeye / 2x Savage
Hunters have been given a fresh breath of life with the recent balance updates. Not only did they make Lycan a Hunter which gives them a solid frontline unit who can fill in some other alliances, they also made Windranger a 2-cost unit which makes it easier to start with Hunters from the beginning. With this comp, you'll usually want to start the game with 3 Warriors & 3 Hunters in the early game, until you level up to 9 when you can get 6 Hunters on. If you can find Hunter's Focus or Fall From Grace, grab them as they'll add a lot more power to your comp. 2x Heartless allows you to deal about 22% additional physical damage, and Fall From Grace reduces your opponent's defenses to nothing.
The Knight-Dragon Build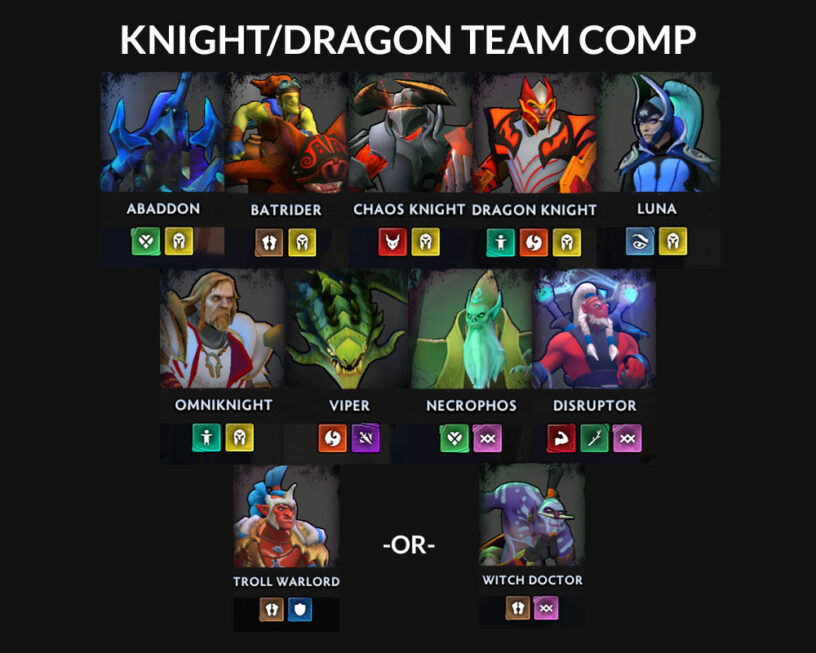 Heroes
Abaddon
Batrider
Chaos Knight
Dragon Knight
Luna
Omniknight
Viper
Necrophos
Disruptor
FLEX SPOT: Troll Warlord, Witch Doctor
Alliances
6x Knight
2x Heartless
2x Dragon
2x Human
2x Warlock
2x Troll
1x Demon
Dragon Knights seem to be becoming a staple in the Underlords meta ever since the Dragon alliance was changed to only require 2 Dragons to complete. Dragon Knights maintain their position as one of the top comps in the game due to their powerful combination of defense and offense. Your Knights provide you with lasting power on the board, while your Dragon Knight and Heartless synergy do a bulk of your damage. In the flex spot, Troll Warlord will not only add a powerful unit to your board that can help with damage, but you'll also unlock the Troll alliance which will give attack speed to all your Knights! This build relies on finding the 6 Knights as early as possible, but you'll want to start the early game with 2 and then 4 Knights initially. Unlock the Heartless synergy as soon as possible if you're lacking damage on the board, even if it means just adding Pudge to your early game comp.
The Mage-Warrior Build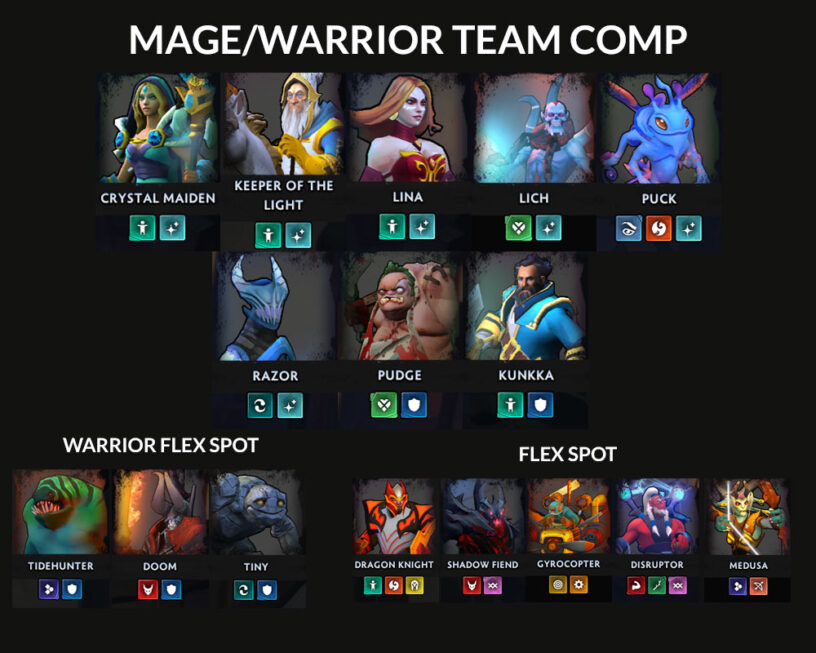 Heroes
Crystal Maiden
Keeper of the Light
Lina
Lich
Puck
Razor
Pudge
Kunkka
WARRIOR FLEX SPOT: Tidehunter/Doom/Tiny
FLEX SPOT: Dragon Knight / Shadow Fiend / Gyrocopter / Disruptor / Medusa
Alliances
6x Mage
4x Human
3x Warrior
2x Heartless
1x Demon
FLEX SPOT ADDS: 2x Dragon / 2x Scaled
Mages may not be what they used to be, but they're still one of the most powerful alliances in the game. Unlocking 6x Mage reduces your opponent's magic defenses immensely, allowing your units like Keeper of the Light, Shadow Fiend, Gyrocopter and Lich to deal massive amounts of damage. You'll want to start with Warriors in the early game, prioritizing units like Pudge and Tiny who can help to establish a tanky frontline. The Warriors will need to help keep your opponents' team away from your Mages, which is why we want Warriors who can disrupt the flow of the opposing team. With Razor being reduced to a 1-cost unit, you'll be able to have 3 Mages and 3 Warriors as early as Round 9. All you're looking for in the flex spot is something else that deals massive amounts of damage, or something that CC's your opponent such as Disruptor or Medusa.
The Savage Build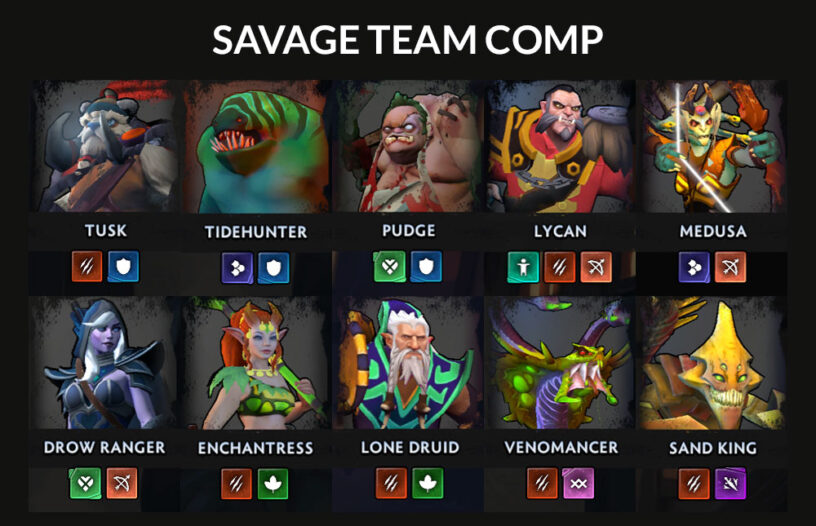 Heroes
Tusk
Tidehunter
Pudge
Lycan
Medusa
Drow Ranger
Enchantress
Lone Druid
Venomancer
Sand King
Alliances
6x Savage
3x Warrior
3x Hunter
2x Scaled
2x Heartless
2x Druid
With Venomancer being reduced to a 1-cost unit, Savages have established their position as one of the best alliances in the game. Tusk, Enchantress, and Venomancer are all very decent 1-cost units who can help you fight out the early game. Like many of the other builds right now, you'll want to start the game out with some Warriors and add the 4x Savage alliance as soon as possible. Tooth & Claw will provide this team with the residual damage they need to outlast a tough defensive team like Knights. The Summoning Stone is a key global alliance to look for, as it'll make your Lone Druid, Venomancer, Lycan summons significantly stronger. Tusk, Tidehunter, Pudge, Sand King and Medusa provide you with the crowd control you need while your Savages & Hunters deal massive amounts of damage due to the tier 3 Savage perk.
The Assassin Build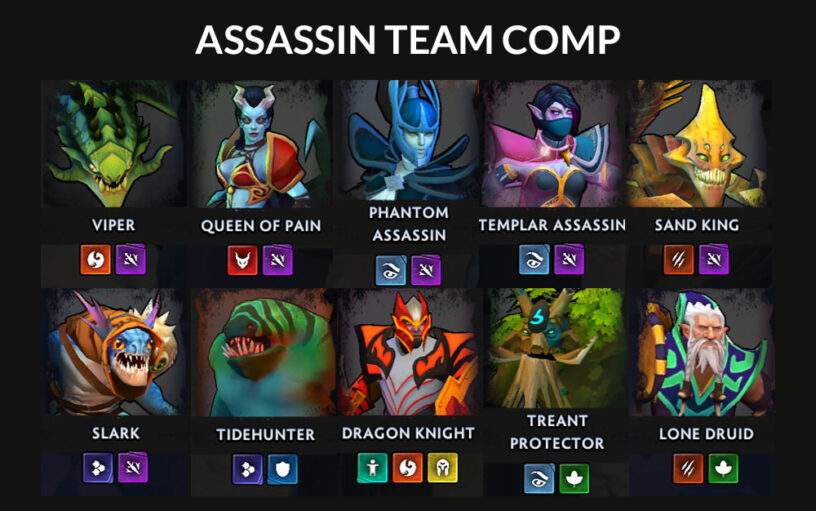 Heroes
Viper
Queen of Pain
Phantom Assassin
Templar Assassin
Sand King
Slark
Tidehunter
Dragon Knight
Treant Protector
Lone Druid
Alliances
6x Assassin
3x Elusive
2x Savage
2x Dragon
2x Scaled
2x Druid
1x Demon
Assassins have been consistently able to occupy a space in the meta where they don't dominate, yet are always a threat to make the top 3 and win a game. When only one player in the game is going for Assassins, they're able to easily 3-star one or two Assassins. The Druids and Tidehunter provide you with enough frontline distractions to allow your Assassins to put in work on your opponents' team. This build makes great use of the Elusive alliance; allowing your Templar, Phantom Assassin and frontline Treant Protector to dodge enough attacks to provide some lasting power. Pocket Sand 3 is the global alliance you'll be trying to prioritize, as it'll blind enemies 1-cell away from your landing Assassins for 3 seconds at the start of the game.
And there you have it, some of the most powerful and successful builds to date. With balance updates and patches constantly being released by Valve, we can expect regular shifts in the meta. With that being said, try these builds out and you should be able to easily win games and climb the Underlords ranks!