If you want to install and play the Valheim VR Mod, you must start by visiting the mod's official page on the Nexus mod website. When visiting the mod page for Valheim VR, you want to download the latest version of the mod. You can download the newest version by going into the file section on the mod page and grabbing the latest download. But besides the most updated version of the mod, you will also need to download BepInExPack Valheim.
BepInExPack is a general purpose framework for Unity modding, which the Valheim VR mod requires to run. That said, you can find the BeiInExPack on its mod page over at the Thunderstore website. Download both the latest versions of the Valheim VR Mod and BeiInExPack, and you are ready to start installing Valheim VR.
The first step for installing Valheim VR after downloading all required files is to open the VR mod's folder and move the following files into the Valheim Steam game folder:
That said, after copying over the contents of the Valheim VR mod, the next step is to move the files inside BeiInExPack into the Valheim game folder. During this next step, you will want to highlight all files inside the BepInExPack_Valheim folder and copy them into the game directory, as shown below.
After copying all files inside the BepInExPack_Valheim folder, you will have just installed the Valheim VR mod. But, if you have done all steps correctly, your game folder should look like our image listed below.
Related: How to mod Valheim – Valheim Mod Installation Guide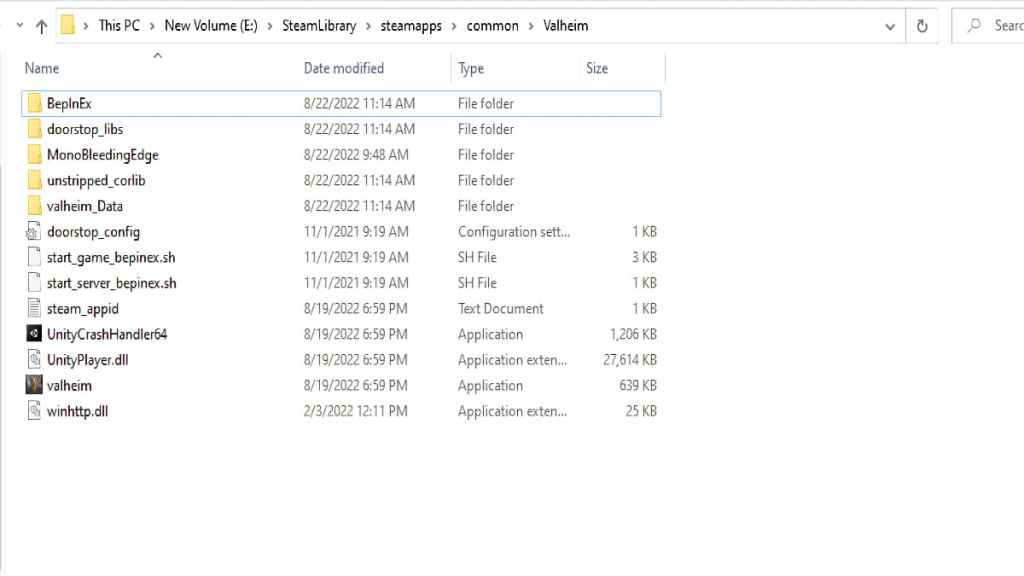 How to configure Valheim VR
The next step before running Valheim VR is to step up the game to run properly. Start by opening up the properties tab for Valheim and check the Use Desktop Game Theatre while SteamVR is active option. You can find the Game Theatre option under general settings under the game's properties tab on Steam. To open the properties tab, right-click the game under the game list and select properties.
That said, after checking the Game Theatre option, you will want to launch the game and put your headset on. Once in the game, you must open up graphics settings and turn off the following graphic options:
Motion Blur
Bloom
Depth of Field
SSAO
Change Game resolution to 1080p
After changing your resolution and all other settings listed above, you must restart your game for all the changes to take effect. Afterward, you can play Valheim VR by joining a friend's game with the mod or creating a world in Single-player.
For more on Valheim, we at Pro Game Guides have you covered with guides like Why is V Rising compared to Valheim? and Best way to kill Abominations in Valheim.