High in the coldest peaks of the world of Viking purgatory awaits Moder, the fourth boss in Valheim; prepare yourself and read up on everything you need to defeat and summon Moder in this guide.
How to summon Moder in Valheim

| Moder Boss Location

To summon Moder, you will need to embark on a long and arduous journey in search of items called dragon eggs in the mountain biome.

You can find these dragon eggs at the highest peaks of the mountain biome, and you can identify the locations of the eggs by either the glowing purple color or the high concentration of drake enemies.
You will also need to gather a total of three of these eggs, which you will also need at least 200 free space in your inventory to pick them up.
Because of this, we recommend storing your items back at base before going after these eggs, or you can buy an item called Megingjord from the merchant Haldor. Purchasing this item will cost 950 coins but will allow you to carry at least one egg with 150 extra weight.
Related: Dragon Egg Locations in Valheim
That said, once you got the eggs, you will then need to find Moder's shrine; you can do this by searching ruins in the mountain area until you find one with a stone rune tablet. When you find one with the tablet, walk up and press e on it, and it will reveal the location of Moder's shrine; this shrine will probably be high on some mountain, so beware.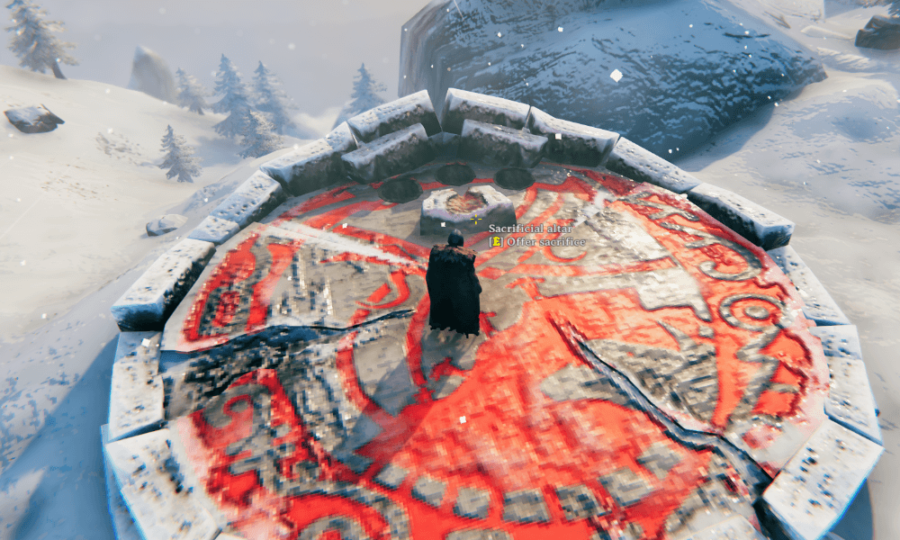 Once you find the shrine, you will then need to throw a total of three eggs inside the alter shown below to summon Moder; after doing so, a furious Moder will appear. However, before you summon him, we recommend doing the following listed below to help you fight and kill Moder.
Related: How to get Black Metal in Valheim
How to defeat Moder in Valheim
Build a shelter nearby: We recommend building a small base/shelter nearby the shrine to store valuable goods and to respawn if you die; you will also want a campfire to get the restful buff. You can also fall back and use this base as cover to pelt Moder with arrows.

Be prepared with items;

Pack plenty of health mead and foods like sausages and stews; we also recommend stocking up on plenty of arrows like obsidian or iron.

Don your best armor se

t; Have at least iron or wolf armor, with either a lox or wolf cape to fight against the cold; if you don't have that yet, we strongly recommend making frost mead.

Use the terrain to your advantage;

hide behind trees and rocks, and fire volley after volley of arrows at the dragon.

Bring your best range weapons;

Make at least a dragur or huntsmen bow, and pelt the crap out of the angry sky lizard until it goes away.

Avoid melee like the plague;

Molder can hit like a freight train, so it's not worth getting into melee with the sky lizard; instead, just duck and cover and keep firing volleys at it.
For more on Valheim, we at PGG have you covered with an expanding roster of guides like how to get Guck and how to get Black Metal in Valheim. Along with these two awesome guides, check back later and we will have even more guides for Valheim coming out in the weeks and days ahead.