Being an online multiplayer game, you will often come across several players who will be arrogant, abusive, or not legitimate. To complain against such players, Riot Games have implemented a separate report system. There are two ways to report in Valorant. You can either use the report players option under the match tab during a game or from the match summary option after a match.
When should you report a player?
Before reporting any players, let us understand the various circumstances under which you should raise a complaint. Riot Games allow every player to register a report against a teammate or opponent under the following scenarios.
Cheating
Abusive communication towards you or teammates
Leaving the game/AFK
Sabotaging the team
Disrespectful behavior
Offensive/Inappropriate naming convention
Any form of threat.
Related: How to implement HRTF in Valorant
Reporting a player in Valorant
As mentioned before, you can report a player during a match or after it. To do this, follow the steps given below.
If you want to report against a player during a game, press ESC and in the match section, click the report button adjacent to the player name whom you wish to report.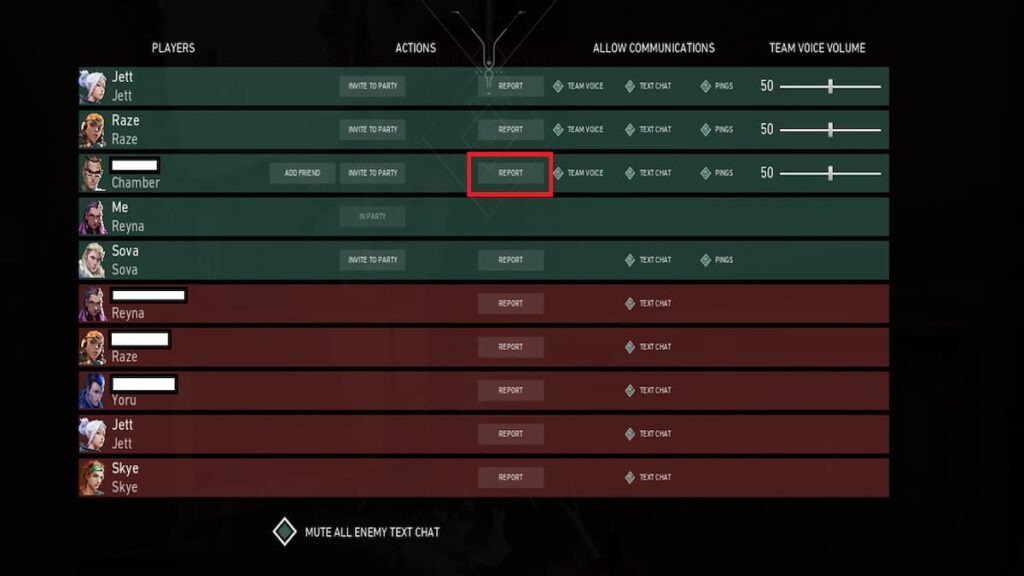 A new window will appear asking the reason for which you are complaining. Check the reason box or type a custom message in 512 words explaining your cause.
Follow the same procedure if you are filing a report in your post-match summary. Right-click on the name of the player and press the report option.
Remember, Riot Games is also planning to report players during the character select screen.
For more on Valorant, check out How to Make a Square/Box Crosshair in Valorant Pro Game Guides.