Each tank in War Thunder comes with their own set of unique stats, and different nations prioritize different engineering traits, whether it be firepower, speed and agility, or heavy armor. Knowing the strengths and weaknesses of your tank is vital, and overlooking their stats can leave you stranded in a heap of burning metal. If you're searching for the best tanks to dash through the tech tree, look no further. Here are the five best tanks to use in War Thunder.
T-50
Even though it falls under the low-tier tanks, the T-50, with its agile speed and decent armoring, can zip through the battlefield with ease. One of the most popular picks amongst newer and free-to-play players, this scout tank is perfect for changing angles in the midst of battle and flanking enemies while you allow the beefier tanks in your regiment to soak up damage. It is not the best against tanks with heavier artillery, and you need to pay heed to not damage the tracks in undulating terrain. However, the T-50 is a great beginner choice, and it proves that there's more to a tank than big shells and firepower.
Related: Best Planes to use in War Thunder
Tiger H1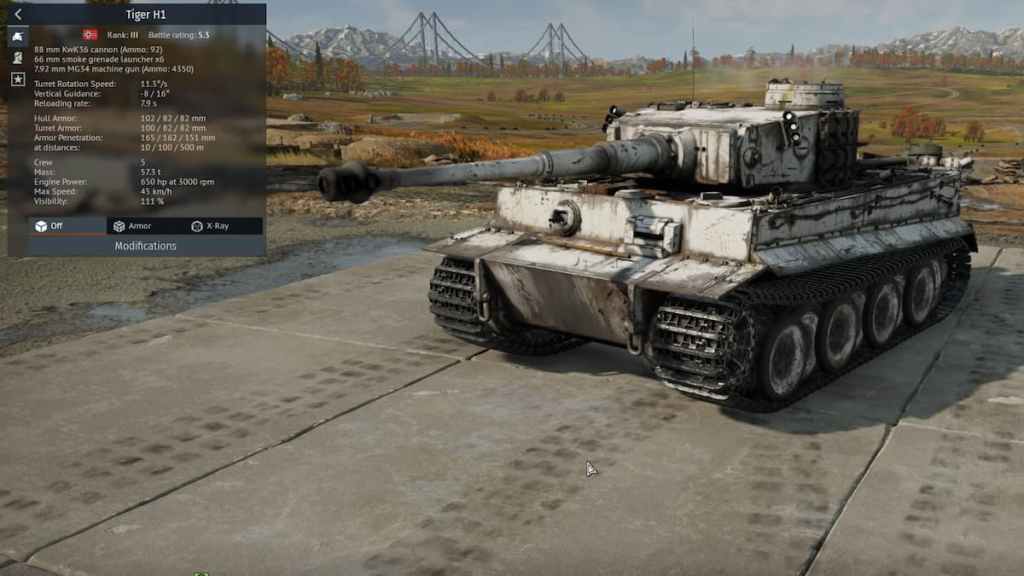 Historically infamous for being a menace in the battlefield during WWII, the German Tiger H1 still strikes fear in the hearts of opponents—even in a video game. One of the fastest heavy tanks in the game, it comes equipped with an 80 mm canon which is compatible with a range of shells. It's thick side armor can easily bounce off enemy shells, if angled properly. If not angled correctly, shells will easily penetrate the armor and leave you incapacitated. So, it is ideal to make use of its high firepower and speed to flank and demolish opponents before they can get a strike in on you.
Panther A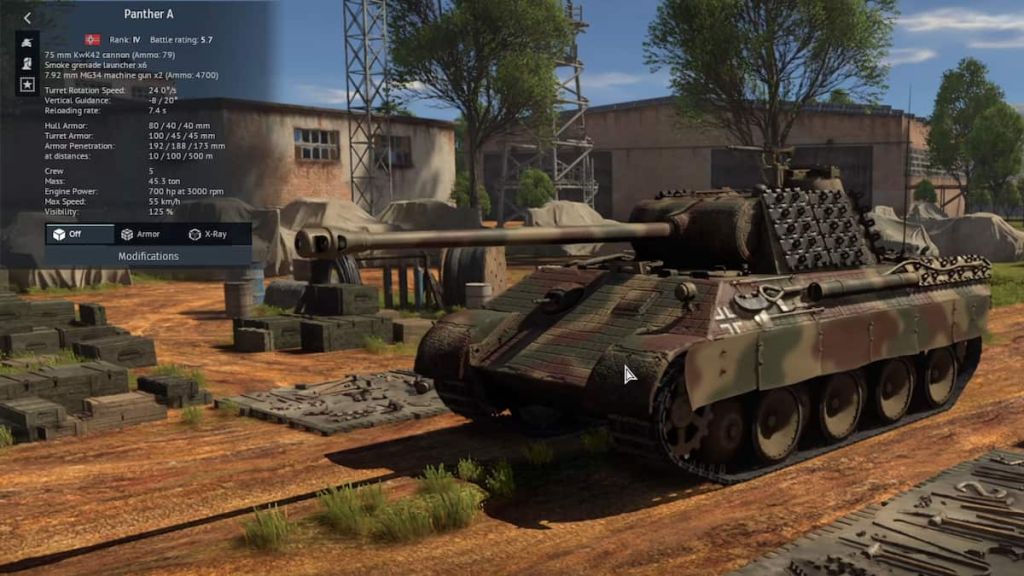 The Panther A is one of the best medium tanks in the game, and there is little in the way to counter that statement. As with most German tanks, it comes kitted with heavy, sloping armor to protect its occupants. The side armoring is weak, but its high mobility allows it to move out of the enemy's range quickly. The artillery in the Panther A comes with good gun rotation and sufficient ammunition options to make quick work of most enemy tanks. Owing to its massive size, subtlety is not your strongest suit in the battlefield, so make sure every hit counts.
Related: World of Tanks Codes (May 2022)
T-80U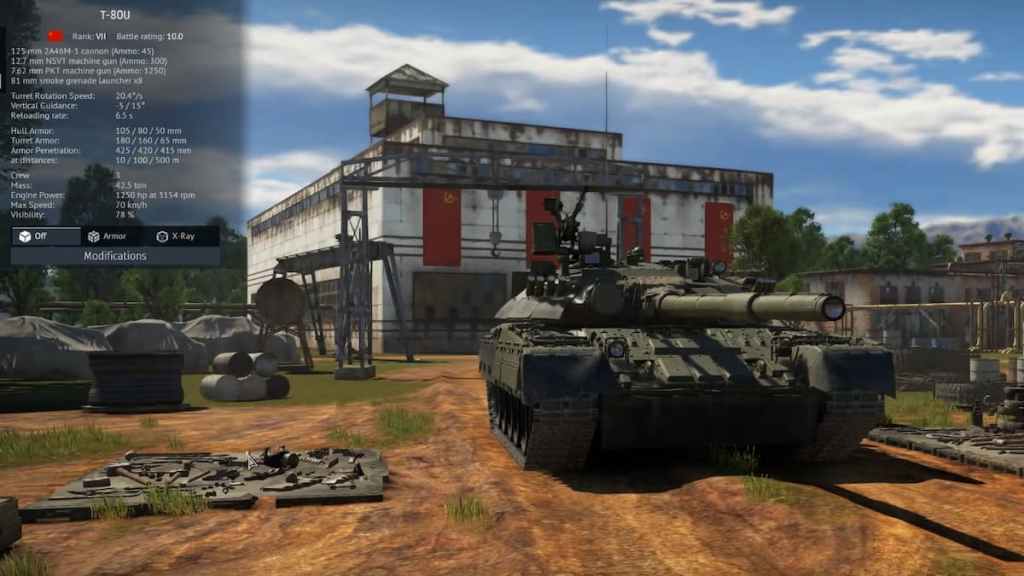 With decent forward movement speed, low slung profile, heavy front armoring, and devastating firepower, the T-80U is a rolling nightmare for enemies on the battlefield. A contemporary successor of the legendary T-34 of the Soviets in WWII, the T-80U shines in momentous forwards attacks. It can easily flank unsuspecting enemies and is hard to detect in flat bushlands. However, the low reverse speed will have you planning exit points in the face of overwhelming enemy flanks, and it's poor side armor allow enemy shells to penetrate the hull easily.
M50 Ontos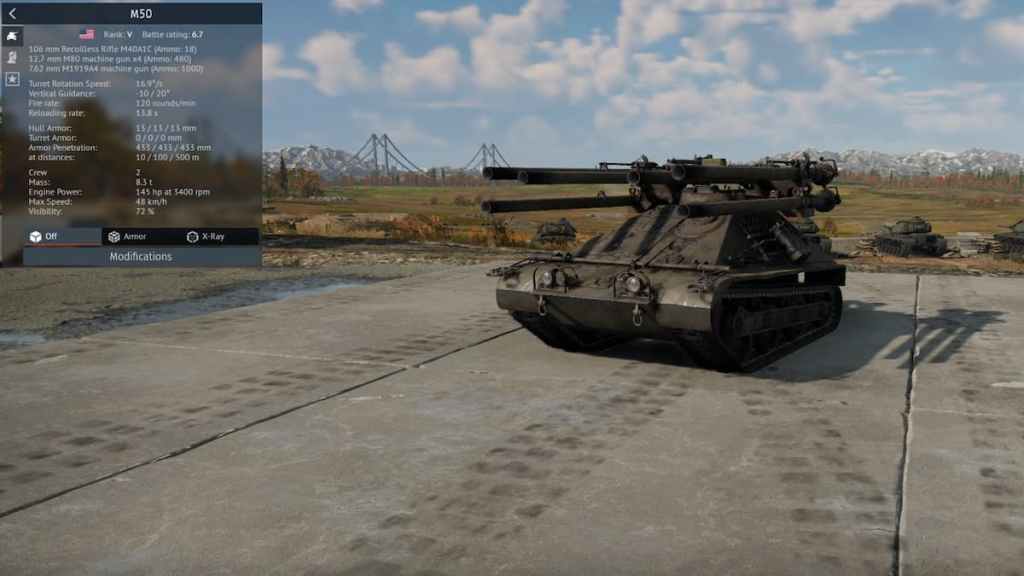 The M50 Ontos, hailing from the USA, is a light tank conducive to a playstyle that's almost as ridiculous as it looks. Kitted out with six cannons that can fire six recoilless shots within less than a second of each other, it can outflank and outgun an enemy before they can even rotate their turret toward you. Thanks to its decent speed and quietness, it is perfect for ambushing enemies. However, its light armor is a bane, allowing enemies to strike you down in one well placed shot. As easy as it is to unload your full salvo of six cannons, it takes a long time for it to reload. Missing a shot with this tank is a potentially fatal mistake.
Looking for other games with tanks? Check out Where to find Tanks in Fortnite Chapter 3 Season 2 – All Tank Spawn Locations, here on Pro Game Guides.