The Arcane spec for Mages is one of the most powerful DPS within Dragonflight. However, it is not an easy spec to play, and simple mistakes can drown your DPS. If you're interested in playing the alluring Arcane Mage, you've come to the right place for builds. Here's all we know about Arcane Mage's strongest talent builds in WoW Dragonflight.
The Strongest Talent Build in WoW Dragonflight
Unfortunately, like Fire Mage, Arcane Mages really only have build save for a few incredibly minor choices that are largely ill-relevant. Arcane Mages deal significant damage while they have four Arcane Charges, making those moments the most opportune moments for bursts. The following build seeks to exploit this through expounding multipliers from other talents and abilities.
Arcane Mage: Arcane Echo Build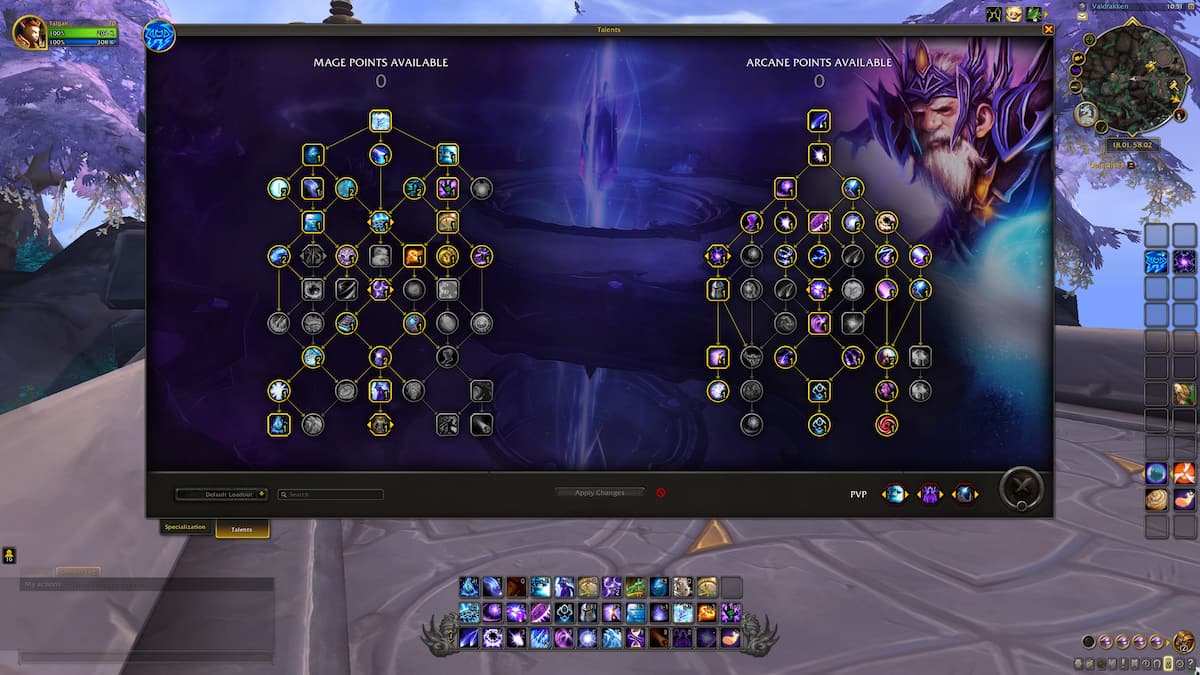 The crux of this build relies upon abusing small windows of extreme burst damage in rapid succession. As such, there are two capstone talents and three core abilities tied to it:
Harmonic Echo - Provides a powerful damage vulnerability of 20% for arcane spells
Arcane Harmony - Provides a stacking damage buff to your next Arcane Barrage per Arcane Missile hit. This is passive.
In addition, three core abilities are required to make this talent build work as well:
Arcane Surge - Provides a massive 35% boost to spell damage and 425% to mana regeneration for 15 seconds
Radiant Spark - Used as the catalyst ability for Harmonic Echo to take effect. Also provides an additional 10% vulnerability itself
Touch of the Magi - The crux ability that ties everything together. Causes a target to take 20% of all Arcane damage done within 10 seconds after the ability expires.
Other notable abilities/talents for the build are the following:
Rune of Power - A massive 40% damage boost to all spell damage so long as you remain inside of it
Shifting Power - Reduces the cooldowns of your spells. Mainly used for reducing the CDs of Arcane Surge, Radiant Spark, and Touch of the Magi
Temporal Warp - A mini-bloodlust/heroism for solely you, meant to be used while the Sated/Temporal Displacement debuffs are on you
Related: Where to find the Black Market Auction House in World of Warcraft: Dragonflight
As you can see, this build has many moving parts, but the key is to deal as much damage as possible during Touch of the Magi so that the follow-up burst is enormous. Most of these talents and abilities serve solely as damage multipliers for Touch of the Magi, so you'll want to use them together to get the biggest numbers.
Have four changes of Arcane Charge, activate Harmonic Echo, and thus, Radiant Spark, then cast Arcane Surge for the massive spell boost. This will also place a Rune of Power for you for an even bigger boost. Next, cast Radiant Spark, followed immediately by Touch of the Magi. Cast Arcane Blast until you get Arcane Missile procs. Cast Arcane Missiles, and finish by casting an Arcane Harmony-empowered Arcane Barrage just before Touch of the Magi ends. Then, repeat this process until your enemy is dead.
This build's greatest weakness is its ridiculous complexity. All of its major cooldowns are tied together, so any misplay will result in significantly lower DPS. You must play it almost perfectly at a constant rate, or your DPS will suffer. Unlike the other Mage specs, however, the DPS loss from messing up isn't bad because Arcane naturally has massive damage multipliers. Still, the damage loss is huge, so take your time and learn the rotation.
For more quality content related to WoW Dragonflight, check out this WoW Dragonflight Jewelcrafting leveling guide right here on Pro Game Guides.