Amber may seem like it's abundant in The Legend of Zelda: Tears of the Kingdom, but players may end up needing a lot of it. To upgrade the Hylian Armor set, Link need 30 Amber per piece (so 90 total). Amber is also a great gem to farm and sell for lots of rupees, so it's always a good idea to know where to find it.
Best places to farm Amber in TOTK - Zelda Tears of the Kingdom
Amber is going to be found in most of the breakable rock formations in Tears of the Kingdom. This makes the Eldin province in general a great spot to farm Amber. Specifically, players should look for the area beside the Goron Hot Springs (coordinates 1771, 2246, 0477) and the caves in YunoboCo Headquarters (coordinates: 1827, 2883, 0371).
Outside of Eldin, there are a couple of caves around the overworld that serve as a great source of gems, Amber included. Some of these caves are as follows:
Corta Lake Cave: in the northern part of Faron, southwest of the Rabella Wetlands Skyview Tower (coordinates 1674, -3037, 0165).
A small unnamed cave can be found on one of the later hills in the Zonai Ruins, right in front of Drakozu Lake (coordinates 0935, -2665, 0034)
Deepback Bay: found on the northwestern edge of Deepback Bay, which is found south of Mount Lanaryu. Players can glide to it from the Mount Lanaryu Skyview Tower, and there is a shrine inside players can use for a future warp point (coordinates 4208, -2280, 0000)
Walnot Mountain Cave: Along the eastern edge of Mount Lanayru, southwest of Jikais (coordinates 4210, -1742, 0194)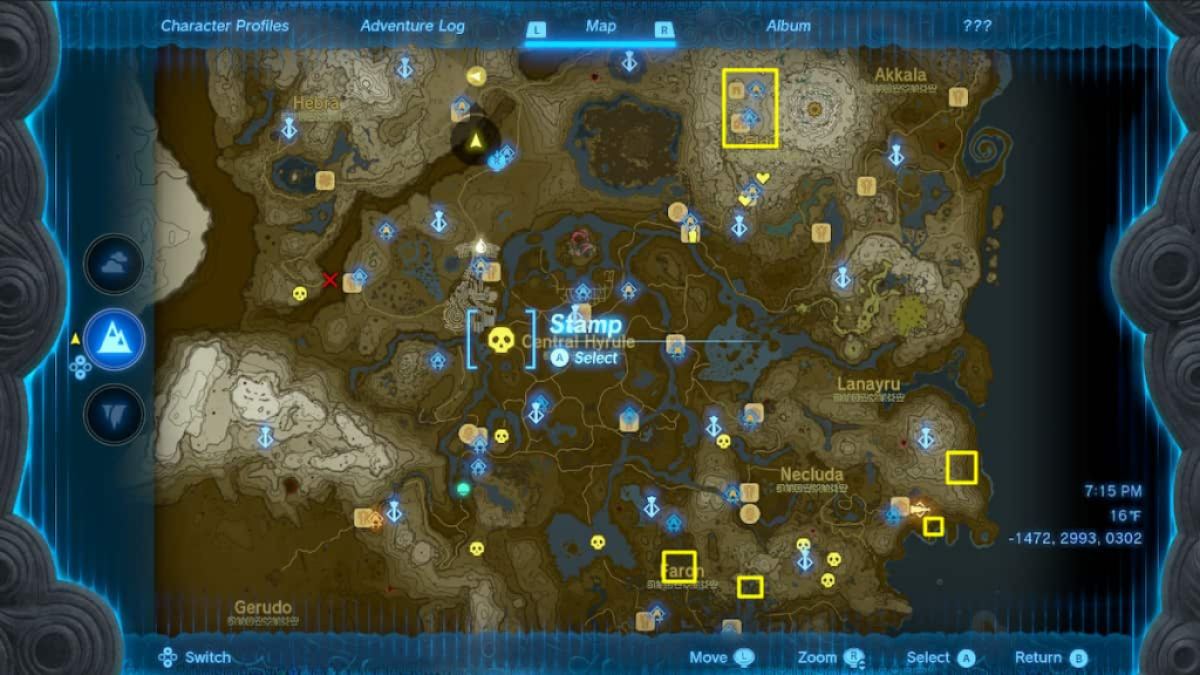 Related: How to farm Poe in Zelda TotK (Tears of the Kingdom)
Another great way to farm Amber is by fighting Battle Talus. These monsters usually drop three to five gems, Amber being one of them almost all the time. As opposed to the other huge bosses in the game, fighting a Battle Talus can be quite quick. When I fought my last Battle Talus, I used the updrafts from Fiery Arrows to get on it's back and as able to kill it in two cycles.
Want more Zelda Tears of the Kingdom guides? Pro Game Guides has you covered with How to farm Korok Fronds in Zelda Tears of the Kingdom (TOTK)