The BitLife Tiger King Challenge is now in the game and we're taking a look at how to complete it in this guide! The requirements are a mystery, but we know all of the objectives you need to finish to get this challenge done.
BitLife Tiger King Challenge Rules
Here's the description of the challenge:
Hey, all you cool cats and kittens! Are you outspoken, good looking, love to party, and shoot guns? Then you'll go wild, sinking your claws into this crazy challenge!
Tiger King Challenge Objectives
Be Male
Start in Oklahoma City
Get married to a Man
Own three Big Cats
Hire a hitman and get caught
Tiger King Challenge Guide
Here's a guide to completing all for the Tiger King Challenge.
Be Male
When you create a character make sure you are a male! To be even more thematic, you might want to change your first name to Joe and last name to Exotic!
Start your character in Oklahoma City
You also need to start your character in the United States and then choose Oklahoma City has your city option!
Be Gay and Get Married to a Man
Under Activities you should find Sexuality when you're old enough. You have three options, and you'll need to pick "I'm gay" for the challenge. You will then need to find yourself a man to date and then go ahead and get married to them! As a general rule of thumb I find that purchasing a diamond ring that's over one carat as the best way to get your significant other to say yes to your proposal.
Own THREE Big Cats
These can be purchased from under Activities, Pets, and the Exotic Pet Dealer. You normally won't be able to purchase from the Exotic Pet Dealer if you don't have Bitizenship, but they made it free for a limited time. You need to buy the ones that are labeled as BIG CAT!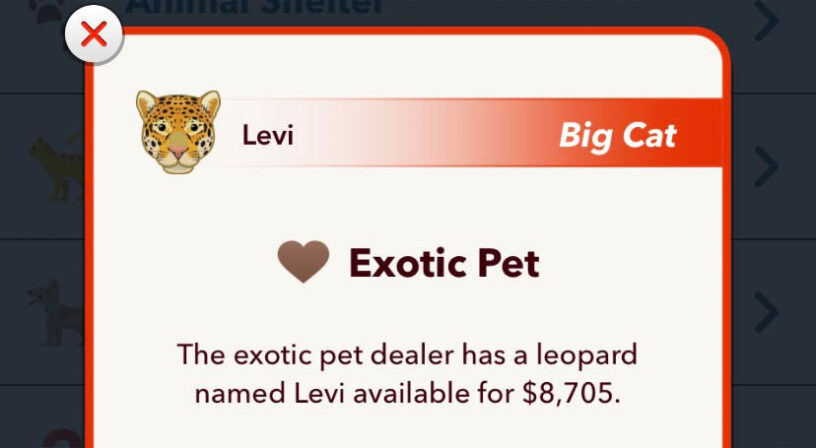 If the pet dealer doesn't have a big cat, you can close out of BitLife completely and re-open it. You will get another pet option and you can either purchase it or close out again until you get a Big Cat. I recommend attempting to own all three in the same year because these cats cost a whole lot of money to maintain and you might not have enough cash for the next objective! You also need to make sure to own the cats prior to doing what's next.
Hire a Hitman and Get Caught
Go under the Activities option then go to Crime. Then go to the hitman option and pick any person you want. You will then need to hope that your hitman fails, because that's the final part of this that needs to be completed!
You need to make sure that you are married, own the three cats, and hire the hitman simultaneously or you won't get credit.