Bar Assault Rifle in Call of Duty: Vanguard requires considerable skill to operate. Although it's a dominant weapon, players don't prefer it due to the high recoil and slow fire rate. In good hands, this AR can beat any other weapon in the game.
Here's how to build the best Bar class in Vanguard for different usage scenarios and ranges:
Best BAR Loadout Vanguard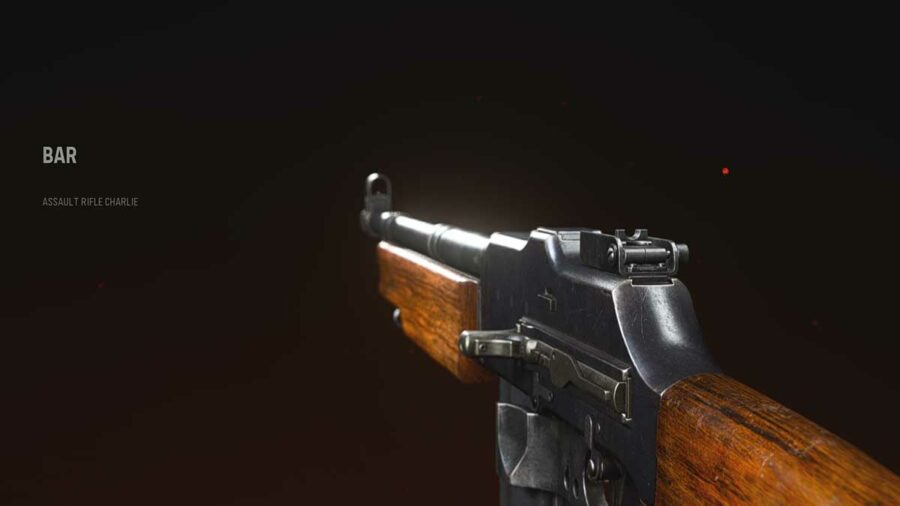 Use the following best Bar attachments for a mid to long-range build:
Muzzle - MX Silencer
Barrel - CGC 27" 2B
Optic - G16 2.5x
Stock - Chariot WR
Underbarrel - M1930 Strife Angled
Ammo Type - Lengthened
Rear Grip - Pine Tar Grip
Proficiency - Sleight of Hand
Kit - Fully Loaded
The above Bar build is focused on improving the accuracy, damage range, and bullet velocity of the weapon. However, these attachments degrade the mobility statistics, which is acceptable for a long-range build. You can also modify some of these adjustments to your preference.
For instance, the CGC 27" barrel improves the accuracy and damage range of the Bar. You can use the CGC 30" XL barrel instead for even better control and accuracy. But this barrel will not extend the damage range, unlike the 27" 2B.
The magazine options for the BAR aren't great, and hence we are sticking to the standard one. Nonetheless, you may equip the .50 BMG 20 Round Mags for better range and damage. Keep in mind that this ammo will hurt the recoil, accuracy, and fire rate by a lot.
Related: Best NZ-41 Loadout and Class in Call of Duty: Vanguard
For a close to mid-range weapon, try the following Bar loadout:
Muzzle - Recoil Booster
Barrel - Chariot 18" Rapid
Optic - Slate Reflector
Stock - CGC Wire
Underbarrel - M3 Ready Grip
Magazine - 8mm Klauser 20 Round Mags
Ammo Type - FMJ Rounds
Rear Grip - Fabric Grip
Proficiency - Sleight of Hand
Kit - Fully Loaded
Although high fire rate weapons generally excel in close-quarters combat, this Bar build can still be a potent option to use. The attachments used here are specifically meant to boost fire rate and mobility while the weapon takes a minor hit on accuracy.
Stay tuned to Pro Game Guides for more Vanguard content. In the meantime, head over to our article on – How to complete all Humiliation Challenges in Call of Duty: Vanguard.