With the weekly reset in Destiny 2 comes another spooktacular set of challenges. Week 5 only has seven to complete, but for those who haven't been keeping up, they might be more of a hurdle, as several are continuations of previous weeks. Let's take a look!
What are the Season of the Haunted Week 5 Challenges in Destiny 2?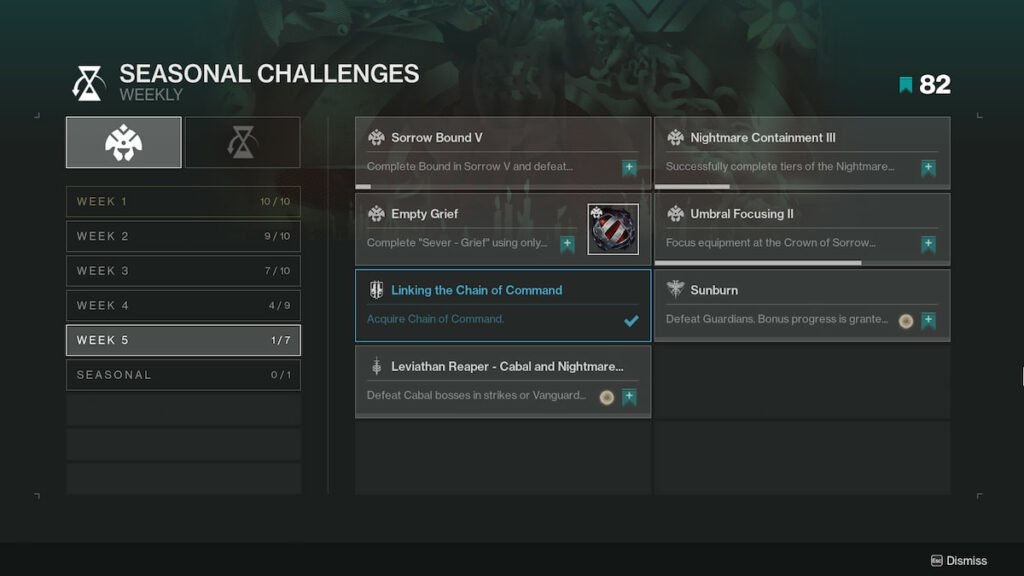 Sorrow Bound V
Complete Bound in Sorrow V and defeat Nightmares on the Moon.
Empty Grief
Complete Sever - Grief using only a Void subclass and Void, Kinetic, or Stasis weapons.
Related: All Calus Bobblehead locations on the Derelict Leviathan in Destiny 2 – #1 Fan Triumph
Linking the Chain of Command
Acquire the Chain of Command Machine Gun.
Leviathan Reaper - Cabal and Nightmare Bosses
Defeat five Cabal bosses in Strikes or Vanguard Ops
Defeat five Nightmare bosses anywhere in the system
Nightmare Containment III
Umbral Focusing II
Focus six Umbral Engrams into weapons at the Crown of Sorrow
Focus four Umbral Engrams into armor at the Crown of Sorrow
Sunburn
Defeat Guardians. Bonus progress is granted for opponents defeated with the help of Solar effects
For more Destiny 2 goodies, check out The complete story of Destiny 2 Season of the Haunted (so far) on Pro Game Guides.