Xur explores the vast galaxy, frequently posting up shop in a new location each week where he sells rare exotic gear and weapons to Destiny 2 Guardians. Every week players expect him somewhere new, so the question often posed is... where is Xur today? Well, we always provide the precise spot where you can locate him in with the exact exotic gear as soon as he lands, because it is sometimes difficult finding him. Every week he changes out his offerings, which grants players the opportunity to buy some rare exotic armors, engrams, and weapons that you won't normally have access to in Destiny 2.
Xur's location from June 18 to June 22 is at the Watcher's Grave on Nessus, in a tree. Head to the Watcher's Grave landing location and go northwest until you find a large tree that is directly west of the Chamber of Water. You can then parkour your way up the branches to reach Xur.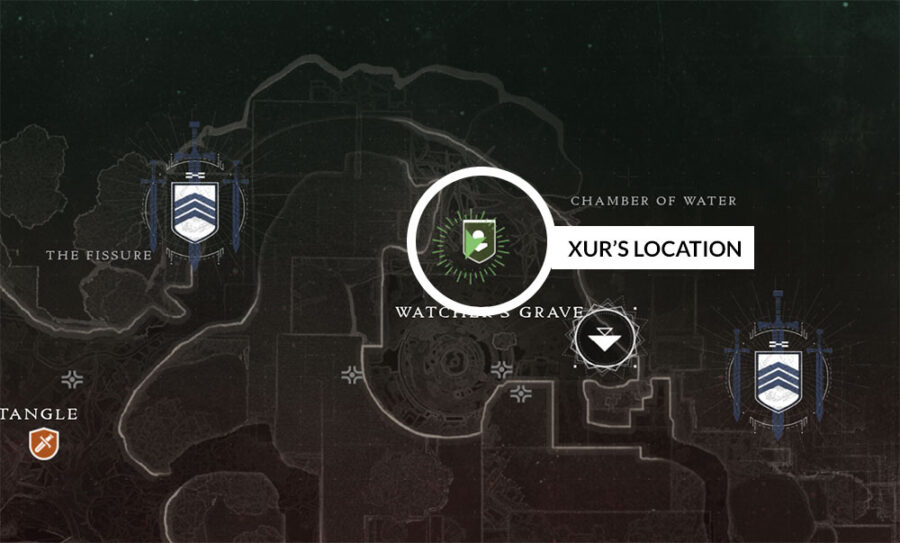 Check out the video below if you are having trouble finding Xur.
What is Xur Selling Today?
Here's a look at what Xur is selling in his inventory this week. Why not add a new exotic to your collection?
The Jade Rabbit [29 Legendary Shards - Kinetic Scout Rifle - "What kind of harebrained scheme have you got in mind this time?"]
Mechaneer's Tricksleeves [23 Legendary Shards - Hunter Gauntlets - "This won't end well for one of us. And darling, it won't be me." —Self-styled "Lady" Olu Alderdice]
Synthoceps [23 Legendary Shards - Titan Gauntlets - Caution: the organism has been known to develop consciousness. In these cases, immediate termination is recommended.]
Transversive Steps [23 Legendary Shards - Warlock Leg Armor - Your relationship with consistent spacetime is...tenuous at best.]
Xur's Previous Inventory
Here's a look at what Xur was selling last week!
Two-Tailed Fox [29 Legendary Shards - Exotic Rocket Launcher - Adorably murderous.]
Severance Enclosure [23 Legendary Shards - Titan Chest Armor - The loop is made. Over and over until the collision. At that moment, severed fission.]
Chromatic Fire [23 Legendary Shards - Warlock Chest Armor - "…found them… Crystal Orchards of Dione… requesting backup… coordinates to follow…" —Last transmission of Fireteam Pergamon]
St0mp-EE5 [23 Legendary Shards - Hunter Leg Armor - "I call them the Stompies! For when your legs need that extra kick." —Marcus Ren]
Who is Xur?
Xur is an Agent of the Nine, who randomly appears in various locations across the solar system. He has a rotating inventory of Exotic armor from all the different classes, which can be purchased for legendary shards. He will also offer One Fated or Exotic Engram each week that can be bought for 97 Legendary Shards! He shows up in Destiny 2 every Friday at 9am PT after the reset, and will hang around for a total of three days until the Tuesday reset!
General Xur Locations
Xur will generally always be found at one of five Destiny 2 locations, which are the following: Winding Cove on EDZ, Barge or in a Tree on Watcher's Grave in Nessus, Giant's Scar on IO, The RIG on Titan, and the Hangar at The Tower which is the general social gathering hub.