The Fallout franchise has many very similar titles in terms of gameplay. Most of them are role-playing games, but one is entirely different. Fallout Shelter is a free-to-play game where you manage your Vault. It may look simple initially, but you'll face serious challenges quickly. To make your post-apocalyptic manager career successful, look at our Fallout Shelter cheats and tips guide.
Fallout Shelter Cheat Guide
No official Fallout Shelter cheats are available, but that doesn't mean you can't cheat! The most efficient way to get more resources and have stronger dwellers is to edit the save file of the Fallout Shelter PC version. Here's how to cheat in Fallout Shelter:
Warning: Create a backup of the save file you intend to edit in case errors are made, and if crashes and bugs occur.
Start the Fallout Shelter on PC.
Create your Shelter and start playing.
Select Save and Exit button in Settings.
Your saved file's default location is "AppData\Local\FalloutShelter."
Open the Shelter editor page in your web browser.
Choose the .sav file you intend to change (for example, vault1.sav) or simply drag and drop the file into the page.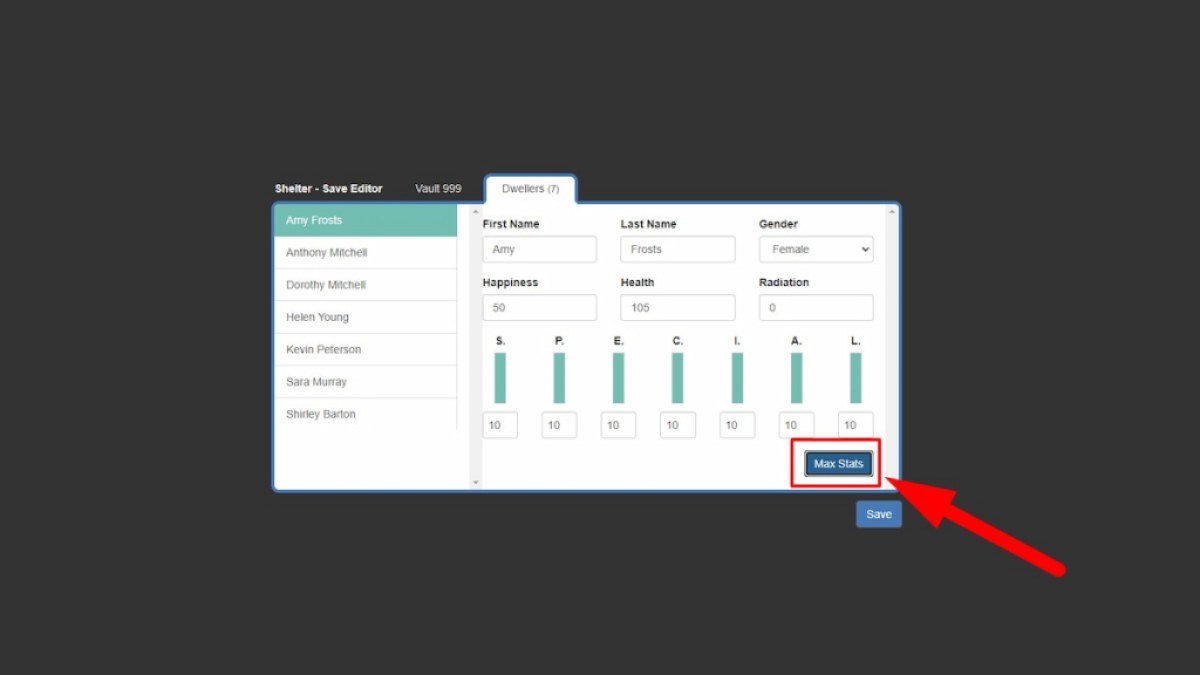 You can now edit Food, Energy, Water, Stimpacks, RadAways, Lunch Boxes, and Caps for your Vault. Also, you can edit stats, names, and gender for Dwellers.
Click on the Save button to finish editing.
Copy the edited file from your Downloads folder to the game folder.
Choose to replace the file in the destination.
Start the Fallout Shelter of PC and enjoy.
Best Fallout Shelter Tips & Tricks Guide
Although Fallout Shelter looks like a cartoon, it's, in fact, a complex base-building simulation game. And just like Fallout 76 tips and tricks, we've prepared a beginner's guide to make your post-apocalyptic life easier. These are the best Fallout Shelter tips and tricks for a successful Overseer career:
Don't go on a building spree in Fallout Shelter
More is not essentially better regarding the number of rooms in Fallout Shelter. Each room consumes power, so don't build new types of rooms just because you can. Remember that each room needs Dwellers to either work there or use them for everyday needs.
Leave space for expanding rooms in Fallout Shelter
There are many types of rooms in Fallout Shelter, and most can be upgraded. That requires more space which can be challenging if you don't plan a room layout. To avoid this, build rooms on separate floors to expand them in time.
Send Dwellers to explore the Wasteland often in Fallout Shelter
Exploring the Wasteland is not just an efficient way to level up Dwellers, but it also brings you valuable items. Send Dwellers as soon as possible, as this is a great way to improve your Vault significantly. Be careful, though, as you don't want to send your people to death. Equip them with items, weapons, and armor and plan exploration according to their capabilities and strength.
Invest in Vault defense in Fallout Shelter
There are several ways you can improve the defense of your Vault in Fallout Shelter:
Don't expand too fast - When you reach 60 Dwellers, Deathclaws will knock on your Vault door.
Arm your Dwellers - You'll have many weapons you don't use after a while. Give them to Dwellers located in the rooms closest to the Vault door.
Guard the Vault entrance - Put strong Dwellers in the Vault lobby to prevent enemies from reaching the rooms.
For more information on Fallout, check How to complete the enter your shelter challenge in Fallout 76 on Pro Game Guides.