Fortnite now allows you to soar through the skies in the new Airplanes (X-4 Stormwing) that were added to the game. We've got all you need to know about this new addition to Fortnite, including all of the spawn locations, controls, and tips and tricks on how to best utilize the planes!
These add a huge new dimension to the Battle Royale mode in Fortnite. Not only can you now cover great distances quickly, you can harass players by firing at them, barreling through their structures, and knocking them off high structures to eliminate them. While we've had a couple new vehicles in the past, this is by far the most game altering addition to the game.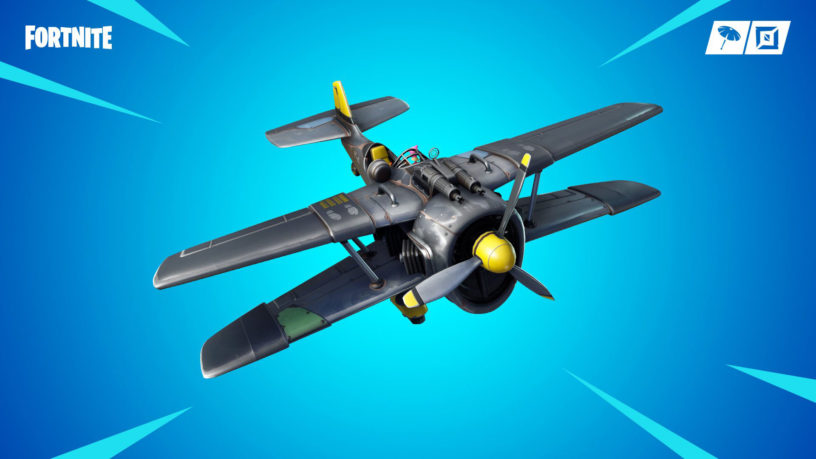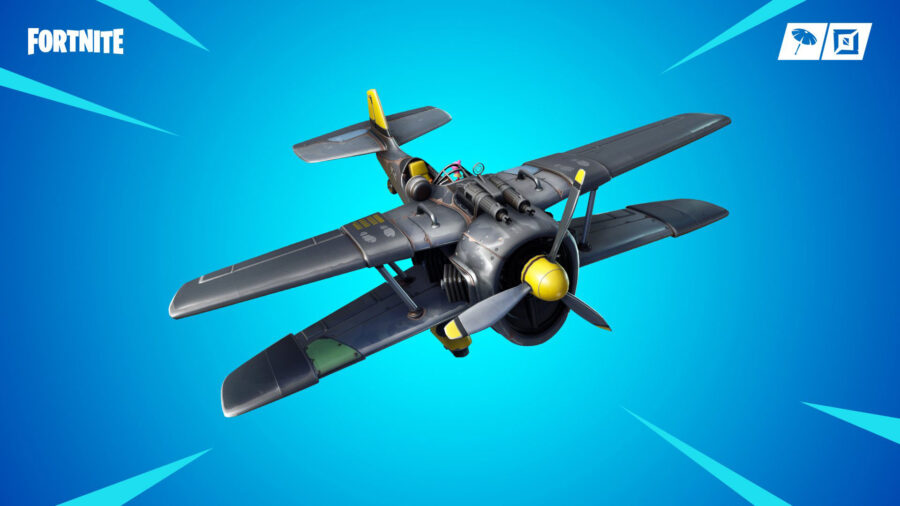 Airplane Controls
In addition to the following controls, you can also do a sweet barrel roll. All you have to do is either double tap Roll Right or Roll Left and you will do a full spin in that direction.
| Plane Controls | PC | PS4 | Xbox | Switch |
| --- | --- | --- | --- | --- |
| Switch Seats | L-Ctrl | Click Right Stick | Click Right Stick | Click Right Stick |
| Boost | Space | X | A | B |
| Airbrake | L-Shift | L2 | LT | ZL |
| Roll Right | C | R1 | RB | R |
| Roll Left | Z | L1 | LB | L |
| Roll Invert | X | Both Roll Btns | Both Roll Btns | Both Roll Btns |
| Shoot | Left Mouse | R2 | RT | ZR |
| Free Look | Right Mouse | Right Stick | Right Stick | Right Stick |
| Exit Plane | E | Square | X | Y |
Airplane Locations
You are going to find a concentration of spawns in the new winter biome, but overall they are pretty scattered around the map.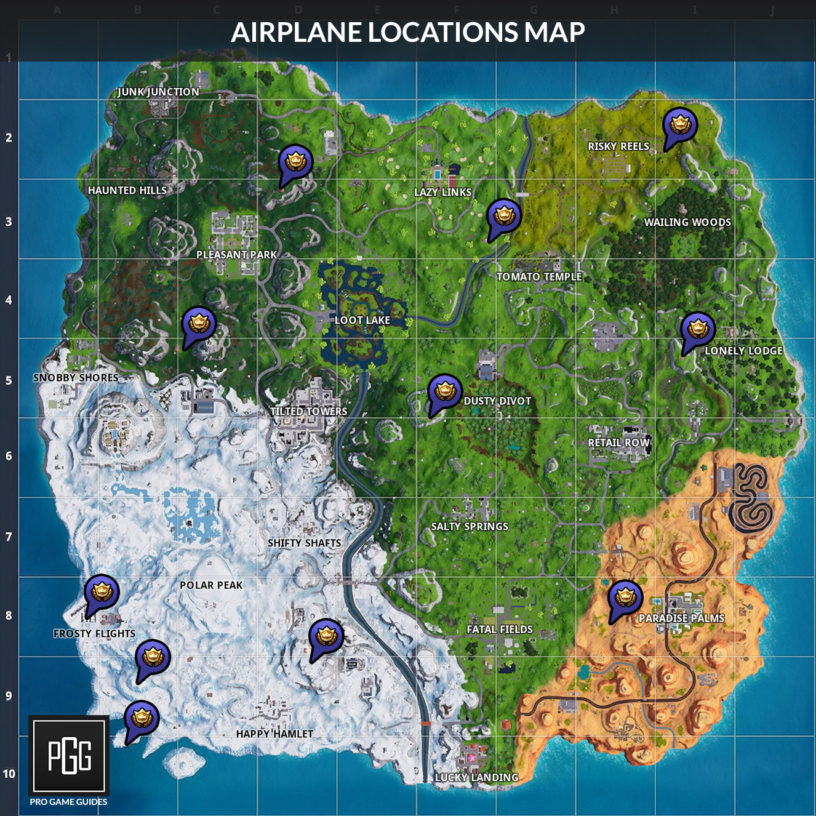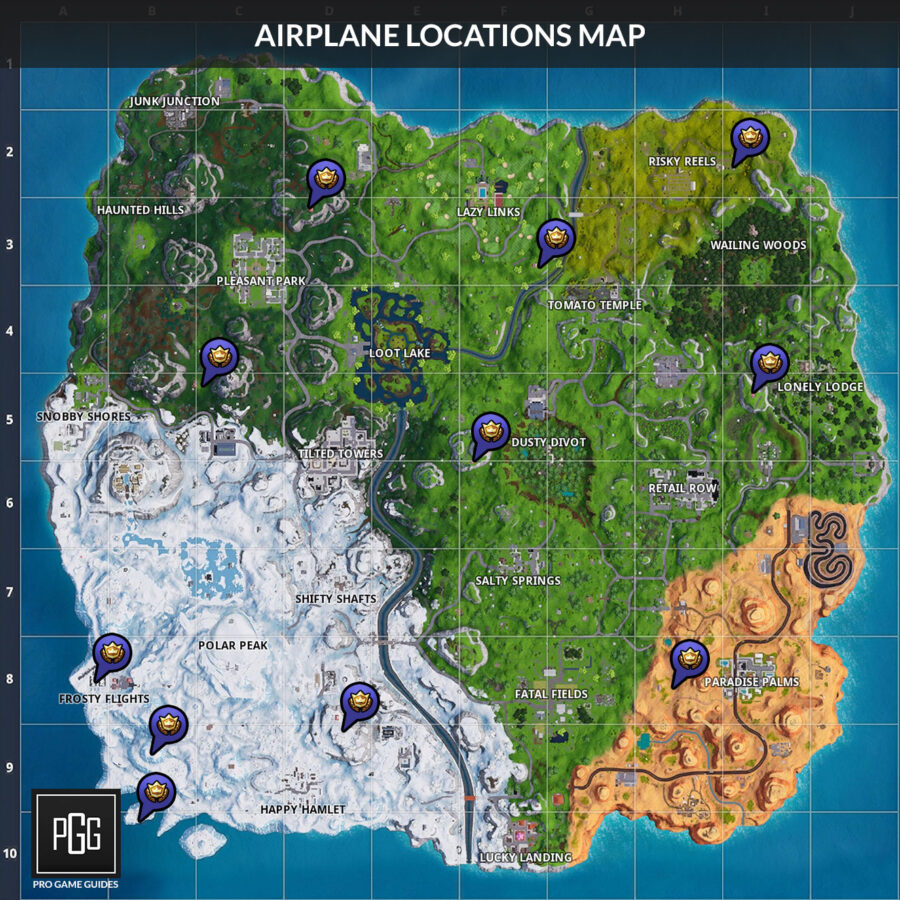 East of Snobby Shores: To the east of Snobby Shores you'll see a red trailer out here, and to the east of that you'll find three potential airplane spawns. This is located right next to the mountain that's north of the indoor Soccer field.
Frosty Flights: There's a lot of planes here obviously, and this is your best bet for finding one. There can be multiple spawns on the runway itself, and there's a potential spawn in each of the hangars.
South East of Frosty Flights: There's a plane spawn on a small mountain with a treasure chest and a forbidden dance sign. This might be a safer option if you don't want to fight over a plane.
South West Glacier: At the very south western part of the map where you see a two glaciers, there's a plane on the western most one. You can get here if you glide there or take the zipline over to it.
North East of Happy Hamlet: There's an airplane area with a few potential spawns. This is a good potential spot to land, you have a small building with three potential chest spawns.
South East of Lazy Links: You can also call this north west of Tomato Temple. Right near the river and on a hill you will find a red building, along with a few possible spawns for airplanes.
North of Wailing Wood: Way up to the north east near where Risky Reels had been is a small farm with a hangar. You can find a plane spawn here, this might be one of the least known about spots.
West of Lonely Lodge: On the mountain to the west of Lonely is a plane spawn. You'll see the big red building on top of this area, and there should be a plane or two available.
West of Dusty Divot: On the big mountain next to Dusty Divot is an airplane spawn. It's on the second tier of the mountain, not the peak.
West of Paradise Palms: At the very edge of the desert you will find another red building with a few airplane spawns.
X-4 Stormwing Tips, Tricks, & More Information
There are five available spots you can attach yourself to the plane. Two on either side of the large wings and two on either side of the rear wings. The last spot of course is for the pilot!
You can shoot your weapons while on the wings of the plane, but you can't if you are the pilot. If you are piloting you are in charge of firing the built in weapon on top of the plane.
The weapon attached to the plane can overheat, so be sure to only use it in small bursts when possible.
If you want to land, be sure to start holding the brake pretty early. It takes a while to slow down, so you don't want to overshoot your intended landing spot.
You can exit the plane, but you have to hold the interact button for a second or two. If you are in the air, you can deploy your glider after doing so. This is also the case if your plane is destroyed in the air.
If you exit the plane in mid-air, it will continue flying in the direction you were headed. The engine will stop shortly after, and the plane will fall to the ground eventually.
Barreling through structures can be accomplished, but for the most part you'll need to save your boost for this or you will stop pretty abruptly.
To make a sharp turn be sure to use the roll buttons. While you can use your normal directional keys or stick, it is slower to turn this way.
Double tap a roll button to do a barrel roll! This can be useful for avoiding incoming damage.
If you are being fired at from above, you can invert the plane by hitting the X-key or holding both roll keys at the same time. This can cover yourself from fire, but obviously your plane is going to get shredded pretty quickly.
You don't need a whole lot of space to get up into the air. Once you start the engine, you can just pull back on the stick to get up into the air. This is useful if the plane is in an awkward spot and you need to get flying immediately. To gain speed quickly, hit the boost that should charge up pretty quickly once you start flying.
You can go pretty high in the plane, but if you go too high your engine will stall and you will start to fall back to earth. Don't panic too much, the engine will come back online after a short period.