Our Fortnite Season 7 Week 4 Challenges List and Cheat Sheet brings you all of the solutions and answers for the challenges you need to complete for the week. We have maps to treasure and item locations, as well as tips for completing all of them as quickly as possible!
This week we're using X-4 Stormwings in different matches, launching fireworks, eliminating opponents at Expedition Outposts, destroy various objects, dealing damage with a pickaxe to opponents, eliminating opponents at Happy Hamlet or Pleasant Park, and searching letters to spell out NOMS.
Fortnite Season 7: Week 4 Cheat Sheet
If you want to check at where to find all the challenges, here's a cheat sheet for you! Check below for more detailed information on these challenges. Credit to SquatingDog.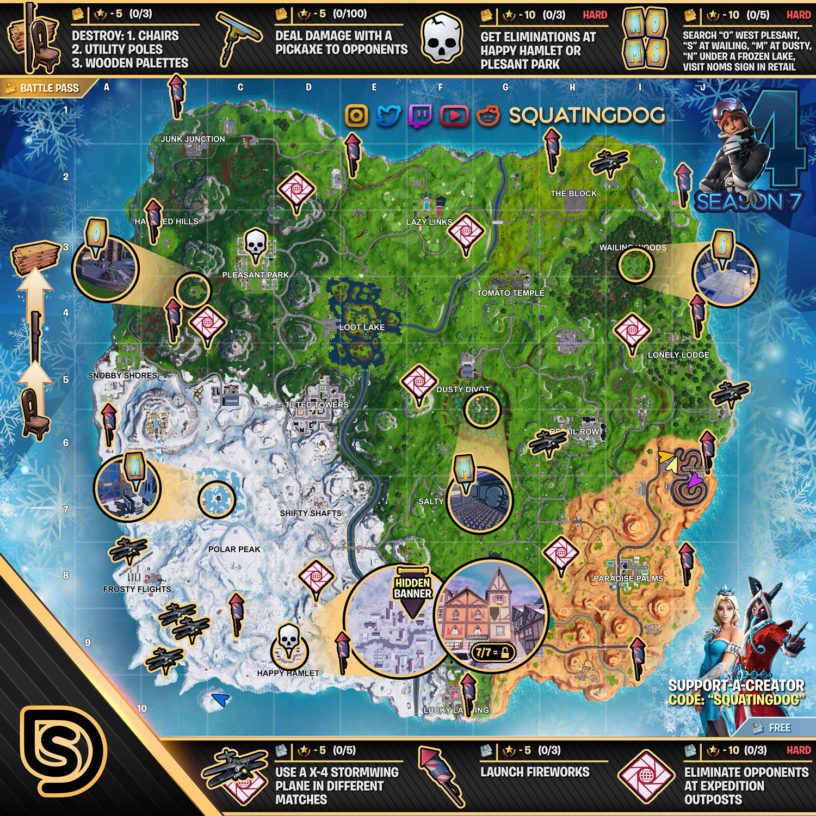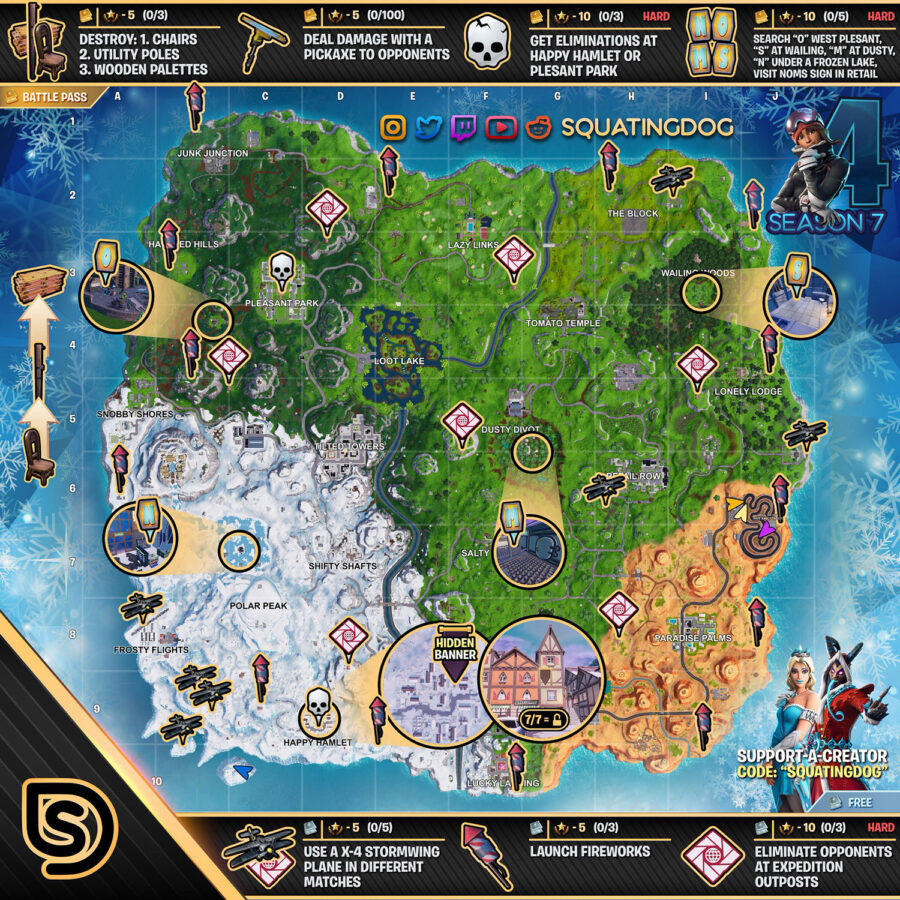 Week 4 Challenges List for Season 7
Free Battle Pass Challenges List
Paid Battle Pass Challenges List
Hidden Banner Week 4
Check out our Fortnite Season 7 Guide for guides on every week of challenges, and you'll find all of the hidden stars on our Season 7 Secret Battle Star Locations Guide!
Use an X-4 Stormwing plane in different matches (5)
Just jump into one of the new planes in five different matches to complete this challenge. There are quite a few spawns, you can check out the locations in the map above. Learn more about the X-4 Stormwing with our guide!
Launch fireworks (3)
There's now fireworks scattered around the edge of the map. Run up to these and fire them off to get credit for the challenge. Locations can be found on the cheat sheet.
Eliminate opponents at Expedition Outposts (3) (HARD)
There's some big red tent like structures around the map that have quite a bit of loot in them. These can be a hot spot for activity, so head to these and get yourself some eliminations.
Stage 1: Destroy chairs (80)
It's time to destroy some objects, we're starting with chairs, moving onto utility poles, and finally destroying wooden palettes.
Deal damage with a pickaxe to opponents (100)
This is best done in duos or squads where you can knock down an enemy and beat them with the pickaxe to eliminate them.
Eliminate opponents at Happy Hamlet or Pleasant Park (3) (HARD)
Should be pretty easy, and you can go to both of these to destroy chairs for the previous challenge.
Stage 1: Search the letter 'O' west of Pleasant Park (1) (HARD)
You start with the O, but there's three other letters to find: N, M, and S. This spells out NOMS, you can find the letter locations in the map above.
Hidden Banner
If you complete all the challenges in week 4 you will get this snowboarding loading screen with the clue to the hidden banner. You'll notice it on the right side of the screen, and can find it in the Happy Hamlet.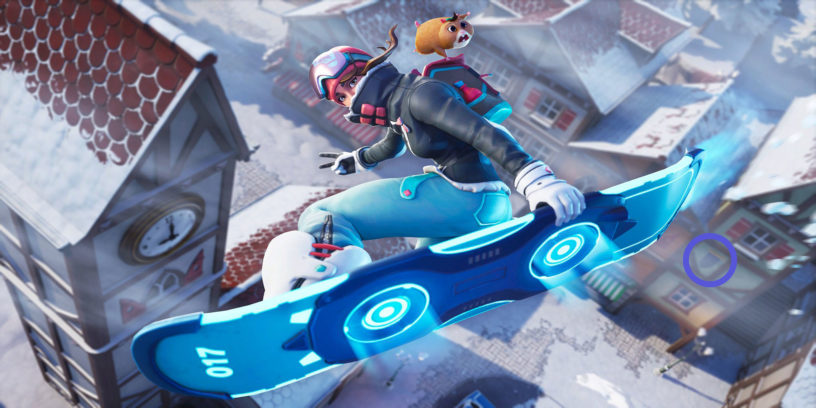 Head on over to the Happy Hamlet and you can find the exact location marked on the map below.