It's the first week of challenges for Season 4 of the Battle Pass! We've got a bunch of locations below where you will be able to find the letters you are looking for in this challenge.
FORTNITE Letters Location
Here's a map of all the currently known locations for letters, we'll update it further if more are found in the future. When you go to a location it will only provide you with the next letter you need in the sequence. You do not need to get all of the letters in the same round. You also can only get a letter from a spot once, you can't keep going to the same spot.
If you want to know more about the rest of the challenges, go take a look at our Fortnite Battle Pass Season 4 Week 1 Challenge Guide!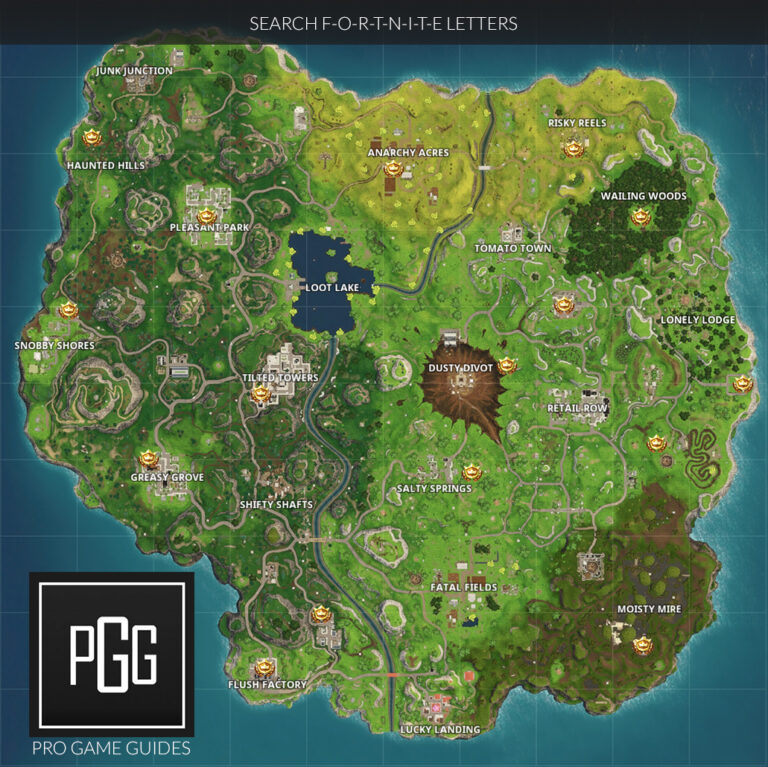 Here's a description of each of the letter spots, credit to Strantjanet on Reddit!
Lucky Landing - On top of the pagoda just outside of Lucky Landing.
Anarchy Acres - Red Barn, on top of the weather-vane.
Dusty Divot - On the blue power line next to the right/East of the crater.
West of the Racetrack - Triangle of trees.
Tilted Towers - On the clock tower.
Haunted Hills - On the eagle grave near chest spawn.
Risky Reels - On The projector.
Pleasant Park - Roof middle.
Containers (South East of Tomato Town) - Top of the big shipping container near tomato.
Salty Springs - Top of tower overlooking salty.
Greasy Grove - At the play area next to the burger joint.
Moisty Mire - By the helicopter and big green screen.
Lonely Lodge - On the roof of the Mansion south of Lonely.
Wailing Woods - Top of the hut.
Snobby Shores - The letter is at the lantern at the rightmost house (brown one).
Pallet Palace/Town (North east of Flush Factory) - They changed the hangar at the unnamed location near flush factory (the industry zone) and you can find a letter at the top of the building..
Flush Factory - Near Flush on the top of the new dance floor.